Athens-Clarke County Commissioners criticized the developers of The Mark—the massive luxury student apartment complex under construction on Oconee Street—for being the only major development downtown to opt out of enlarged downtown boundaries the commission approved Tuesday.
The area covered by the Athens Downtown Development Authority was set in 1977, but since the downtown area has greatly expanded. The ADDA is seeking to expand its boundaries north of Dougherty Street and along Prince Avenue, North Avenue and Oconee Street.
The authority gave property owners the option of opting out of the district. Despite paying an additional one mill in property taxes ($1 per $2,500 of property value), only a handful elected not to be a part of the ADDA.
"Unfortunately, there were a couple of folks who elected not to be part of the boundaries, a couple of them I think rationally so—very small scale residential properties, one very small scale commercial property… but there's one large property that's not include, The Mark," Commissioner Kelly Girtz said. "That's a disappointment to me, and I certainly hope folks will recognize there are benefits of being in the ADDA district down the road."
The Mark's owner, Athens-based Landmark Properties, opted out because of the cost involved, the ADDA's attorney, Jim Warnes, said when the authority board approved the new boundaries Feb. 10.
"The one-mill tax for them is sizable bucks," Warnes said. "They didn't feel like the benefits available would be a benefit to them."
Those benefits include grants to improve building facades, revolving loans for small businesses, support for special events like AthFest, advocacy, marketing and help navigating the local government bureaucracy, said Commissioner Mike Hamby, who serves on the ADDA board.
Commissioner Jerry NeSmith noted that The Mark's approximately 1,000 residents will be using downtown infrastructure without paying what others are paying. Yet the development is using its location as a marketing tool, Commissioner Melissa Link said.
"I picked up their brochure, and the first thing they tout is the ultimate downtown location, so they are certainly marketing themselves based on being downtown, and their zoning is commercial-downtown," Link said. "I just want to express my disappointment at this development not being a part of downtown officially, yet they'll definitely be enjoying all the amenities of being downtown."
Mayor Nancy Denson came to The Mark's defense, and warned commissioners not to second-guess Landmark.
"I really think we need to be careful about publicly criticizing one of the people in our business community who makes a business decision that we don't know all the details behind. And perhaps we didn't do a good enough job or giving them the benefits of being in downtown, or they might have decided to do something sooner," Denson said. "It was disturbing to me to hear criticism of a business that's increasing our tax base significantly, and I believe they're doing a good job on their product because of the business decision they made."
Although The Mark opted out, other major property owners—including the owners of the Bottleworks, the mixed-use development planned for the St. Joe property, Hotel Indigo and the apartment complexes along Dougherty, East Broad Street and North Avenue—did not.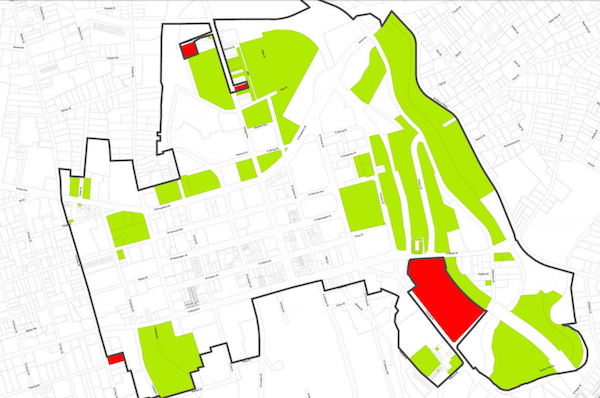 Originally, the ADDA had planned to first expand its boundaries to include government-owned properties that aren't currently taxed—such as parking lots, Athens Housing Authority units on the outskirts of downtown and vacant ACC property near the North Oconee River—to capture the tax revenue if they are one day sold and developed or redeveloped. Specifically, the ADDA is planning to sell of its Dougherty Street lot for an office building, but was waiting for the boundaries to be expanded before moving forward.
Private property would have come later. But Athens' legislative delegation, who must navigate the boundaries through the state legislature, asked that private landowners be included as well so they only had to get one map passed, not two. So the ADDA held public hearings and sent letters to property owners asking if they wanted to be included.
The legislature still must vote to finalize the new boundaries. Because it's local, not general, legislation, the boundary bill won't be subject to Crossover Day, the deadline for a bill to pass from one chamber to another, according to state Rep. Regina Quick (R-Athens), who sits on the ADDA board.
Like what you just read? Support Flagpole by making a donation today. Every dollar you give helps fund our ongoing mission to provide Athens with quality, independent journalism.