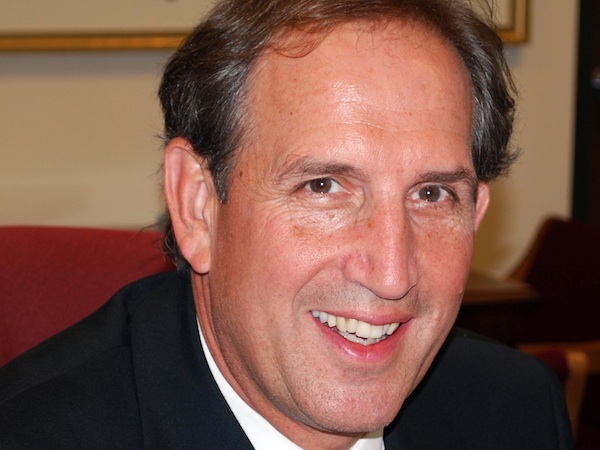 When it announced the hiring of Phil Lanoue as its new superintendent, the Fulton County Board of Education knew of an alleged sexual assault at Cedar Shoals High School that was not reported to students, teachers or the public for a month.
Lanoue, Clarke County's superintendent and the National Superintendent of the Year, announced last Friday that he will take the Fulton County job. The announcement came just hours after the Athens Banner-Herald reported that three Cedar Shoals students had been arrested on charges that two of them held down a 15-year-old classmate while a third raped her in a stairwell on Jan. 7. A security camera caught the attack on tape, according to Athens-Clarke County police.
"The attorney who managed the search process has shared that the search committee learned about this matter just prior to making the sole finalist announcement," Samantha Evans, a spokeswoman for Fulton County schools, said in an email. "We are confident that Dr. Lanoue and his staff have a system in place to appropriately handle the situation."
Fulton, the state's fourth-largest district, will formally offer Lanoue the position, which comes with a $120,000-a-year raise, when a public comment period ends Friday, Feb. 19.
"The board has not received any comments about this," Evans said.
The timing has led a number of parents to speculate that Lanoue covered up the alleged assault until the Fulton offer came through.
"That is absolutely not true," said Clarke County School District spokeswoman Anisa Sullivan Jimenez.
Jimenez has issued a number of mea culpas to various news outlets and reiterated to Flagpole that the incident should have been reported sooner and further disciplinary action taken against the suspects in the assault.
"Our code of conduct was not followed," Jimenez said, and the district has launched an internal investigation to determine where the breakdown occurred.
Decisions on disciplinary action and when and whom to inform of an incident like this are "a school-level matter," she said.
Cedar Shoals Principal Tony Price told parents at a freshman orientation event on Tuesday that he alerted district administrators about the incident immediately after it happened, according to Janet Frick, a concerned parent who attended the orientation.
District administrators were informed of the allegations in an email from district Police Chief Fred Stephens on Jan. 7, according to district spokeswoman Anisa Sullivan Jimenez, but they did not know the full story until seeing it on the news, she said.
"There were bits and pieces of information provided to the central office, but we were not made aware of the severity," Jimenez said in an interview Wednesday.
While the case was quickly turned over to ACCPD and some disciplinary action was taken at the time—Jimenez was not sure exactly what—the accused remained at Cedar Shoals until their arrest. (They are currently being held without bond.)
As for the victim—whose name, as is typical in cases involving minors or sexual assault victims, has not been released—she is no longer enrolled with CCSD, Jimenez said, although she could not say whether the victim dropped out or transferred, where she is currently attending school or when she left the Clarke school system.
"The victim from this incident is being cared for by professionals in our community and getting the help that's required," Cedar Shoals students were told on Tuesday, according to an announcement provided to Flagpole. That was the first time students were told anything official.
Lanoue wrote in an email to parents Tuesday—and Jimenez reiterated Wednesday—that administrators are reviewing the actions taken and have made plans to beef up security at Cedar Shoals by installing additional lighting and cameras, stepping up police patrols and hiring another security guard, in addition to the three courts, district officer and Athens-Clarke County school resource officer already stationed there. Sexual health and consent workshop sessions began Wednesday, as well.
Even so, outraged parents are expected to pack a BOE meeting at 6 p.m. today at the H.T. Edwards complex to demand answers to many questions.
Speaking before the board requires advance notice. Those who wish to speak should call CCSD's main line at 706-546-7721 before 4 p.m. to sign up.
Like what you just read? Support Flagpole by making a donation today. Every dollar you give helps fund our ongoing mission to provide Athens with quality, independent journalism.