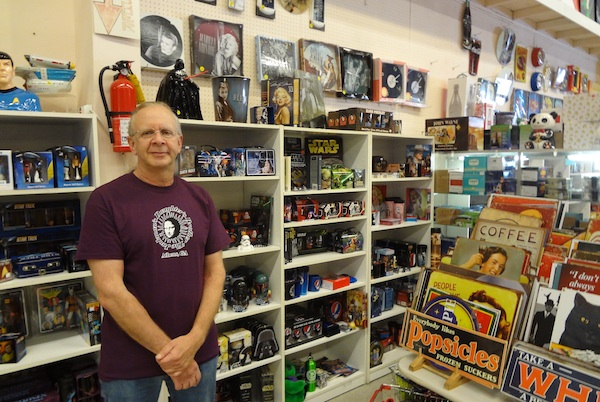 Photo Credit: Blake Aued
Junkman's Daughter's Brother—downtown Athens' source for band T-shirts, posters, Halloween costumes and quirky gifts for 28 years—is closing.
Mark Gavron, 59, said he is ready to retire and is planning to close when his massive East Clayton Street space's lease is up at the end of August, although there's a chance his landlord could extend it until January.
Gavron, who graduated from the University of Georgia with a degree in geology, was working in an oil field in Wyoming in the mid-1980s when the bottom fell out of the oil market, so he needed a job. His sister had opened Junkman's Daughter in Atlanta four years earlier, and he saw how successful it was, so he got into the business, too.
Returning to Athens, Gavron noticed that few downtown retailers at the time catered to college students. He filled that niche, selling clothes, jewelry and accessories, and later adding dorm-room must-haves like posters and bedspreads, as well as novelty gifts.
He moved the store from Broad Street to Clayton Street (where General Beauregard's is now) and finally to its current location at the corner of Clayton and Thomas Street in 1994.
After retiring, Gavron wants to go hiking in the Himalayas, Peru, Alaska, Argentina and New Zealand before he's too old, although he's staying in Athens and may open a pop-up store around Christmastime for the next few years.
"Christmas has been our busiest time of year—that and Halloween—and I have a pretty good feel for what kind of gifts people want," he said.
And he's open to selling the store, should someone come along and want to buy it. He has three veteran employees with a combined 79 years of experience.
"Somebody could step in and not miss a beat," he said.
Business has actually picked up over the past year.
"Things seemed to have turned the corner with the economy," Gavron said.
Besides students, he gets a lot of traffic from UGA football fans and convention-goers at the Classic Center, he said.
The Internet hasn't hurt sales because Gavron essentially serves as a gift curator, cherry-picking the best items (like a set of computer speakers that spout light and water in time to the music) from gift conventions in Atlanta.
"That saves the customer a lot of shopping time, to come in here," he said.
Nor is he worried about competition from the Urban Outfitters that's opening near Wuxtry.
"They have a few books, some little knick-knacks," he said. "They're not all gifty."
Besides, more retailers bring more shoppers downtown, which is good for everyone, he said. One thing that's hurt business, he said, is the growing number of bars downtown.
"I think downtown is becoming more of a nighttime place than a daytime place," he said. The lack of parking doesn't help, either, he added.
The store will remain fully stocked through the back-to-school season, then liquidate at the end of August, Gavron said. Rather than a Christmas pop-up store, there's also a chance his landlord will allow him to sign a short-term lease through January, keeping the store open another few months at its current location, he said.
Another downtown business, 8e's Bar on East Washington Street, is closing May 3, the bar announced on its Facebook page. Owner Mark Bell said the bar simply ran its course.
"It's just not doing the numbers it used to," he said. "People are getting a little older and not going out as much. Just time to call it a day."
Like what you just read? Support Flagpole by making a donation today. Every dollar you give helps fund our ongoing mission to provide Athens with quality, independent journalism.