Athens-Clarke County commissioners took steps last week to override Gov. Brian Kemp's overriding of the local law requiring people to wear masks in public. Kemp withdrew a lawsuit against the City of Atlanta over whether he had the authority to bar local governments from implementing mask mandates, but he then issued a new executive order prohibiting local governments from enforcing mask mandates in businesses, which are 90 percent of the places where people should be wearing them. All this from a guy who thinks letting locals set their own mask policies would be too confusing.
"The governor's order from Saturday [Aug. 16] obviously allows now local governments to mandate masks with some exceptions," ACC attorney Michael Petty told commissioners last week. "Specifically, on private businesses, we can't require it. What the ordinance says is, if they want to consent, we can enforce the ordinance, the mask mandate, in their place of [business]."
But the Georgia Municipal Association thinks it's found a loophole. Under GMA's interpretation, businesses' consent is implied, "unless they post a sign outside their business saying they don't want it enforced within their business," according to Petty. Now, at least one downtown bar is requiring a mask to enter while also posting a sign saying it's opting out of the mask ordinance.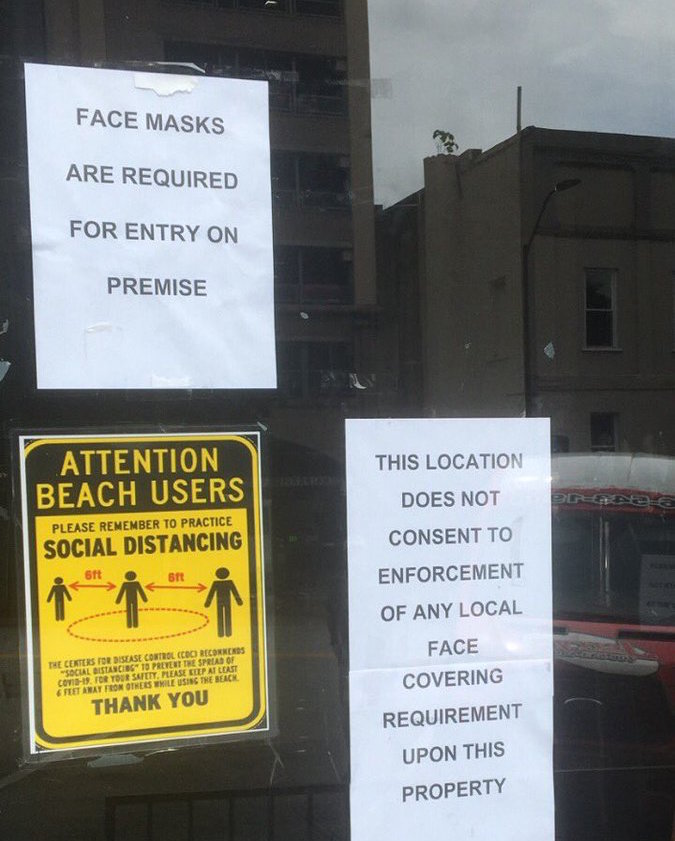 The latest version of the mask ordinance also lowers the maximum fine from $100 to $50, in compliance with Kemp's order. ACC hasn't cited anyone for violating the ordinance—opting to hand out masks to violators instead—but some commissioners are ready to crack down.
Streets and sidewalks are increasingly crowded with "gaggles and gaggles of students completely unmasked," Commissioner Melissa Link said, and big-box stores are reluctant to enforce their own mask policies for fear of making customers angry.
"The situation with all these students showing up here—not knowing if they have it, possibly being asymptomatic, not knowing these policies—puts our entire community in danger, drastically," Commissioner Tim Denson said.
Commissioner Russell Edwards also wanted to step up enforcement, and he even suggested that police wear the fire department's hazmat suits while inspecting downtown bars "to ensure our employees are absolutely protected and safe."
Manager Blaine Williams was noncommittal about the hazmat idea, pointing out that they get pretty hot, but he did say he's meeting with Police Chief Cleveland Spruill to discuss stepping up enforcement. "We are going to pursue this as our resources allow, and I'm talking to some other departments to see if we can get some help, as well," Williams said.
The commission also voted unanimously to spend $80,000 to send an absentee ballot application to every voter in the county who hasn't requested one yet. Georgia Secretary of State Brad Raffensperger mailed out nearly 7 million applications before the June primaries, but he has said he won't do so this fall, citing the cost. Voting by mail has also become a hot-button partisan issue, with President Trump falsely claiming that mail-in voting is ripe with fraud, and even attempting to sabotage the Postal Service so that ballots arrive late. Democrats, meanwhile, are working to get voters leery of going to polling places in person during a pandemic to vote absentee instead.
Like what you just read? Support Flagpole by making a donation today. Every dollar you give helps fund our ongoing mission to provide Athens with quality, independent journalism.