With more than 80 employees and a wide range of responsibilities, from keeping up parks to preserving green space to running arts programs, the Athens-Clarke County Leisure Services Department probably touches more citizens' lives than any other part of local government. Its various missions can sometimes come into conflict with each other, and competing interests (youth sports leagues, hikers, environmental advocates, artists, eastsiders, westsiders) often feel that their particular area is given short shrift. An internal reorganization six years ago that involved reassigning the natural resources administrator and moving trails and greenways to the parks division exacerbated the problem, and led to talk among commissioners about whether to split up the department.
A recent operation audit doesn't answer that question, instead recommending about 30 bureaucratic changes, most of which the average person probably would never notice, like shifting grass-cutting to another department, so I won't bore you with them. The commission will continue to discuss the idea nonetheless.
"If we want a separate division or department for natural resources, we need to have that discussion first," Commissioner Andy Herod said at a work session last week. No consensus emerged, but county staffers have been discussing the idea among themselves as well, interim Leisure Services Director Kent Kilpatrick told commissioners. Unlike the last reorganization, implemented unilaterally by former director Pam Reidy and former manager Alan Reddish, any changes will pass through the Mayor and Commission this time.
In the meantime, the newly created Office of Sustainability, made up of Environmental Coordinator Andrew Saunders and former Leisure Services administrator Mike Wharton, should help, county Manager Blaine Williams said. That office will oversee the preservation of county-owned green space at Beech Haven and off Tallassee Road, at least until it's ready for programming, when it will be turned over to Leisure Services, he said.
Both Stephanie Maddox, head of the Operational Analysis Office, and Commissioner Melissa Link said they were disappointed that the audit didn't pay much attention to the arts, but Maddox said she went back and added to what little work the outside consultant who helped with the report did.
Another issue that remains unresolved is fees for Leisure Services programs. Reidy hired a consultant to come up with a new pricing structure in 2015, but left soon after, and it's remained on hold ever since. Kilpatrick said he plans to bring that back before the commission in August or September.
Comp Plan Put on Hold
With the countywide master-planning process Envision Athens unresolved, ACC planners can't move forward with a state-mandated update to the county's comprehensive plan, which will guide development for the next 10 years.
"It's been like trying to fly a plane that you're not done building yet," Planning Director Brad Griffin told commissioners at the work session. "The level of frustration is growing," so the comp plan is being put on hold until September, when Envision Athens wraps up, and its public input and recommendations can be folded in. With the comp plan due to be turned in to the state in July, that puts the planning department on a tight schedule, Griffin said.
Planners are revamping the public input process, too. Some citizens have expressed frustration that the time for public input was quietly moved from the planning commission's 7 p.m. first-Thursday meetings to 6 p.m. "We tried that," Griffin said. "I didn't like the way it worked. We're probably going to abandon that." There will be formal opportunities for public input later, he said, but for now, citizens can drop by the planning department office on Dougherty Street any time during working hours.
Planners will also be going out into the community. "We're going to try to get into the churches, maybe the mall, [and] downtown to try to disseminate the information and get comments," Griffin said.
Mark Martin Announces District 2 Candidacy
Hilsman Middle School math teacher Mark Martin is the first candidate to step up to run for the Commission District 2 seat Harry Sims is leaving to run for mayor next year.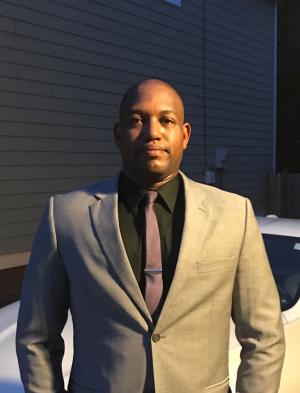 One young teacher could replace another. Martin is 37—just a little older than Sims, then a teacher at Barrow Elementary, was when he was first elected to the Athens City Council in 1988.
They share an occupation, and Martin grew up in District 2 (Nellie B, specifically; he now lives nearby on Vine Street). He doesn't have any particular ties to Sims, though. The longtime commissioner has been helpful on some issues, but isn't very responsive to constituents, he said in an interview Saturday. As an educator, Martin said his top priority will be to inform the community. The unified government needs to do a better job of communicating with the Clarke County School District, too, he said.
"We have to face front," he said. "We have to call meetings. We have to say, 'This is where we're going.'"
Another focus, Martin said, will be economic development, especially financial literacy and bringing businesses to District 2. He said he's concerned about rising property values taxing people out of their homes, but the flipside is that gentrification draws businesses. "I'm all for having business in the area," he said.
Martin is a political newcomer, but his older brother Grady, a veteran Democratic activist, is running his campaign.
Like what you just read? Support Flagpole by making a donation today. Every dollar you give helps fund our ongoing mission to provide Athens with quality, independent journalism.