FOR THE KIDS: New West Records will host New West Fest, presented by Phil Hughes Honda, at Southern Brewing Co. Saturday, June 11 from 1–10 p.m. This event is a benefit for the Boys & Girls Clubs of Athens. Featured performers are Kalen & Aslyn, Cicada Rhythm, Emily Nenni, The Pink Stones, Haunted Shed, Parker Gispert, T. Hardy Morris and New Madrid. Doors open at noon, and this event is all ages. Tickets are $10 in advance for folks under 21 (with kids 12 and under free), $20 advance if you're over 21 and $25 at the door. For $100 you can score a VIP ticket that includes "exclusive access to the VIP tent with a dedicated bar, table seating with great views of the stage, complimentary bites throughout the event from local restaurants, and beer tickets for VIP tent bar." For more information, please see facebook.com/newwestrecords, and for tickets, please see sobrewco.com.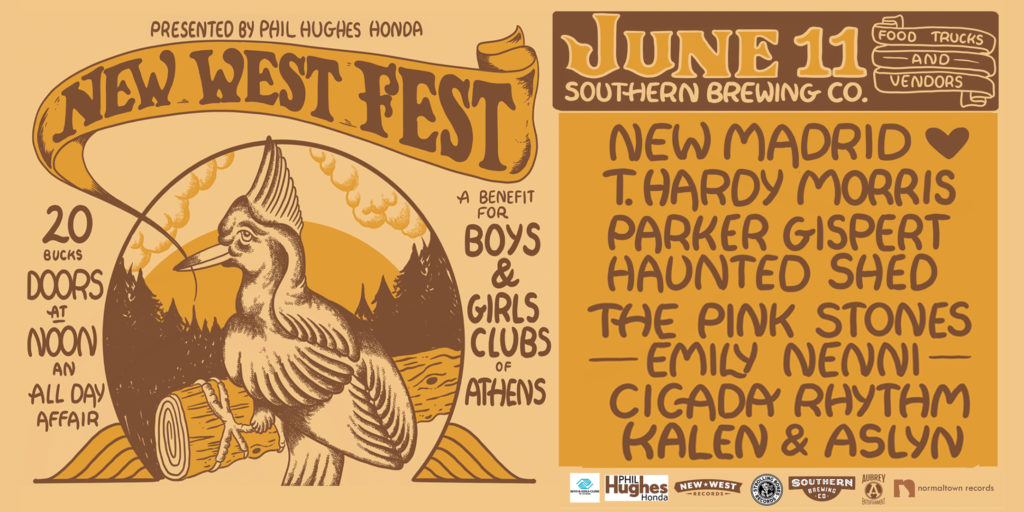 FIVE ALIVE!: Athens' home for heavy metal, Shadebeast, turns five years old this month, and they're blowing it out with a two-night stand at Flicker Theatre and Bar. This'll happen Friday, June 10 and Saturday, June 11. The lineup on Friday night is Somnuri, Canopy and Dead Vibes Ensemble. On Saturday the lineup features Monte Luna, Dead Hand and Husk. Each night will start at 9 p.m. A two-day pass will run you 20 bucks, and if you wanna pay at the door, each night is $12. For advance tickets, please see shadebeast.com/collections/tickets, and for more information, just surf around that site or see facebook.com/shadebeastpresents. Shadebeast deserves nearly unending praise for being not only a welcoming source of inspiration and community, but also one of the most enduring and positive catalysts for the metal scene in town.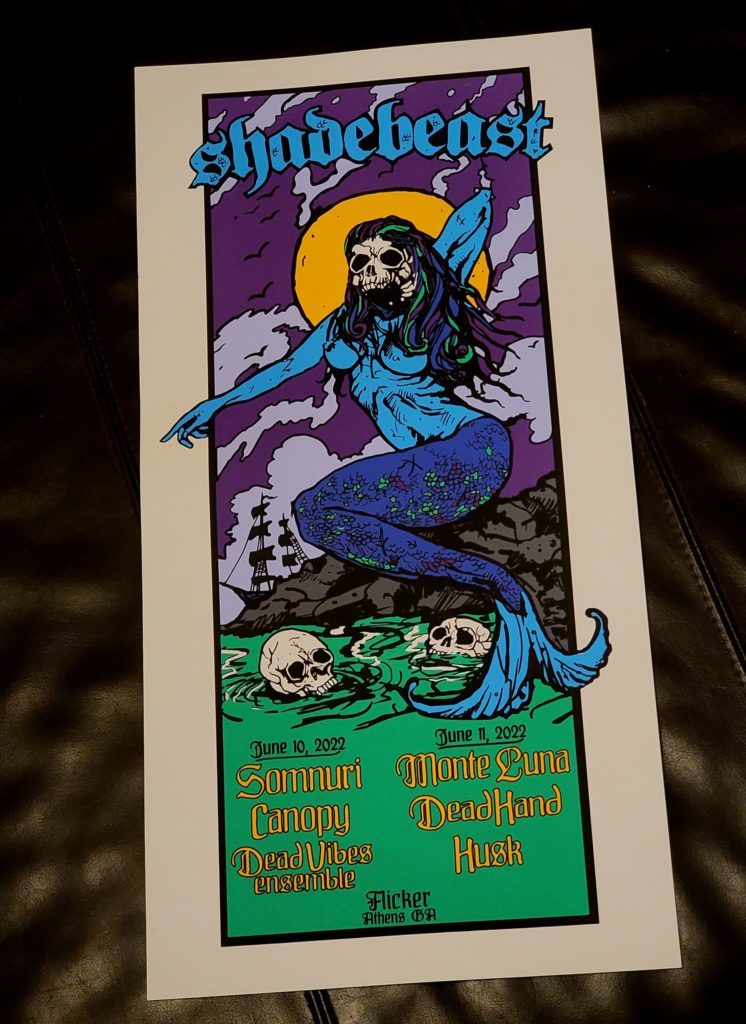 SPF 100: The train of activity for Athens goth/death rockers Tears for the Dying just won't slow down. The band is currently featured on two brand new compilations that were released in celebration of World Goth Day. The first is named Altar of Shadows and comes courtesy of Oakland, CA label Psychic Eye Records, and the second is Unearth'd Volume II from Carrboro, NC's Broken Sound Tapes. The band sets off on a short tour soon with New Orleans groups Death Church and Come to Ruin which kicks off, quite appropriately, in New Orleans on June 30. From there the band travels through Atlanta (Highlander, July 1), then back to Athens (Flicker, July 2), then over to Birmingham, AL (Firehouse, July 3). The newest single by Tears For the Dying, "KMS," came out last week. Keep up with all things Tears via facebook.com/TearsForTheDying and tearsforthedying.bandcamp.com.
THE LAMB LIES DOWN ON BROAD STREET: Atlanta-Athens band Nix The Scientist just released a new single named "Eyes Up." Self-described as a "prog power trio," this track in particular backs up that claim. It's highly theatrical in an early Genesis way. While I could do without the intermittent heavy metal vocals, it could be argued that's where the "power" in this is. Find it on Spotify along with the band's other work, and find out more over at nixthescientist.com. The band next plays locally July 2 at Ciné.
GO AHEAD AND TAKE SOME TIME OFF: OK, punters, you're getting this info a full week ahead of time so you can make your plans now. Rabbit Hole Studios is hosting a whopping full event that just happens to fall on Monday, June 20 and Tuesday, June 21. It's named Bunneroo, which organizers say is a "Bunny-themed spin off of Bonnaroo." They're still accepting vendor/booth applications at rabbitholestudios.org/festivals. The two days will cost you $15 in advance or $10 at the door each day. The utterly enormous lineup is as follows (unfortunately, no, I do not have a lineup schedule, but each day begins at 1 p.m.): Cath & Embreis, Iris, Babies on Babies, Lea Lea, Julia Nyunt, The Landtrust Jamfam (ATL), Radha Rose, MYNAWA, Athens Middle East Orchestra, Cardynalflies, Climbing Cedars, The Almighty Strange Ducks, Hidden Hare Jam Band, Allen, Julianne Merrit, Meta Forest, John Fernandes, Grandfather, Ricky B, Official LB, Dexter, DK, Dexx, Afro Kenobi, Frank the Eagle, Squeeze the Squid, Phases of Alexandria, White Rabbit Collective, Ostrich, MedX and Jiig. Whew! Follow along at both rabbitholestudios.org and facebook.com/whiterabbitproductionsllc for ongoing information.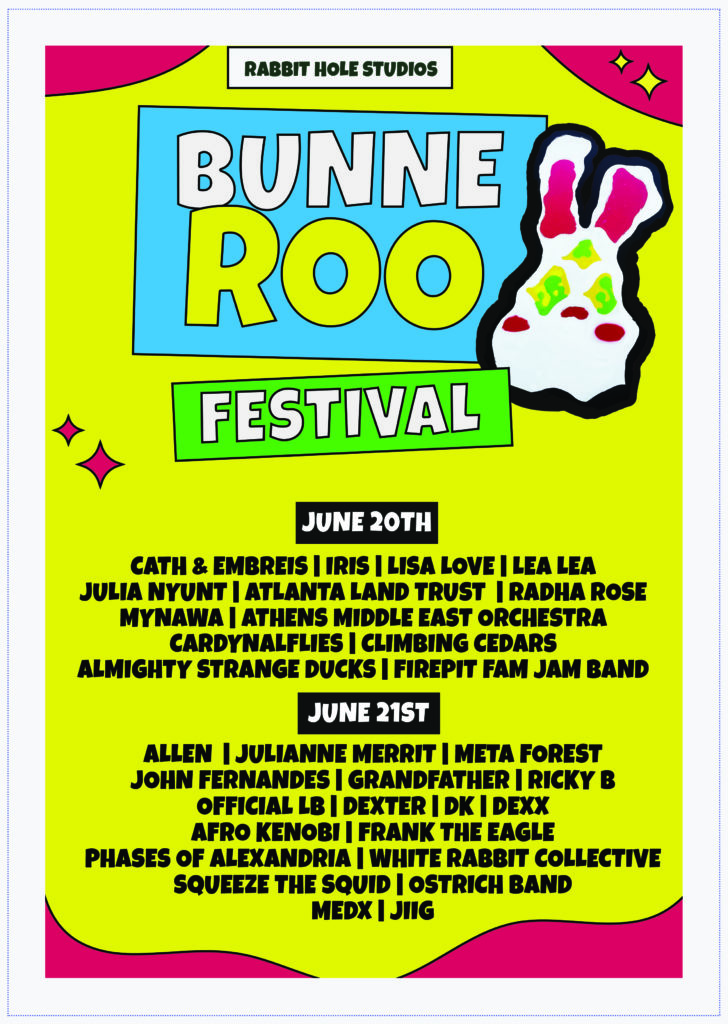 Like what you just read? Support Flagpole by making a donation today. Every dollar you give helps fund our ongoing mission to provide Athens with quality, independent journalism.