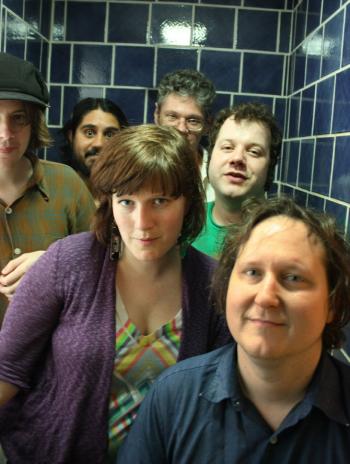 Photo Credit: Kelly Hart
Here Comes the Summer: Psychedelic pop heroes Circulatory System will release a whopper of an album June 24 on Cloud Recordings. The four-sided, 31-track (!) double-LP is titled Mosaics Within Mosaics, and its vinyl run is limited to 1,000 copies—which won't last very long. Of course, digital downloads and CD copies are going to be available, too, so don't worry about being left out. The William Cullen Hart-led group was assisted in assembling the album, which features recordings described as ranging from "12 years ago to now," by mix-master Derek Almstead. Appearing on the album are John Fernandes, Heather McIntosh (The Instruments), A.J. Griffin (Laminated Cat), Peter Erchick (Pipes You See, Pipes You Don't), and Jeff Mangum and Jeremy Barnes (Neutral Milk Hotel). Circulatory System will appear at this year's Pitchfork Music Festival on July 19, along with Neutral Milk Hotel, and the two bands of pals will go on to play five more dates together through the end of that month. None are in Athens or anywhere near, though, so don't bother hoarding your money for tickets. Get modern over at facebook.com/CirculatorySystem.E6.
Go Local: Bulldog Radio is back on the air at WPLP 93.3 FM and also streamable online at bulldogathens.com. It joins WPPP 100.7 FM, our only other local independent rock station. (WPUP 100.1 FM was acquired by Cox Radio in 2008 and switched to a pop format.) WPLP received clearance for broadcast in January and is completely nonprofit, sponsor-supported and volunteer-run. In the interest of accuracy, I just spent a few hours streaming the station, and its mix of metal, hard rock and punk (in this instance, Bad Religion) seems tailor-made for an audience woefully underserved by the 10-songs-in-a-loop format of modern commercial radio. This is also a lot of work for the folks involved, and their effort as true believers deserves some recognition. Visit them at facebook.com/BulldogAthens.
Don't Forget the Streets: Someone somewhere heard my plea from several weeks ago and blessed the earth with the debut track from Athens' newest hardcore crew, Capital Will. The band recently finished up recording a whole EP, titled Red Hand, at Full Moon Studio, and hopefully that will drop soon. For now, satiate yourself over at soundcloud.com/capitalwill, where you can feast on "False Flag." For the uninitiated, Capital Will lies lies solidly in the space where chugga-chugga guitars and street smarts meet Youth Crew solidarity and enthusiasm, minus all the jock/bro trappings and self-denial of an actual straight edge band. That is, somewhere between Gorilla Biscuits and Warzone. I know those names mean almost nothing to anyone reading this, but just trust me, OK? Since this column is still subtitled "Music News and Gossip," I guess I should say that, on the gossip front, there has been some talk about a shake-up in the group's lineup. I've got all my fingers crossed that Capital Will keeps going, even with new members. Join me in keeping hope alive at facebook.com/capitalwill.

48-Hour Party People: Shehehe wins the award for heading into a studio and just blasting it out. The group recently recorded 14 songs in two days with engineer/producer Phillip Cope (Kylesa) and engineer Zac Thomas at South Carolina studio Jam Room. Immediate plans for this new material involve shopping it to labels and seeing if anyone wants to release what will ultimately become the group's sophomore album. But, honestly, Shehehe has changed so much since its debut that this new record is really kinda like starting over. That's all for now, so keep up with everything else via facebook.com/sheheheband.
Teenage Daydream: A refreshing new soul/R&B/hip hop track came out a few weeks ago courtesy of Athens-area duo Sterio Type, composed of teenagers J. Wavey and A.J. Smooth. The song, "It's OK," is a straight paean to brokenhearted-ness and the inevitable sadness that comes with young romance. The backing track is taken from Houston, TX rapper Cla$$ic's song "Chrome Grill & Woman," but honestly, I think the beat is used to much better effect in the hands of Sterio Type. You can check it out over at chocolatecitylive.com, the online storehouse for all things associated with Florida/Athens hip hop promoters UGA Live, or dig through a whole bunch of videos hosted by the company over at youtube.com/mokahlogic.
Like what you just read? Support Flagpole by making a donation today. Every dollar you give helps fund our ongoing mission to provide Athens with quality, independent journalism.