Boyz II Men: Athens synth-pop sensation Programs seems to have blown up out of relatively nowhere over the past few months. The duo, composed of Robby Casso (Grass Giraffes, Glasscrafts) and Dillon McCabe, plays a deliriously attractive mixture of glossy, 1980s-style UK pop and 21st Century indie dance music. Sure, the '80s tag might seem a little obvious and lazy—and it's not one I'm completely married to, either—but damn if these stylish bros' cover art doesn't look more like Wham! than anything else in recent history. The cover art I'm speaking of sits atop the group's brand new debut EP, Promises. The five-track record was released digitally a couple of weeks ago at programsmusic.com. It was recorded, mixed and mastered by T.J. Mimbs (The District Attorneys) at Easy Street Studio. Download and dig it. Follow along at facebook.com/programsmusic.
Grow Up Plan: Tommy Valentine (Lovenotes Records) hasn't done a whole lot of his usual promoting, recording or rabble-rousing here in the Classic City for a while, but trust me, he's never short on ideas. Every few months, he'll call me up and run several of those ideas past me—not because I have any idea of what I'm talking about, but maybe just to have a sounding board. When he asked me about the thing I'm about to tell you, my response was a hearty "Hell yes!" So, get ready to celebrate Valentine's 30th trip around the sun during the "30 At 40" celebration at the 40 Watt Club on Saturday, Aug. 31. Live performances by Showtime (with Elite Tha Showstoppa), Black Nerd, Brian Walker and reunion shows by Black Rose Dynasty, WildKard and The Renegadez will happen. There will also be a comedy roast of Valentine featuring no less than 12 people, including me, Athens-Clarke County Commissioner Kelly Girtz, Clint Orr, David Ferguson, Erica Harrison, Athens hip hop impresario Montu Miller, Randy Matheny and Travis Lester, as well as the previously mentioned Elite Tha Showstoppa and Eugene "Black Nerd" Willis.
Boot Scootin' For Babies: UGA Miracle, the student organization that supports Children's Healthcare of Atlanta, will host a benefit concert featuring Nashville-based country music star Rodney Atkins. The show happens Thursday, Aug. 29 at the Georgia Theatre. Tickets are $35, and Athens' Emily Hearn starts things off at 8 p.m. For tickets, see georgiatheatre.com, and to find out more about UGA Miracle, see ugamiracle.org.
Open Call: A couple times a year, I like to give a shout-out to people who might be new in town to explain a little about how this column works. Simply put, it's local music news, plus my opinion on that news. How is information gathered? Some things I'm tipped to by people sending an email (address below); some things I discover by keeping my ear to the ground; and others can be a combination of sources. All news isn't equal: some stuff is so important that it must be covered at the expense of other stuff, and not everything you think is newsworthy may actually qualify as such (e.g., your band simply playing a show). I'd still like to always hear what you've got going on. One caveat: Just because we're all friendly right now and I'm like, "Hey, be in touch!" that doesn't mean you'll get a free pass should I choose to mention your project or activity. As they say, a pie in the face comes with the job, and I've certainly gotten my fair share of those. This column is written a full week before it's published, so remember that when sending in your news or tips. Feel ready? Then add threatsandpromises@flagpole.com to your email address book and drop me a line.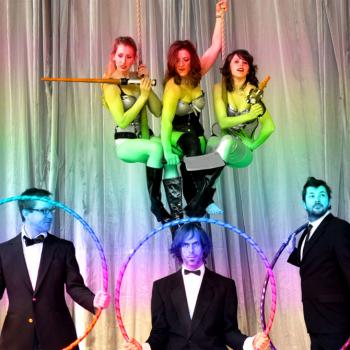 A Bargain At Twice The Price: Timi Conley has launched a "Kitestarter" fundraising effort for the new record from his band, Kite To The Moon. The plan is to release both vinyl and CD versions of the album, which was recorded at Full Moon Studio and should contain over 10 tracks that will showcase, in Conley's words, everything from dark intensity to "sky-high surfing-on-a-rainbow-with-a-unicorn-style jams" and music that is "splattered with blues shreds, marshmallow funk topping, jangly pop birthday presents and a Big Muff pedal gone telescopically Hubble-esque." In layman's terms, that means a guitar-heavy, party-jam album that can occasionally be a bit dark. See, that wasn't so hard, was it? The rewards for contributing to the cause are pretty creative and include trapeze lessons, studio time, a customized song about your pet and other items of the sort. To see exactly what's going on, you'll have to head to pledgemusic.com/projects/kitetothemoon. Hold onto your hats at kitetothemoon.com and facebook.com/kitetothemoon, too.
Fresh History: It's rare that a compilation will appeal as much to old fans as fresh young punters, but damn if the new one from Cloud Recordings doesn't do just that. The 23-track mix digs deeply into the label's catalog, with multiple tracks by Circulatory System and the Olivia Tremor Control, New Zealand inspirations Tall Dwarfs and weirdo intangibles like Icy Demons and Pipes You See, Pipes You Don't. On the newer—a term used very loosely—side of things, there are tracks from Supercluster, Faster Circuits, Nesey Gallons, the New Sound Of Numbers, Old Smokey and Dream Boat. If we paint with a very broad brush, everything on here can fall somewhere within the psych-pop category. But repeated listening brings out all the little spots in the canvas that a broad brush won't cover. It's not available for downloading, but you can stream it to your heart's content over at cloudrecordings1.bandcamp.com.
Like what you just read? Support Flagpole by making a donation today. Every dollar you give helps fund our ongoing mission to provide Athens with quality, independent journalism.