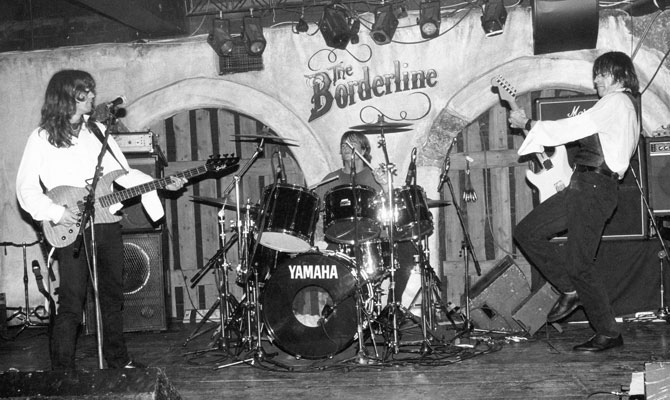 Gotta Catch 'Em All: If you were happy to catch Dreams So Real reunited at AthFest of 2009, or if you missed them and have been crying into your hat ever since, you've got a couple of chances this month to see them perform. The trio, who originally formed in Athens nearly 30 years ago, will share the bill with the Dexter Romweber Duo and Kick the Robot at the Melting Point on Friday, Apr. 27 ($12 advance, $15 at the door) and will play Atlanta venue Smith's Olde Bar on Saturday, Apr. 28 ($15 advance, $18 at the door) with the Jordan Grassi Band. These are both all-ages events with early doors and set times. The Melting Point show will open at 6 p.m., and music starts at 8 p.m. Smith's Olde Bar opens at 7:30 p.m., and music starts at 8:30 p.m. For more information, please see www.meltingpointathens.com or www.smithsoldebar.com.
Ready to Rumble: Surf-garage radar-duckers Koko Beware are prepping a full-length release for next month. The lead single is a tasty number called "I Just Wanna Dance†that's got this reverb-y guitar lead and melody that makes it resemble a surf song, but it's really closer to an indie-pop Ramones song. The album's title is Something About the Summer, and the band recorded it at Chase Park Transduction with engineer Alex Kroh. They're gonna do the triple-threat format blast of releasing this on vinyl, cassette and CD, and will be accepting pre-orders at the end of April. Keep up with all their goings on over at www.kokobeware.com.
Riff Riders: Dead Dog is now a week into an East Coast tour that will last until May 19. The heavily hook-driven pop-punk band is already a touring machine, and the guys could probably do this month of shows standing on their heads. In other news, This Will Be Our Summer Records (Madeline, The Wedding Present, Bastards of Fate) is re-releasing the band's debut LP. The self-titled album was originally let out of the gate back in 2008, but this reissue will feature an additional three tracks recorded live in 2007. There are special pre-order packages available for both LP and CD versions, and if you prefer to just go for the plain, you can pre-order simply the LP or CD. For information on the record, please see www.oursummerrecords.com. To keep up with all things Dead Dog, head over to www.facebook.com/deaddogtheband.
Occupational Outlook: A benefit album is being organized by Occupy Athens, and the group is seeking submissions for inclusion. Although the organizers of the project are primarily interested in artists from Athens and Northeast Georgia, artists from other areas will be considered. More specifically, though, the group has specified, "Any songs with a title or lyrics that are of a hateful nature will not be considered†which, really, kind of goes without saying. Proceeds from the album, titled Whose Songs? Our Songs! An Occupy Athens Benefit Album, will go toward the expenses the group regularly incurs, such as office rent, printing, etc. Interested parties should submit songs in WAV format to occupyathensga@gmail.com and note in the subject line that it's a submission for the album. All relevant information concerning the album, Occupy Athens and more can be found at www.athensoccupier.com.
Two Quarters: Last week marked the official launch of Athens' newest label, Gumball Machine Records. This incredibly creative project distributes music via gumball machines placed around town, and for your 50 cents you get a handmade trinket and a download code for a single, full-length by an individual band or compilation album. It's much craftier and cooler than I'm making it sound, so be sure to check out the photos of available prizes at www.facebook.com/gumballmachinerecords. So far, there are four releases: two separate compilations (featuring Wade Boggs, Titans of Filth, New Sound of Numbers, Casper & the Cookies, Noogeez and more), the full-length album by Green Thrift Grocery, Buy It Back, and a single by The Ice Creams. You can find the gumball machines at Bizarro Wuxtry, Hendershot's Coffee and Little Kings Shuffle Club. The label plans to add more locations as soon as it can. Hats off to this cool, independent way of thinking outside the norm.
Shake Your Rumpus: Timi Conley is throwing a benefit roller skating party for the 2012 Wild Rumpus. Proceeds will help the to-be-announced charity that will be the beneficiary of this year's Wild Rumpus event. Billed as "Half-O-Ween†the skating party will feature live music by Kite to the Moon and "roller jams†spun by DJ Immuzikation (see the Calendar Pick more info). In related news, Timi Conley & Friends are taking up residency at Hendershot's Coffee Bar for the entire month of May, performing once a week (May 2, 9, 16, 23 and 30). These are to be theme-based shows that will run the gamut from "…raunchy blues to singer-songwriter to mad professor [sic] of rock.†In between all of this, Kite to the Moon will play the Athens Human Rights Festival on Saturday, May 5 and the Georgia Theatre on May 22. So, basically, if you can't get your fill of Conley by the beginning of June, then I just don't know what. For more info, please see www.kitetothemoon.com.
Like what you just read? Support Flagpole by making a donation today. Every dollar you give helps fund our ongoing mission to provide Athens with quality, independent journalism.