It's a Brand New Day: Athens' own wellspring of positivity and poetry, Celest Divine, is currently working up new material for her long-running project African Soul. She's also got a new run of Poetic Release Therapy shows booked. These are open mic nights for "poets, singers, spoken-word artists, friends, lovers of the arts, couples, singles, all of the internal and externally beautiful people of the universe,†and everyone is welcome to attend and/or participate. The monthly event happens every first Saturday (the next three being May 5, June 2 & July 7) from 8–11 p.m. at the Suburban Lounge (2005 Danielsville Rd.). Each event costs $5. For more information and a ton of streaming material from Divine, please see www.celestngeve.com.
Alone in Springtime: The long-suffering, or at least long-performing, Chris Ezelle released his newest album this week. The 10-track digital download, titled Summertime Bleeding Heart, is yours for the taking over at www.reverbnation.com/chrisezelle. Most of the material here follows the same path Ezelle has been paving for the past few years (i.e., solo acoustic country-folk-blues), and, because of this, some of it can sound rote and laborious, but there are at least a few inspired moments here. Especially notable is the painfully tender "Rosary from New Orleans,†which closes out the record.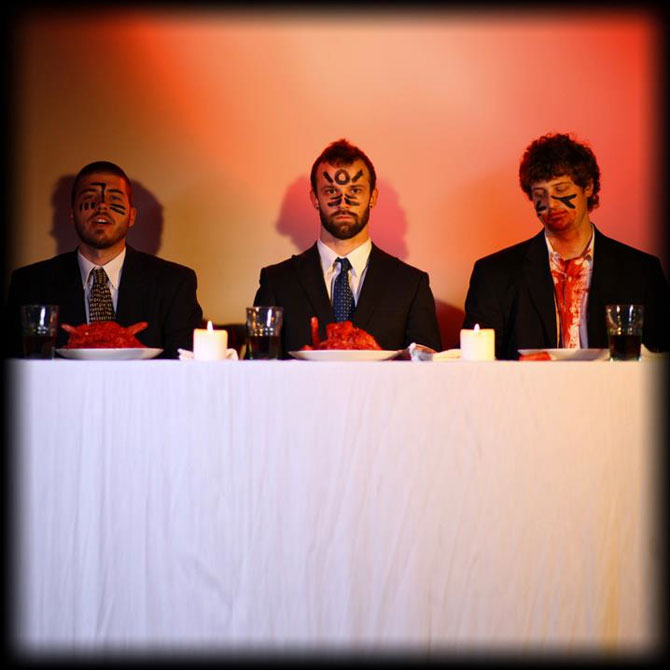 Press the Eject and Give Me the Tape: Although not really shooting out of nowhere, but you'd be forgiven for thinking that, Grass Giraffes has enjoyed nothing less than a meteoric rise from a garage-y collaboration between friends to a full-fledged operating outfit whose live shows are among the most heavily anticipated among rising Athens bands. The band is set to release its debut EP, Transportation, digitally on May 8. Although there's no official release show planned, they'll be playing the 40 Watt Club on May 4 along with Reptar—who's celebrating its own release that night—and Grape Soda. A cassette version of Transportation is to be released soon after the digital version goes live via Athens Provisions, a project-based conception between Eddie "The Wheel†Whelan and Jay Steele that has no end-game other than "to bring fun things into the world.†I've been privy to the as-yet-unreleased tracks and have been playing them quite a bit, but I would implore Athens Provisions to use the blank side of the cassette to include a live recording of the band because live is where so much of their oomph resides. Oh, look, what do ya know? Here's one from Halloween of 2011 right here: www.southernshelter.com/category/grass-giraffes. It looks like the track "On a Subway†is going to be the "single†from the EP, and you can stream it at www.grassgiraffes.com.
It Means Golden Peak: Panama City, FL-based video artist and composer Scott Bazar (Disco Vato, Pig Chicken) is inviting any Athens musicians and/or sound improvisors to participate in his "video conducted spontaneous game composition†named "Pico Dorado.†This happens at 7:45 p.m. Saturday, Apr. 28 at ATHICA. Athens' own Killick will be your co-host this evening. There's a $6 suggested donation, but no one will be turned away for lack of funds. If you'd like to participate, just drop a line to Bazar via scottbazar@bellsouth.net, but you should probably bone up on the whole concept over at www.picodorado.com.
Three-Way Tie: Although officially residing in Atlanta now, Lazer/Wulf spent enough time in Athens to maintain at least "honorary Athenian†status. In addition to enjoying being among the most dynamic and determined bands to rise up in the regional metal scene of the past several years, it's about to release a new EP titled There Was a Hole Here. It's Gone Now. The self-released record is coming out on vinyl, cassette and digital download formats, with the physical versions featuring an extra track. The record officially comes out Apr. 24, but you can celebrate with the band locally at the Caledonia Lounge on Saturday, Apr. 21 when they play between Vincas and Manray.
Don't Hate. Appreciate: The aforementioned Manray is headlining the show mentioned directly above (Saturday, Apr. 21 at the Caledonia Lounge), and in addition to blowing your minds with their usual flair, the brothers Olivera (Ryan, Derek and Jordan) and Gene Woolfolk will be shooting a video that night for the lead single off their debut LP, Tournament. Incidentally, the song is named "Gordon Lamborghini,†and this just goes to show what can happen when your song-title focus-group is composed solely of the four members of the band that wrote the thing. You can stream the track at www.manrayband.tumblr.com, so you're prepared to go appropriately nuts during the shoot. If you need any additional information, keep up with Manray via www.facebook.com/Manray.band because I'm confident they'll add anything you need to know there.
Like what you just read? Support Flagpole by making a donation today. Every dollar you give helps fund our ongoing mission to provide Athens with quality, independent journalism.