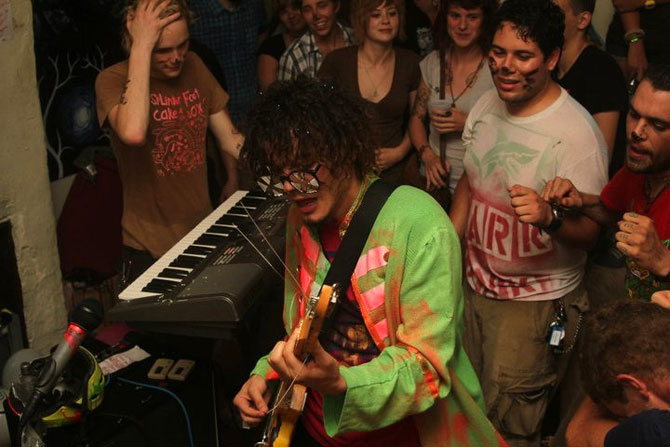 Hello, people. I know you're all hyped up because you get The B-52s and Jeff Mangum this month, but cool your jets for a few minutes and take a look at this week's news. Then you can go get revved up again. Cool down below…
March to Fuzz: Athens plush punks The Fuzzlers will play their final show as an Athens band Wednesday, Feb. 15 at Go Bar. Chris Defoor, Eddie Lezama and Patrick Goral will split later that same week and move to Tallahassee, FL. Brandon Page will head down there in July. Goral says, "We chose Tallahassee for a change of scenery and [because] their house show scene is a lot more active.†Goral plans to remain a member of Werewolves and return this summer for a few weeks to prepare for a tour. As for his membership in Crun Pun, he says that he'll either get replaced or the band will reform in a different configuration. This end-of-the-road show is a total blowout that includes all the aforementioned bands plus K-Macks and El Hollín.
I Got 99 Problems but a Beard Ain't One: Local opposition to the proposed Walmart-anchored development in downtown Athens got a major publicity boost last week with the release of the song "After It's Gone.†Written by Patterson Hood and performed by Hood & the Downtown 13 (Lera Lynn, Futurebirds, Mike Mills, David and Henry Barbe, Claire Campbell, Todd Nance, John Bell, John Neff, Brad Morgan and Jay Gonzalez), the song is an emotional and poignant plea in the tradition of Joni Mitchell's "Big Yellow Taxi.†A video for the song was shot by Jason Thrasher, and the song made its live debut atop Wuxtry Records last Wednesday. This has helped spread news of the opposition further than any previous effort, and I tip my hat and say thanks to all involved. For more information and to watch the Thrasher music video, visit www.protectdowntownathens.com/after-its-gone.
Lemme Hold a Dollar: A fundraising drive is underway to assist Dacula, GA musician Billy Wilkerson with medical bills totaling almost one million dollars. Wilkerson, who writes and performs as one half of The Brothers Bright, was hit by a drunk driver last July, and since that time has spent 16 days in a coma, suffered traumatic brain damage, undergone multiple reconstructive surgeries and a tracheotomy. The Brothers Bright—Wilkerson and songwriting partner Nick Kirk—are responsible for all the music featured in the boutique films produced by Whitestone Motion Pictures. This past December, with Wilkerson still in the early throes of recovery, the duo wrote and recorded a new song featured in the film Jack and the Dustbowl. The track, a folk-ish Americana meditation titled "Around the Bend,†is available for $.99 on iTunes, and proceeds will go toward Wilkerson's medical debt. For more information, please see www.billywilkerson.tumblr.com. Also, look for Flagpole's in-depth story on Wilkerson's recovery in an upcoming issue.
The Name of This Band Is…: Dunwoody, GA band Already Taken—with members ranging in age from 12–16—will have the designation as the youngest band to ever play Max when they take the stage at the Washington Street watering hole Friday, Feb. 10 at 8 p.m. The band has previously played Flicker and AthFest. The group is pretty accomplished at creating a pop-rock sound and declare their influences as ranging from The Beatles to The White Stripes. The two songs available online include a dark guitar number and an upbeat piano-based tune. My gut feeling is that their sound will eventually coalesce into one direction or the other. Composed of two sets of siblings—one set of which belongs to The B-52s' Cindy Wilson—the band has been working with music teacher Mark Gallegos for the past few years, honing their skills. The show is free, and you can learn more at www.alreadytakenband.com.
Short Takes: Even though it came out last year and we already talked about the band way up top, it wouldn't be the worst thing in the world for you to go check out the six-song EP by Crun Pun located at www.crunpun.bandcamp.com. It's a witty and rockin' burst of fresh punk that's decently recorded… There's a celebration happening at the Terrapin Brewery on Saturday, Feb. 11 for the opening of the new B-52s-themed Love Shack Bus Stop designed by Dana Jo Cooley. The party will go from 5:30–7:30 p.m. with live performances by The Subliminator and Love Tractor… ..The deadline to submit your music for possible inclusion on this year's AthFest compilation CD is midnight Wednesday, Feb. 15. You can now submit online via www.athfest.com/athfest-2012-cd-submission-form.
Like what you just read? Support Flagpole by making a donation today. Every dollar you give helps fund our ongoing mission to provide Athens with quality, independent journalism.