It's hard to believe it's already February. I hope everyone's plans for a rockin' 2012 have been working out. I know a lot of folks have been hibernating, but there's always time for that when/if it snows. So, for now, keep abreast of all the goings on. Oh, yeah, the goings on are down there below. Hop to it…
What I'm Sayin' Is They Got Some Hats Now: Even though I'm not generally one who goes in for utterly goofy band names, I gotta admit Quiabo de Chapeu made me laugh out loud. The band blends traditional Brazilian music with "a pinch of funk" and will play Hendershot's Coffee Bar on Saturday, Feb. 4. Word on the street is that the band tends to fill the room pretty tightly, so if you're interested, it'd be a good idea to show up before the 8 p.m. starting time. Oh, yeah, the name means "okra with a hat" in Portuguese.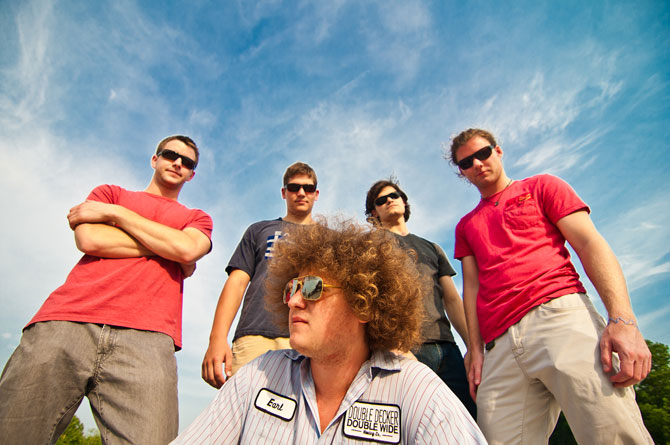 Take It Easy: Although ostensibly performing a blend of "rock, electronica, funk, metal and jazz," local band Sumilan actually plays a pretty mellow form of middle-of-the-road easy-listening. At least that's what they've chosen to highlight at www.reverbnation.com/sumilan. The thing is, I know I've seen them live at least twice, but for the life of me, I can't remember anything about their shows. So, I went online and found some videos of the band, and, indeed, they can occasionally get a little "funky." If you'd like to get down with them, then head over to New Earth Music Hall on Friday, Feb. 3. The band will be celebrating the release of its new album, Natural Selection, and might be so wrapped up in the moment they'll just cut loose.
Good Things: Monahan will perform as the house band for the fifth annual Big Hearts Pageant. Produced by the nonprofit Extra Special People, Inc., the pageant exhibits the talents and skills of children and young adults with developmental disabilities. This year's event is at the Classic Center theatre Saturday, Feb. 4 and begins at 7 p.m. The night's events will be kicked off, so to speak, by Vince and Barbara Dooley. Tickets are $12 in advance at www.classiccenter.com and at the Classic Center box office. For more information on E.S.P., please see www.extraspecialpeople.com.
Do It Again: Gypsy Farm Records and recording studio will host a mini-fest of sorts Friday, Feb. 24 at Little Kings Shuffle Club. The label recently held a successful three-day movable festival in local houses. This show will feature bands that are either on the label proper or have recorded at the studio, and the event seems to be shaping up as a pretty nice showcase. So far, the announced bands include The Humms, Koko Beware, The Rodney Kings, Timmy & the Tumblers and Cars Can Be Blue. Look for a feature article on Gypsy Farm in Flagpole that week, but, for now, head over to www.gypsyfarm.net for all your needs in this area.
Duty Now: Even though the whole world seems to be knee-deep in a protracted race for the White House, you can make your voice heard on a much more personal level by voting in the 2012 Flagpole Athens Favorites race. In the music area, you can vote for your favorite recording studio, live music venue (over 200 capacity), live music venue (under 200 capacity) and favorite non-traditional place to see live music. Voting deadline is Feb. 3, and the winners will be announced in our Feb. 29 issue. Do it over at www.Flagpole.com/AthensFavorites.
Short Takes: Tickets are still available for The B-52s show on Thursday, Feb. 9—coincidentally, pretty much the band's 35th anniversary, at the Classic Center. Prices range from $38.50–$149. Details at www.classiccenter.com… Reptar's EP Oblange Fizz, Y'all just got manufactured on vinyl after its short life as a digital-only release. Look for it in stores soon… Suspect Raptor released a new video for its track "Ellen Page" a couple of weeks ago. It's a perfectly lovely song colored 100 percent with 1990s indie-pop overtones. See it at www.youtube.com/SuspectRaptor… UGA's Hodgson Concert Hall has a few grand shows in the space of one week this month. Namely, The Emerson String Quartet on Tuesday, Feb. 14; Poland's Wroclaw Philharmonic on Thursday, Feb. 16 and Canadian Brass on Tuesday, Feb. 21. All performances are presented by the UGA Performing Arts Center. For ticket information, please see www.pac.uga.edu.
Like what you just read? Support Flagpole by making a donation today. Every dollar you give helps fund our ongoing mission to provide Athens with quality, independent journalism.