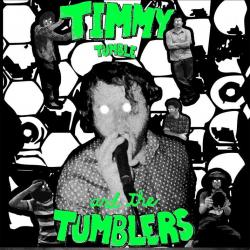 Tim Schreiber's singing voice is a thing of majesty and wonder, a strident but weirdly soothing squeal—Ted Leo on muscle relaxants. Schreiber—who fronted the throwback-rock combo Col. Knowledge & the Lickity-Splits before adopting his current moniker—is a truly magnetic, if slightly unhinged, frontman, as anyone who has caught a Tumblers show can attest. (Let's just say Timmy Tumble is more than a clever name.)
With Col. Knowledge, Schreiber faithfully explored the heartfelt boogie-stomp of '60s rock and soul, doing so with an obvious reverence for his source material. His work with the Tumblers, a group he formed in 2011, is similarly indebted—check the Beach Boyish bells and whistles that close out the Head Honey EP's title track—but also more willing to depart from the format when needed.
This looseness leads to many memorable moments, like on opener "Wave Of Her Own," where Schreiber tones down the possessed-frontman schtick and lets his band, a well-honed all-star cast featuring members of The HUMMS and All City Cannonballers, do its muscly, fuzzed-out thing.
"Jill," the middle track on the EP—which is available in physical form on 7-inch vinyl—will be perhaps the most familiar-sounding tune here to folks aware of Schreiber's musical history, but even it ventures into surprising territory, a wicked, Cheap Trick-ian guitar solo courtesy of J.S. Dillard tearing through its midsection. Really, the only downside to Head Honey is that it's over so quickly; here's hoping that a full-length follows before long. 4 out of 5.
Timmy Tumble and the Tumblers play the 40 Watt Club as part of a Gypsy Farm showcase on Friday, Dec. 13.
Like what you just read? Support Flagpole by making a donation today. Every dollar you give helps fund our ongoing mission to provide Athens with quality, independent journalism.