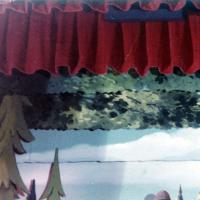 The individual output of Grant and Rachel Evans is seldom less than invigorating: as Motion Sickness of Time Travel, she explores and exploits synth texture to create an altidudinal sort of music, while his solo work is rounder, more terrain-based and in many ways more claustrophobic. Together, they are Quiet Evenings, heretofore a lower-key project whose previous LP, last year's Patience Folding Waters, was a pitch-perfect evocation of the unassuming band name, two 20-minute drones that collapsed inward while emitting a serene afterglow, the sonic equivalent of a moonless summer night. It was a good record, if not an all-out stunner.
The just-released Impressions finds the pair refining its approach and increasing its velocity: like its predecessor, it is a two-track, 40-minute LP, but unlike Patience, Impressions is a gripping work that demands full attention. No longer content to let their drones fade into the ether, Quiet Evenings instead pushes them to the front, Rachel's swirling, buzzing tones providing an invigorating lift to Grant's earthy rumble.
The result is shockingly dark, far spookier than Quiet Evenings' past work (like Dominick Fernow's latest left turn as Prurient, the group often evokes John Carpenter here) and more exciting, too: for my money Impressions is, by far, the most indespensible work the Evanses have created as a duo.
Like what you just read? Support Flagpole by making a donation today. Every dollar you give helps fund our ongoing mission to provide Athens with quality, independent journalism.