By the time Washington state sludge-metal kings Melvins and Los Angeles pop darlings Redd Kross arrive in Athens, they'll be smack dab in the middle of a 10-week stretch—their arrival here marks the 38th date of the journey. As they did during a successful tour a couple of years ago, Melvins drummer Dale Crover and Redd Kross bassist Steve McDonald will do double duty and play with both bands.
For decades, both groups have flirted with the rock and roll brass ring of stardom. Each has ridden the outer circle of the music industry carousel for a very long time, and at different stages, it seemed the carnival prize dispenser was finally going to give up the envied token to at least one of them.
Here's the thing, though: The ring game was invented to encourage merry-go-round riders to occupy the fixed-in-place horses on the ride's outer rows. Those on the inner rows didn't need to be lured, because the jumping horses provided enough overall satisfaction. But those on the outside—the cheap seats, if you will—were encouraged to keep their eye on the dispenser and grab what they could as it came out. A series of rings would be snatched up as fool's gold, but there was only a single brass ring for one lucky rider. If you wanted another chance, you had to buy another ticket.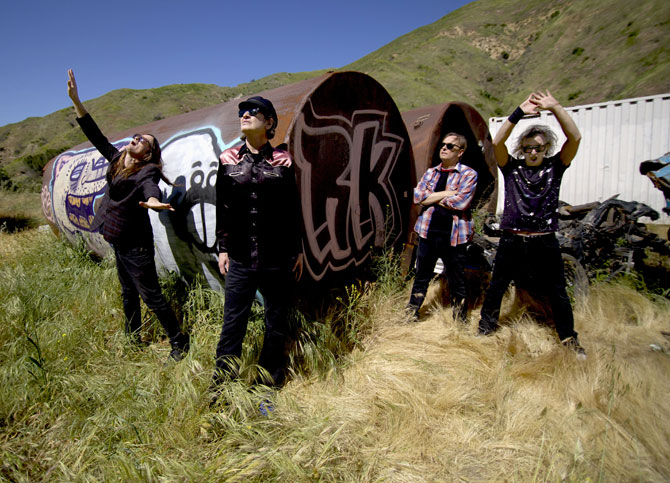 Photo Credit: Julian Fort
While there may be a hint of bitterness about all this in the Redd Kross camp—a band whose wonderfully catchy pop records have always seemed to precede a trend by a couple of years—if there's any among Melvins' crew, it's long passed into smirking humor and acceptance. Singer and guitarist Buzz Osborne made one of the most memorable MTV appearances of the 1990s by attempting to buy a house with a briefcase full of positive record reviews and Nirvana testimonials.
Indeed, neither band has ever been wanting for a place in the underground canon, and both groups have served as both influencers and contemporaries of legions of household names. (Well, at least some households.) Still, it was a little funny to see fresh-faced Nirvana fans experience Melvins on Kurt Cobain's recommendation, only to be face-melted into submission by the wildly aggressive sludge Buzz and company pumped out. Similarly, Redd Kross, with their long hair and '70s threads, must've frustrated more than one punk rock crowd by the time they shifted away from the one-two-three of L.A. punk's early days and moved into beautiful power-pop territory.
Melvins' latest album is 2018's Pinkus Abortion Technician—a title so full of in-jokes it was practically born on a record store shelf. It also features occasional member Jeff Pinkus (Butthole Surfers), who just swung through town himself, on bass. And in true over-the-top Melvins style, the album features two bass tracks on each song.
Redd Kross, for its part, is in the midst of celebrating the new album Beyond the Door, its first full-length for Merge Records. The North Carolina indie stable has also released the band's rarities compilation Hot Issue, as well as a fattened reissue of the 1984 release Teen Babes From Monsanto.
Put simply: This rock business has been a lifetime for each of 'em. Melvins are in their 36th year, and Redd Kross formed way back in 1978, when the McDonald brothers, Jeff and Steve, were ages 15 and 11. At this point, it's fairly safe to say that livings have been earned and lifestyles maintained, and all that talk about brass rings and the underground and indie cred and other worthless things are pretty past the point for all concerned. And, honestly, while this writer has never seen Redd Kross in the flesh, he has seen Melvins a bunch of times, and you'd never know from the crowd that these dudes were anything less than full-on rock gods.
This isn't the first trip the pair have taken together. Most recently, in 2017, they toured Europe and Australia, each jaunt packed with a sum of shows proportionate to this current tour. Which is to say, they basically played corner to corner. And, considering how much chatter there's been about this show already, you can bet that, if you're there, you'll be shoulder to shoulder.
Like what you just read? Support Flagpole by making a donation today. Every dollar you give helps fund our ongoing mission to provide Athens with quality, independent journalism.