Started in 2009 to give service drones and townie crumbums a chance to get rowdy while students were gone, SlopFest has evolved into one of Athens' most essential music events. Generally focusing on punk, metal and other loud sounds, it serves as a good barometer of the local rock scene's vitality. This year's schedule is stacked, featuring nearly 30 bands spread across four days. The first three nights take place at Little Kings downtown, while Sunday's show moves to Hi-Lo in Normaltown. Here are a few of the acts you can look forward to seeing at SlopFest 2018. For the full lineup, see The Calendar. [Gabe Vodicka]
The Grawks
Friday, July 20, 9:30 p.m.
Steve Phillips, Nate Fackler, Matt Hart and Robin Cofer make up The Grawks, a grungy garage-rock band with surf and rockabilly leanings. In certain spiritual and stylistic ways, The Grawks seem to exist on the fringes of the local music scene, but the group turned lots of heads with its most recent release, last year's All That Lasts, a roaring, seven-song LP that wears its classic-punk heart on its sleeve.
Multiple Miggs
Friday, July 20, 10:30 p.m.
Few Athens bands have the capacity to shake concertgoers from their post-work head-bobbing stance or mid-set cigarette break, but Multiple Miggs never fails to get people moving with its belligerent punk. Rather than becoming an ultra-aggro, tough-guy group, the band manages to retain a straightforward classic-hardcore sound without falling into cliche. Paintings have been torn off walls, rivalries have started, friendships have been broken, and lips have been busted at the Miggs' shows, and you're encouraged to join in—or at least enjoy the spectacle.
Fart Jar
Friday, July 20, 11:30 p.m.
Imagine a cartoon world where farts are held in jars and released at will. What various sounds do they make as they are freed? The synthy squeaks and gaseous blurts of your imaginary are realized with Fart Jar, a kind-of metal, kind-of grindcore, definitely goofy local band. One imagines that the heavy, jammy sludge-metal group could have risen from the infernal depths of the Elephant 6/Orange Twin scene's nonexistent hellacious underbelly.
Blue Bodies
Saturday, July 21, 8:30 p.m.
Blue Bodies' music simultaneously inspires dancing and crying, featuring emotional lyrics summoning feelings of letting go and mourning lost time, lost friends and lost stability. Longtime Athens townies who enjoy the replete honesty of Christopher Without His Liver can catch that project's principal, Christopher Ingham, on guitar and singing with Elliott Caldwell on drums and Max Manahan on bass in this must-see bummer-pop-punk group.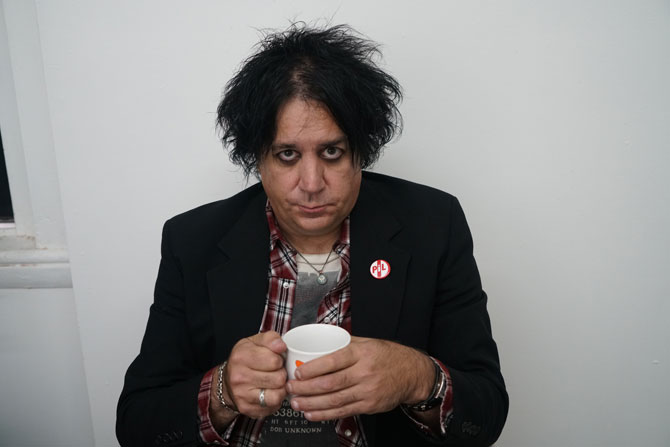 Collision Drive With Kevin Dunn
Saturday, July 21, 9 p.m.
Although the 8-Track Gorilla has made many SlopFest appearances over the years, the man behind the monkey suit, Kenny Aguar, will be stepping out this time as Collision Drive, playing minimalist, no-wave psychobilly songs in the style of Alan Vega. After Flight Mode USA disbanded in 2016, Collision Drive represents a "logical next step" for Aguar. He's joined by Kevin Dunn, a Georgia legend remembered for his dancey post-punk releases on DB Records from the late '70s and early 80s. This duo is bound to play a killer once-in-a-SlopFest set.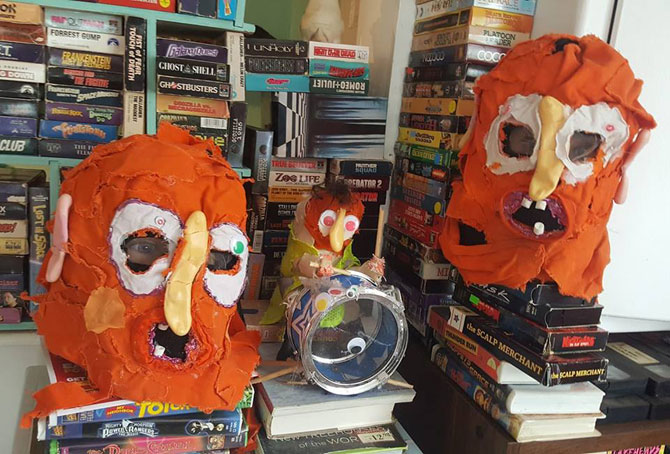 Bursters
Saturday, July 21, 10 p.m.
Without spilling too much of the juice on this local thrashcore band of masked orange jammers, we'll say that it's truly challenging to determine which of the bandmates within their buzzy, tight-knit citrus crew are human musicians and which are pre-programmed machines. Don't show up late to this show, because you just might miss their five-minute set. Orange you glad Bursters are playing SlopFest? We know we are.
Like what you just read? Support Flagpole by making a donation today. Every dollar you give helps fund our ongoing mission to provide Athens with quality, independent journalism.