Editor's note: In Random Athens Memories, locals reflect on Athens concerts of consequence. To kick off the series, Pylon's Vanessa Briscoe Hay writes about English rock group XTC's 1981 tour stop in the Classic City.
Local fans of both XTC and R.E.M. wish they could take a time machine back to Apr. 24, 1981 for their show at the B&L Warehouse in Athens. R.E.M. was a young band with a growing following. XTC was playing at the top of its game. Its sound lay somewhere near the intersection of punk and pop. Recently, I spoke with a few who were there. I also caught up with former XTC members Colin Moulding and Terry Chambers, who have just self-released an EP, Great Aspirations, with their new project, TC&I.
Here in Athens, the cavernous, dark room that was once the B&L Warehouse is long gone. Now a part of UGA's Hodgson Oil Building on Oak Street, it has settled into a more pedestrian persona as an office complex. Brad Cahoon remembers walking to the XTC/R.E.M. show with some friends from his dorm across the railroad tracks. "The venue felt big compared to Tyrone's O.C., which is what we were used to, but the same crowd seemed to be there." Like so many Athenians in the early 1980s, he listened to WUOG, which had put XTC tunes "Life Begins at the Hop" and "Making Plans for Nigel" in heavy rotation. Cahoon thought it "was cool that our local heroes were opening for a big-time band."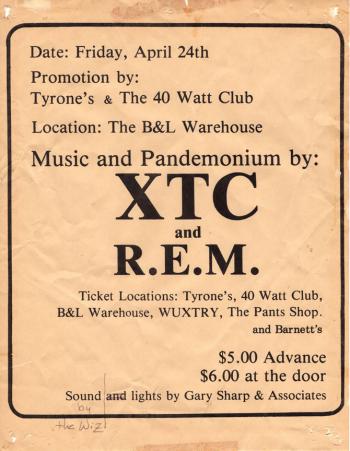 Photo Credit: T. Patton Biddle
R.E.M. bassist Mike Mills says the show "was one of the most fun nights I've ever had… XTC were as hot as any band I ever saw. The crowd simply would not let them stop playing, and I think they were as surprised at the multiple encores as they were happy to play them. The musicianship of Colin and Andy [Partridge], and the power of the band, gave us something to shoot for."
Bryan Cook of Is/Ought Gap and Time Toy says this was the first time he saw R.E.M. with colored lights on the stage. "R.E.M. looked like a real, pro band," he says. "It was the show of the year for us," Cahoon adds. "It helped us realize that what was going on in Athens really was part of something bigger."
UGA alumnus Jeff Hollis says, "There was great energy in the room that night. The audience was enthusiastic, and I think the bands picked up on that. I just recall having fun from start to finish."
Moulding, however, has little remembrance of this show, as it was one of many dates on a long American tour for the Black Sea album. "I know the reception we got in general across America was nearly always good," he says. "It was a great time to be young and into music."
When XTC came to an end in 2007, Moulding remembers, "I went down like a wounded horse. It had been such a big part of my life that I couldn't face starting anything new… I think I just watched TV for two years and made myself a nuisance at the local tennis club."
But Moulding soon found music again, collaborating with prog-rocker Billy Sherwood on several recordings. And last year, Moulding and Chambers debuted their new group. "Terry left the band in 1982 and moved to Australia to be with his wife at that time," says Moulding. "He had made previous visits to the UK… When he came over in 2016, he expressed a wish that he would like to come back to England on a permanent basis. I asked him there and then whether he fancied playing on some new songs of mine. One thing led to another, and then we formed TC&I. A very enjoyable few months we had, too, recording and having fun."
The four songs on Great Aspirations include adult themes like conservation and facing mortality. One can only hope that Moulding and Chambers continue to record and share their talents with the world.
Like what you just read? Support Flagpole by making a donation today. Every dollar you give helps fund our ongoing mission to provide Athens with quality, independent journalism.