The Flaming Lips have a reputation. Their shows are visually dazzling, about as close as one can get to a brain-frying acid-trip adventure without actually dropping a tab. The music itself can be experimental, so, fairly or not, the long-running rock band is often branded as psychedelic.
And there's some truth in that. Like most musicians, frontman Wayne Coyne is subconsciously influenced by the music of his youth, and he says there was no escaping the psych-rock sounds of the 1960s and '70s.
"I had older brothers and an older sister with all these fucking crazy friends," he recalls. "Not very many of them were musicians, but they were playing music nonstop, taking drugs, riding motorcycles—just doing the craziest, craziest shit. Whatever music they were listening to when I was 10 years old was exploding my mind, and there's some of that in me… If you looked inside the building of my brain, you would see an explosion down in the lower basement, and it's splattered with the blood of The Beatles and Jesus Christ and Jimi Hendrix and Pink Floyd."
That said, Coyne believes The Flaming Lips are equally indebted to the DIY ethic and energy of punk rock. "We could have never existed as a normal group playing psychedelic music," he says. "It's our version of punk rock. It just happens to sound slightly like The Grateful Dead."
Among casual fans, The Flaming Lips are probably best known for "Yoshimi Battles the Pink Robots, Pt. 1," a song about a Japanese girl training her body and mind to kung-fu fight an army of colorful robo-warriors. As fun and catchy as that tune is, though, it paints a limited picture of a band that has been touring steadily since 1983 and most recently released its 14th studio album, Oczy Mlody. (Coyne and bassist Michael Lee Ivins are the only remaining founding members, though longtime multi-instrumentalist Steven Drozd is also still with the group.) At this point, the Lips have a vast catalog of music.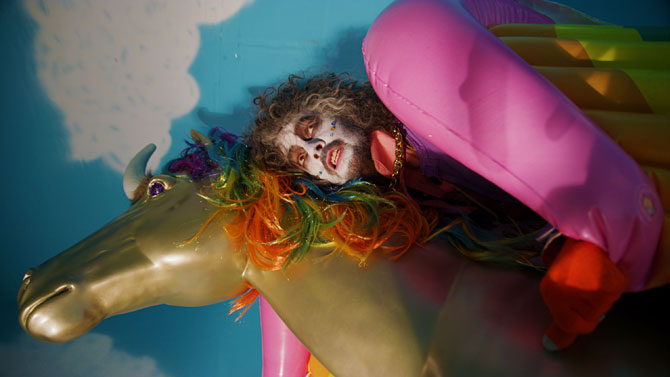 Photo Credit: George Salisbury
Speaking to Flagpole from his home in Oklahoma City, Coyne explains that they generally draw crowds of a few thousand, which is about what you'd expect for an established band with a cult following. But due to their reputation as an absolutely bananas live band, they're often given prominent festival slots—and playing those huge shows is a whole different beast.
"If you're playing for 60,000 people, a lot of them aren't going to know who you are," Coyne says. "Maybe a quarter of the people know what you're doing, but the other 75 percent are just there to party. Unless you're Bruce Springsteen or Coldplay, you're not playing to an entire stadium that's there just to see you. But we've found that if you get a small group of people very excited, you get a bigger group fairly excited."
The Flaming Lips have always embraced their role as entertainers. In the live setting, Coyne and company incorporate any number of absurd props, costumes and video displays, from dancing Teletubbies to unicorns to just plain naked people. Coyne has made a habit of making grand entrances via a descending UFO, and at virtually every show, he gets in a plastic "space bubble" and rolls offstage like a hamster in a ball, relying on hands in the crowd to keep him afloat.
The space bubble, especially, has become a fixture of the Lips' show. After so many years of touring and playing festivals, Coyne says he's gotten inside it 1,000 times. In fact, he recalls only one time he didn't: Before a show somewhere in South America, a concert promoter was afraid the crowd would attempt to burst his bubble, literally. And that he might get stabbed.
The bubble is a great tool for heightening moments, but it remains a nerve-wracking experience for Coyne.
"It's like when Steven Spielberg makes you feel like you're on the beach in Saving Private Ryan," he says. "There's no sound, and you're claustrophobic, and it's hot, and you can hear your heart beating. But when you're in a Steven Spielberg movie, it's insanely dangerous and you're about to die… I'm just trying to make sure I don't crush somebody's face."
It's not a baseless fear, Coyne says. Almost inevitably, there's a pocket of concert-goers who are somehow unaware of the giant plastic ball that's about to roll over them.
"I actually get concerned about those people who don't know what's coming," he says. "It could be a great show in every other respect, but they'll still go home and say, 'Some weird old guy landed on my head.'"
But it usually works out OK. Looking back on decades of crazy antics, Coyne says the bad stuff—like crushing a fan's face—tends to stick out, because it's the exception.
"For the most part, it's all been wonderful," he says. "It's one giant, giant ocean of wonderful memories."
Like what you just read? Support Flagpole by making a donation today. Every dollar you give helps fund our ongoing mission to provide Athens with quality, independent journalism.