Athens' record-store landscape just got a little heavier.
After establishing Shadebeast Records as an online store specializing in heavy metal LPs, Joe Eldridge began operating an underground shop out of his home in Athens. "After about six months, people started coming from as far as Atlanta to browse," he says. "Then, it was obvious that a metal record shop probably had enough interest to open a retail spot."
The store, now officially doing business in the Chase Park warehouses on Saturdays from 11 a.m.–6 p.m., "plus some other times," according to its website, has already proven popular, catering to an underserved market of regional metalheads fervently searching for the loudest, sludgiest new sounds.
"It's been incredible," says Eldridge. "Metalheads into vinyl will make pilgrimages to shop for records. We had a pretty good clientele built up on social media, and some those people who are local have transitioned to walk-in customers. Atlanta-area folks are coming in."
In addition, he says, local businesses like Pain and Wonder have steadily referred customers to Shadebeast, adding to a word-of-mouth buzz that continues to grow.
Eldridge, who moved to Athens from upstate New York in 1988 after graduating from high school, was drawn to the Classic City for a common reason: its music scene.
"[I] moved into a punk rock house where everyone was in a band, and touring bands like Gwar, Melvins and All would often crash," he recalls. "I played music myself for a bit, but didn't really have the devotion or talent to keep it up."
Still, in those early days, Eldridge says, his life revolved around live music. He witnessed formative performances by noise-rockers Sonic Youth, Butthole Surfers and the Jesus Lizard, though his true love was—and is—heavy metal.
"I was a young kid in the '70s and grew up around stoners listening to Deep Purple, Zeppelin and Queen," he says. "I was buying records on my own by age 10 and just had a fascination with the music, the art, the lyrics. All of it. I discovered punk rock when I was a teenager, and got into thrash and sludge metal as those genres emerged.
"I guess the common element of all this music was not just the sonic intensity, but also the heaviness of the subjects they were writing about," he explains. "I've always loved slower, darker stuff the most. I'm very much of the opinion that the original Black Sabbath was the greatest band there will ever be."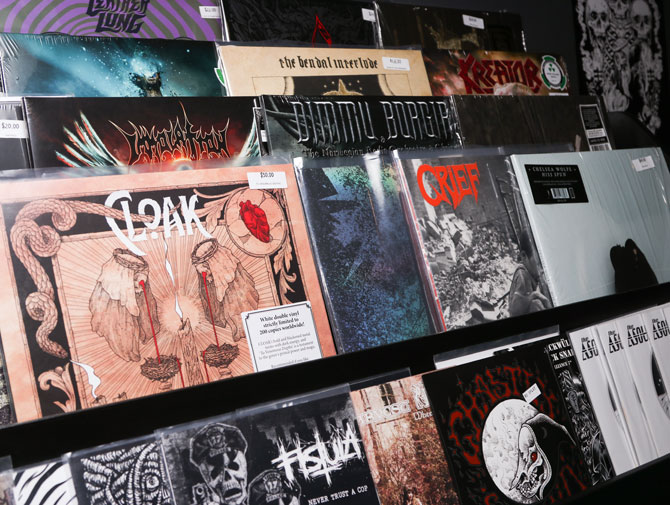 Photo Credit: Nicole Adamson
Shadebeast's inventory, carefully selected by Eldridge based on his own tastes as well as customer input, includes new releases from contemporary artists both metal and metal-adjacent—think Converge, Cannabis Corpse and Chelsea Wolfe—and collectible versions of classic heavy-rock LPs.
Aesthetically, the compact space, with its dark walls and dim lighting, is modeled after the hazy head shops Eldridge loved as a curious youngster—"those places with the beaded curtains, incense burning and black-light poster racks," he says. "Sometimes I'd just hang out in there and browse for hours, listening to what they were playing on the stereo."
Shadebeast's commercial potential is seemingly limited by design. Though the vinyl industry continues to expand—Kindercore will show off its much-anticipated new pressing plant at a public event Sunday, which you can read more about here—the small size and specific focus of Eldridge's store mean it's unlikely ever to bring in big bucks.
Indeed, Shadebeast is primarily a labor of love, a brick-and-mortar testament to its owner's affinity for dark and doomy sounds. It's intended "to not just be a place to buy records, but a shop with a welcoming vibe where you can meet up, learn about new music or just hang out and listen if you want," Eldridge says.
And with Athens' tight-knit metal scene slowly but surely on the come-up—fostered by venues like the Caledonia Lounge and anchored by brutal bands like Guillotine, Beast Mode and Savagist—the opening of this heavy-metal community center appears particularly timely.
"It's small but devoted," Eldridge says of the local scene. "I'm only just getting back into circulation more myself, but there are a few really incredible local bands… I won't list any, because I'll forget some, but this town has some riff lords, for real."
Shadebeast Records is located at 160 Tracy St., Ste. 9. It can be found online at shadebeastrecords.com and facebook.com/shadebeastrecords, where Eldridge posts new arrivals and other updates.
Like what you just read? Support Flagpole by making a donation today. Every dollar you give helps fund our ongoing mission to provide Athens with quality, independent journalism.