Athens is a music town, but it's not really a music industry town. A new local company is looking to change that.
Confirming rumors that have circulated for the past year, the owners of the Kindercore Records label tell Flagpole they will open a vinyl-record manufacturing facility in a warehouse on Fritz Mar Lane in north Athens. Kindercore Vinyl, which will begin operating as early as July, will be the only such facility in the state of Georgia, and one of about 20 currently operating in the entire country.
"We're bringing music infrastructure to Athens," says local musician and Kindercore Vinyl President Ryan Lewis. "We've got world-class studios, we've got the [UGA] music business program. Bringing this next level of stuff into it [will be] really good for the town."
The vinyl biz is booming. U.S. sales rose 26 percent in 2016, and a whopping 40 million records are projected to sell worldwide in 2017. Major plants, saddled with outdated equipment and facing overwhelming demand, have found it impossible to keep up. Order wait times stretch up to a year, and the huge backlog has led to quality issues.
"Vinyl is a seller's market right now," says Lewis. "There's not enough capacity, so pressing plants ship terrible-quality vinyl."
Bill Fortenberry, a local recording engineer who's in charge of "sales and sound" for Kindercore Vinyl, says it will focus on raising that standard. "One of the things I'd like for us to do is make sure our basic offering is substantively better [than other companies], in terms of consistency," he says.
Getting to this point wasn't easy. Lewis and Fortenberry left steady jobs over a year ago to focus on the company. At various points, things looked grim. Chief Operating Officer Cash Carter describes being on the verge of eviction. "There were a lot of times that this almost crashed, and we were pretty close to giving up," Fortenberry says.
Early on, they met with representatives from local and state government. They found many well wishes but no financial support, which Chief Technical Officer Dan Geller calls "a real missed opportunity" for Athens-Clarke County.
After much lobbying, they secured more than $1 million from a team of private investors led by entrepreneur Russell Bennett, whose LinkedIn page lists his specialties as "land acquisition and brokerage, sustainable farming, solar energy [and] biofuels." An avid record collector, Bennett was swayed in part by Kindercore's plan to replace—at least in part—petroleum, traditionally used in vinyl manufacturing, with a more eco-friendly material.
Geller, who also works as a research engineer at UGA in the field of bioenergy, admits it's a lofty goal—Kindercore would be the first to pull it off—but is convinced it will happen. "At first, it won't be 100 percent," he says, "but a portion of [the petroleum] will be replaced with renewable materials."
After raising funds, the company sought the necessary equipment, which, until recently, was hard to come by. For the last decade or so, vinyl plants have competed for a limited number of inefficient, inconsistent manual presses that date back to the 1970s. Late last year, a Canadian firm called Viryl Technologies unveiled a fully automated, computerized press dubbed the Warm Tone, with the goal of "help[ing] the industry get rid of its own bottlenecks," as Viryl CEO Chad Brown told The Globe and Mail newspaper.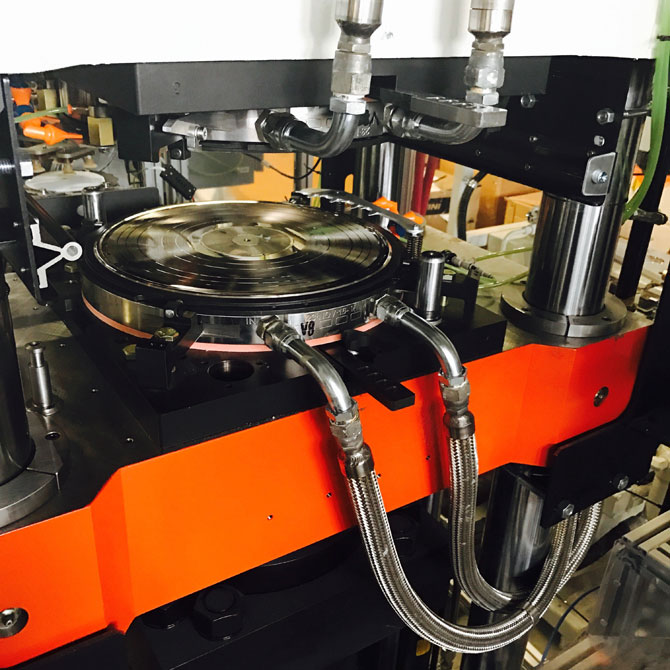 Photo Credit: Ryan Lewis
Kindercore purchased three of the machines at a cost of over $200,000 each, and will be among the first to use the cutting-edge presses, which Geller refers to as "the Tesla of vinyl presses." Their capacity is up to five times that of manual presses, meaning the Athens factory will be able to produce 2,000–3,000 records each day.
Using automated equipment also means the company's staff will be smaller than what one might expect from a manufacturing facility. Kindercore Vinyl will employ five salaried, full-time workers, and will hire part-time employees on a per-project basis for packing, shrink-wrapping and other tasks. Lewis hopes the plant can serve as a prototype, a local example of what he calls "modern manufacturing."
"These aren't really blue-collar jobs so much, because they require understanding of computer interfaces and technology," says Lewis. "There's gonna be a lot more thinking and a lot less bending and lifting."
Kindercore plans to market itself to small regional labels and unsigned bands as a friendly, convenient pressing option. It will be "more open" than its competitors, says Lewis, and will encourage local customers to avoid costly shipping fees by picking up their orders directly from the factory.
It remains to be seen how the fledgling company will deal with what's sure to be intense interest in its services. Perhaps tellingly, Lewis is looking to the craft-beer world for guidance—specifically Creature Comforts, which opened downtown in 2014 to much fanfare and is soon to expand, with financial support from the city, into a second Athens location.
Lewis is hopeful Kindercore Vinyl can follow a similar path. Still, he's realistic about the amount of effort his team will need to put in to make it happen.
"We'll work the hours we need to work to get stuff done," he says, adding that sheer determination has gotten them this far. "People definitely told us we were crazy for wanting to do it," he says. "But we did it."
Like what you just read? Support Flagpole by making a donation today. Every dollar you give helps fund our ongoing mission to provide Athens with quality, independent journalism.