As we gushed at the end of December, 2016 was a heck of a year for Athens music. Online marketplaces like Bandcamp seemed to burst at the seams with Classic City sounds, while local tape, CD and vinyl releases flew off area record-store shelves and, in some cases, made noise nationwide.
"Sure," you say, "but that was then, this is now, and 2017 is just going to be a big ol' bummer all around." To which we say: Poppycock! We may live in a brave new world, but until Trump installs 3 Doors Down as Secretaries of Streaming and starts shipping local musicians off to Guantanamo, there's still plenty to celebrate.
We'll prove it. Here are 13 upcoming albums we can't wait to spin for the very first time:
Brent Cash
Title: The New High
Release Date: Jan. 27
What to Expect: Recorded with engineer Joel Hatstat and out this Friday, the acclaimed indie-pop singer-songwriter's first album in six years features "stripped-down production compared to the previous ones," says Cash. "I played and sang everything this time, except for the strings. Melodies still dominate, but [the] lyrics [are] less transparent this time around."
Dead Neighbors
Title: TBA
Release Date: TBA
What to Expect: The shoegazey garage-pop act is painfully tight-lipped about its first release since 2015's self-titled, self-recorded stunner. "We can't really talk about it too much yet," says the band's Sebastian Marquez, before assuring us it'll come out this year. OK. We're still excited.
Deep State
Title: Thought Garden
Release Date: Apr. 7
What to Expect: The pop-punk band's new record is gaining momentum even before its release, thanks to a solid word-of-mouth campaign by the group's new label, Sacramento-based Friendship Fever. Asked to describe the album's sound, frontman Taylor Chmura is succinct. "Fuck, I don't know," he says. "I think it's good rock and roll."
Double Ferrari
Title: Double Ferrari
Release Date: April
What to Expect: The riff-rockers' debut was recorded with renowned engineer Tim Green, and comes courtesy of battle-tested Jersey label Ernest Jenning Record Co. "It sounds like kite-surfing with guitar strings, except the kite is a fighter jet that drops pizza instead of bombs," says guitarist Jace Bartet. "It's meant to be an ode to the inclusive potential and universally adrenalizing nature of electric guitar harmony."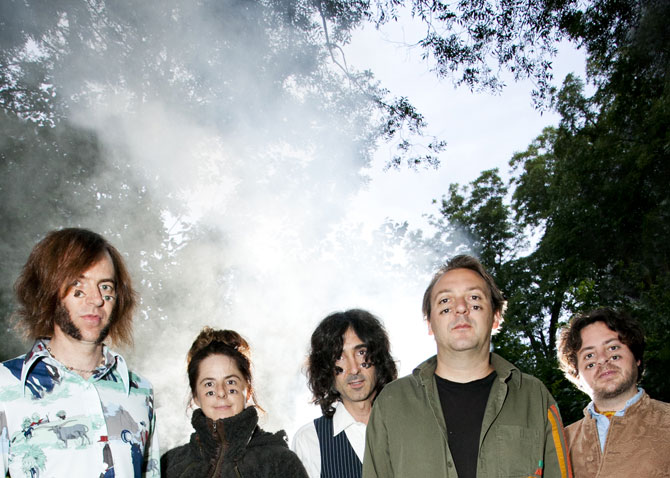 Photo Credit: Jason Thrasher
Elf Power
Title: Twitching in Time
Release Date: May 12
What to Expect: The successor to 2013's Sunlight on the Moon "combines experimental arrangements and sublime songwriting with their powerful live bombast, [creating] their strangest, most cohesive and most exciting-sounding album yet," according to a press release. Frontman Andrew Rieger also promises hints of Sunn O))) and Laurie Anderson, which means Elf Power's 14th full-length might be its weirdest yet.
Five Eight
Title: Songs for St. Jude
Release Date: Spring
What to Expect: The Athens rock legends will release their newest—a sprawling double-album that's been in the works since at least 2015—via Austin, TX label Chicken Ranch Records. Recent performances have showcased a newly energized Five Eight, and an early taste of the upcoming record reveals a similarly dynamic sound. The album will feature brand new tunes as well as established staples of the group's live show, including bangers like "The Hollow."
Juan de Fuca
Title: Solve/Resolve
Release Date: Fall
What to Expect: The first full-band release from Jack Cherry's eclectic indie-rock project will reportedly showcase a whole new sound. Cherry says engineer Drew Vandenberg played a big part in shaping the LP, explaining that "we explored a lot of textures on the record… [it] reflects a wider range of influences, from shoegaze and post-hardcore to '70s punk and soul."
Maximum Busy Muscle
Title: Apply Yourself
Release Date: TBA
What to Expect: MBM's Adam Hebert says the band's upcoming record "is a departure" from the math-rock band's previous work. "There's a heavier emphasis on song structure instead of guitar and bass acrobatics," he says. "While still very much a musicians' record, we've made a painstaking effort to [make it] listenable for people who don't work in music stores."
Monsoon
Title: TBA
Release Date: Spring
What to Expect: Not a whole lot is known about the pop-punk trio's new record, tracked at Full Moon Studio in Watkinsville. "It will sound relevant to the times at hand," singer and guitarist Sienna Chandler offers cryptically. The group has undergone several lineup changes since 2015's Ride A'Rolla, with Chandler's fiery energy a blessed constant.
Nihilist Cheerleader
Title: Riot, Right?
Release Date: Mar. 10
What to Expect: Local imprint Perfect Attendance Records will release the buzzworthy dance-punk band's first full-length, which should turn a few heads in town and outside of the Loop. Guitarist and singer Flynne Collins says the album will feature "lyrics seeking solutions to all the messed-up things that happened in 2016," adding that it will be "raw, alive [and] honest."
Oak House
Title: TBA
Release Date: March
What to Expect: The Athens/Atlanta post-rock band's follow-up to 2014's Plastique Cash will be "much more exemplary of our current sound," says frontman Gresham Cash, adding that the three-piece "made sure to produce an album that is as close to our live sound without sacrificing the creative elements and textures available in studio."
Tunabunny
Title: PCP Presents Alice in Wonderland Jr.
Release Date: Mar. 2
What to Expect: This long-rumored double-album, featuring 28 songs spanning 75 minutes, is finally here. Per the art-rock outfit's Scott Creney: "You can hear echoes of T-Rex, Slits, Electrelane, Chills, Human League, John Cage, John Cale, GBV, Beefheart, Ono, Eno, Fine Young Cannibals, Fleetwood Mac, Luc Ferrari, Bananarama, ? and the Mysterians, Smiths, Syd Barrett, and on and on. So, basically, it just sounds like us, only more so."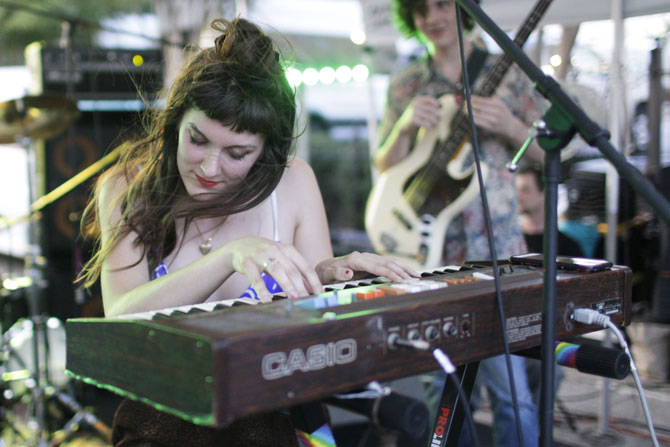 Photo Credit: Joshua L. Jones
Wanda
Title: TBA
Release Date: TBA
What to Expect: "A small, magical world in which we peek into scenes of humans and creatures, featuring vignettes especially of feminine relationships," says the pop group's leader, Avery Draut. In addition to the standard guitar-bass-drums instrumentation, the ambitious record features synths, horns, woodwinds, a harp, strings and more. Much is up in the air—the album remains under construction, and not even the band name is set in stone. "I'm thinking of changing [it] to Avery Leigh's Night Palace," says Draut. "Who knows!"
Like what you just read? Support Flagpole by making a donation today. Every dollar you give helps fund our ongoing mission to provide Athens with quality, independent journalism.