As the weather warms and downtown Athens swells with foot traffic, bootstrap buskers and trained musicians alike enliven the atmosphere, making the sidewalk their stage and providing a soundtrack for shoppers, walkers, partiers and other passersby. Just in time for Twilight, one of Athens' busiest annual outdoor events, Flagpole caught up with a few local street performers to find out what keeps them strumming and drumming.
Calvin Jay Hampton, drummer
"I've been street performing for about two years. I've been playing the drums since I was 3… Music is love, music is life. That's pretty much how I rock… I have a nickname now: 'The Heartbeat of Athens'. There was a guy about four years ago, and I guess I replaced him. I'm trying to keep the tradition alive."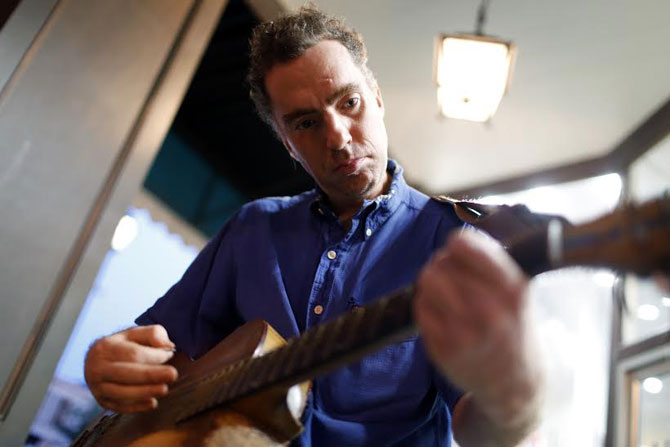 Photo Credit: Joshua L. Jones
Spencer Rich, guitarist
"I've been playing in bands for a long time. I don't know, the job outlook is kind of tight sometimes, so I earn a few extra bucks here and there by playing on the street—especially when the weather is nice."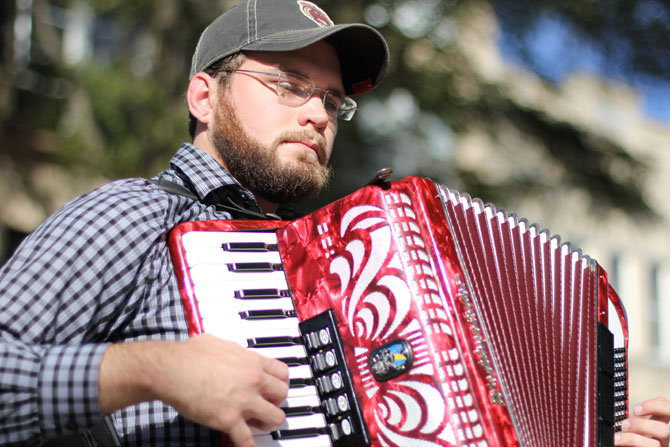 Photo Credit: Laura James
Jared Wesley Price, accordionist
"My music is eclectic. It's a mix of several different random things. A lot of it is stereotypical Celtic music, but there are some video game tunes mixed in there."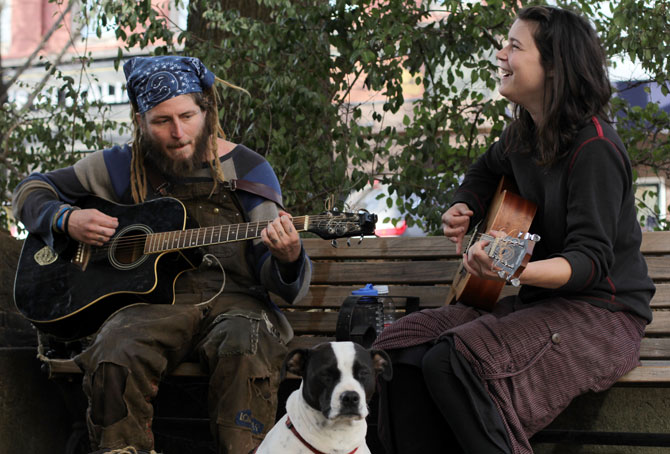 Photo Credit: Laura James
Lucas Von Elfboy and Kristin Schramm, blues duo
LV: "We've only been playing for a couple months together. [She] and I met in California in October of last year. I hitchhiked there to Cali from Maine."
KS: "I decided I'd much rather be doing something I enjoy doing, and that people like witnessing, then saying, 'Hey, can I have some money?'"
Like what you just read? Support Flagpole by making a donation today. Every dollar you give helps fund our ongoing mission to provide Athens with quality, independent journalism.