When they moved to Athens from Orlando in 2012, Knowa and Mokah Johnson faced a problem familiar to many local would-be movers and shakers: how to grow and galvanize an artistic population plagued by constant turnover, a lack of community support and an underlying, if inadvertent, current of self-sabotage.
The Johnsons were taken aback by the lack of a distinct hip hop community in Athens, a town known as a music hub the world over.
"[Athens] is where Orlando was 10 years ago," says Knowa. "And it's surprising, because Atlanta's right up the street."
In Florida, the pair had helped unify a scattered scene via Chocolate City Live, a grassroots promotions and marketing company. They set out to do the same in Athens, forming the similarly oriented United Group of Artists Live and creating the Athens Hip Hop Awards.
The awards show, where both nominees and winners are chosen by popular vote, recognizes not only the musicians who make up Athens' hip hop scene, but also the people and businesses that are the cultural and economic lifeblood of the African American community, including barbers, beauty salons and soul food restaurants.
The inaugural 2013 event bore the marks of its infancy, but it got people talking.
"There were people that thought they would win that took it pretty hard," Knowa recalls. "It's shaken people up… It even shook us up at one point, the [online] comments attacking the awards show, thinking it's doing something other than what it's doing."
Once the drama died down, they say, people began to understand the significance of what the Johnsons had brought to Athens. "After they meet us," says Mokah, "the whole dynamic changes."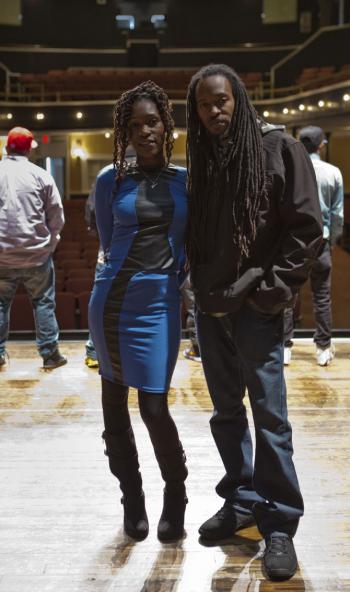 Photo Credit: Joshua L. Jones
In the time since, Mokah and Knowa have helped organize an increasingly visible community of MCs, DJs, beat-makers and their supporters. Last year's Athens Hip Hop Awards showed much growth in both concept and execution.
In a small sign of solidarity, AthFest offered its first-ever dedicated hip hop showcase in 2014—coordinated by longtime advocate Montu Miller and his ATHFactor Entertainment group—which featured local rappers Tony B, Big Body and Blacknerdninja, among others.
"It's growing, and it's maturing," says Knowa, of Athens hip hop. "It's a more united scene… I've seen people mend their differences and start collaborating." Still, he adds, "the work isn't over yet."
Among the issues the Johnsons hope to tackle in the coming months are what they perceive as a continuing lack of respect from music venues, helping artists effectively promote their work ("When you drop a project, there needs to be a standard of marketing. I shouldn't have to see you to know you dropped something," says Knowa), bridging the town-gown gap and the need for a marquee artist to put Athens on the map.
"The awards help, but it's gonna take a lot more. I think we need to find that right hip hop artist that has the possibility of blowing up [outside of Athens]. But it's bigger than the music, too," says Mokah, noting that Athens' rock scene is sustained in part by artists like Drive-By Truckers, who continue to support their hometown both creatively and financially after making it big.
And though they have established a dialog with certain local clubs, many of which have increased the hip hop presence on their stages, the Johnsons say there is more to be done.
"Some of the people who could make a difference, who could give us support, don't," says Mokah. "This town is definitely set up a certain way. There are some doors that need to be kicked down. There are some changes [needed], if we're going to have a level playing field."
In the meantime, the pair get ready for the third annual awards show, which takes place Saturday, Mar. 7. With two years of trial and error under their belts as well as support from UGA's Music Business Program, Knowa and Mokah say the 2015 event will be the strongest yet.
"The entertainment is really just gonna be on the next level," says Knowa. This year's show will include a special live tribute to the legends of hip hop, as well as surprise guest presenters and a performance by burlesque troupe the Modern Pin-Ups.
"We're trying to cover all the five elements of hip hop [rapping, DJing, dance, street art and knowledge] and incorporate them in the show," says Mokah.
Though the awards show has become the epicenter of Athens hip hop, its creators continue to view it as a starting point, a way to get people digging more deeply into the scene and for artists to trade ideas and affirmations.
"We're trying to bring unity," explains Mokah. "We're still trying to figure out how to be a resource to the hip hop community… We plan on living here. We like Athens, as far as raising our kids." But, she admits, "it hasn't been easy… I don't know how long it's gonna be before we see the changes we want."
Still, their work has already led to definite progress, even if it seems incremental. And the Johnsons are clearly committed to the long haul. "If you're in the comfort zone," says Knowa, "you're not doing what you're supposed to be doing."
Editor's note: An earlier version of this story incorrectly stated that the Johnsons "were integral in coordinating" last year's AthFest hip hop showcase. The showcase was actually organized by ATHFactor Entertainment. The article has been updated.
WHAT: Athens Hip Hop Awards
WHERE: Morton Theatre
WHEN: Saturday, Mar. 7, 7 p.m.
HOW MUCH: $15 (adv.), $25 (VIP)
Like what you just read? Support Flagpole by making a donation today. Every dollar you give helps fund our ongoing mission to provide Athens with quality, independent journalism.