The end of the calendar year invariably brings local business shakeups, as owners must renew operating licenses or face closure. But the slide into 2015 has been more chaotic than usual for Athens' live music economy. One longtime local venue unexpectedly called it quits, while several other well-known spots have undergone or are undergoing changes in ownership, focus and design. Read about some of the more notable developments below:
Georgia Bar is Closed
Regulars at Georgia Bar expecting to cozy up with a shot, a beer and an earful of rock and roll got a surprise earlier this month when they arrived to find the beloved dive club shuttered. (Though rumors have swirled around town for weeks, Flagpole has not been able to confirm the cause of the venue's demise.) There's no word yet on what will go into the space, which sits conspicuously adjacent to the massive mixed-use development that has slowly but surely risen above the western edge of downtown.
New Earth is Now Live Wire
Several blocks west of The Foundry, New Earth Athens has seemed to be in a state of constant revamping over the last few years, renovating its cavernous interior and applying for B-Corporation status, taking steps to become a community space in addition to a venue and installing a new outdoor courtyard and stage. But issues with management and finances, including a dispute with landlord Mark Bell over the lease, seemed to perpetually complicate things.
Last summer, Daniel Robertson, whose family runs the promotions agency Live Wire Sounds and operated Live Wire Music Hall in Savannah from 2008–2013, came on as New Earth's general manager. Robertson's brother, Brenden, took over production duties. Soon after, the Robertsons negotiated a purchase of the building and announced they would rechristen the club Live Wire Athens.
The local Live Wire is set to open this week, with a grand opening celebration planned for early February. Robertson says the club aims to provide a "home for local musicians" by forming partnerships with up-and-coming artists who don't yet have the name recognition they desire.
Robertson says Live Wire will book regional and national talent as well as locals, adding that virtually all genres of music—"from singer-songwriter to reggae to rock to funk and bluegrass"—will be showcased. In terms of the venue itself, Robertson promises a "warmer" environment than was offered by the building's previous occupant, with some cosmetic changes and an emphasis on the production experience.
The Melting Point is Now The Foundry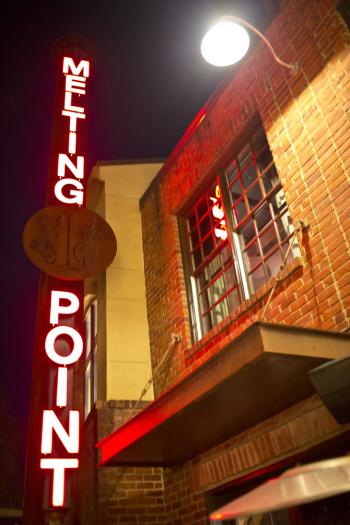 Photo Credit: Joshua L. Jones
Last August, Chicago-based firm AJ Capital Partners, which had recently purchased the Foundry Park Inn and its onsite music venue, The Melting Point, announced it was redesigning the hotel and renaming it Graduate Athens, while the Melting Point became The Foundry. The Dougherty Street club has since undergone a minor remodel, including an upgrade to the venue's sound equipment.
As far as the music goes, talent buyer Troy Aubrey tells Flagpole he is "staying status quo on most of we regularly book here, but definitely will be trying out some new ideas in 2015," including the Tailgate Tuesday country series—which has replaced the long-running Terrapin Tuesday roots music happening—and an upcoming weekly comedy series on Wednesdays.
Green Room Has Been Sold
The most buzzed-about change on Athens' venue scene in 2014 was the sale in August of the Georgia Theatre to Agon, a Georgia-based group of investors. In late December, owner Wilmot Greene quietly sold the Theatre's nearby sister venue, Green Room, to Bryan Gay, the owner of Ashley Street Station, a restaurant and music venue in Valdosta.
We weren't able to confirm specific details with Gay about his plans for the space as of press time, though Greene tells Flagpole it will remain a music venue, adding that he is "pumped about Bryan's vision for the space."
Those "Secret" Shows Aren't So Secret Anymore
Though The Globe's status as a downtown music destination has been on-again/off-again, with the last few years leaning towards the latter, musical activity in the restaurant's intimate upstairs area has steadily increased of late. Last year, musician David Chandler (Pretty Bird) began hosting a series of word-of-mouth shows at the worldly watering hole featuring hip local acts and need-to-know touring bands.
The Thursday–through-Sunday events have increased in attendance and visibility—including a recent blowout show featuring avant-rockers Shade—and Chandler says he hopes to continue the series throughout the year. In addition to enjoying the remodeled space, which Chandler describes as "like partying at somebody's rich, vacationing grandparent's house," attendees can donate $5 and receive a WAV recording of the show the following day.
Like what you just read? Support Flagpole by making a donation today. Every dollar you give helps fund our ongoing mission to provide Athens with quality, independent journalism.