For all the cheer, there's an unease that often accompanies Christmastime. Budgets are stretched. Smiles are forced. Long-simmering family tensions bubble up. And it's the end of the calendar year, which means it's time to reflect solemnly on another 12 months passed, somehow, again.
Once you get past the yuletide Top 40—which, don't get us wrong, has its place—much Christmas-themed music reflects this ambivalence, that strange blend of merriment and malaise indigenous to the holiday season. The tunes below, some of Flagpole's writers' and readers' favorites, largely exist in that in-between space.
1. The Walkmen: "Donde está la Playa"
December is the best time of year for grafting one's personal sorrows onto songs. For me, heading home to face relatives and old memories, nothing beats Hamilton Leithauser's opening salvo: "It's back to the battle again." Throughout, Leithauser sounds like he's looking out a train window at a leaden December sky. You might feel inclined to pace your old high school's winter-bleak football field like some refugee John Hughes character, but why not follow The Walkmen's lead and shoot for a more rarified anguish, instead: Go grab a highball. C'mon, it's Christmas. [Marshall Yarbrough]
2. Clarence Carter: "Back Door Santa"
Take one listen and you'll recognize this one: The horn hook is used in a modern day hip hop holiday classic, Run-DMC's "Christmas in Hollis." Besides that, it's classic Clarence Carter, who can say one thing that actually can mean another. It also has the line, "I keep some change in my pocket in case the children are at home/ I give them a few pennies so that we can be alone." Sounds perfect to me. [Tommy Robinson]
3. Commander Cody & the Lost Planet Airmen/Tommy Hester: "Daddy's Drinking Up Our Christmas"
Looks like Christmas is getting derailed (again?) by Daddy's chronic alcoholism, and although Cody's lyrics paint a fairly bleak picture, one can't help but suspect that the Commander's tongue is in his cheek—which is why I would also like to submit a more authentic country weeper with the exact same title but a slightly different scenario. In Hester's version, every week on payday Dad makes time with some barfly floozy while his poor kid has to freeze to death sitting outside in the snow. Meanwhile, Mom is at home crying herself to sleep. Dad sounds pretty ho-ho-horrible, but this song sounds great. [Nate Mitchell]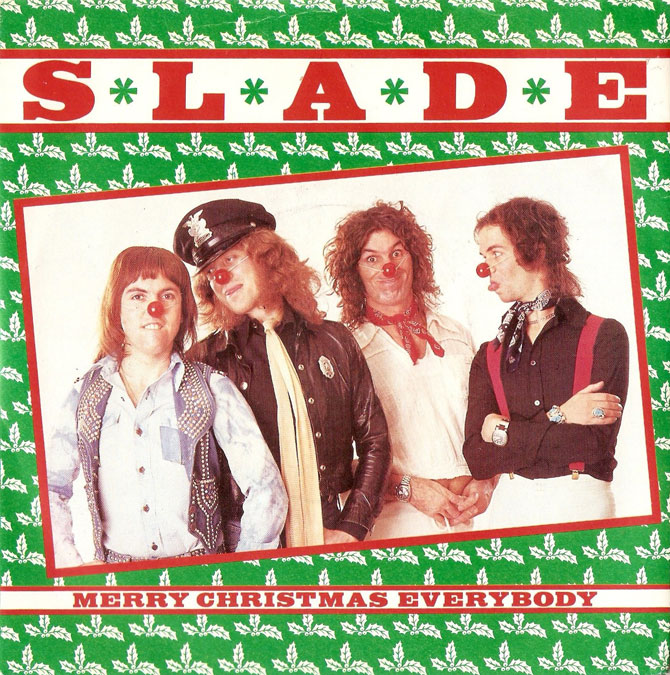 4. Slade: "Merry Christmas Everybody"
I love Slade. They're kind of just a dumbed-down T. Rex, and that's just fine with me. Noddy Holder's a great singer, and "Merry Christmas Everybody" is far superior to T. Rex's lame "Christmas Bop." [Andrew Rieger]
5. David Byrne: "The Fat Man"
David Byrne reimagines Santa Claus as a War on Terror bugaboo. Sure, it sounds ridiculous, this "roly-poly man" from up North, "coming in from the cold…leaving packages unattended." Yeah, yeah—you've heard the warnings at the airport. But wait, isn't that Santa? "Climbing on the roof/ What the hell's he doing?" And what's that he's saying? "Evil little girl, gonna put you down/ Nasty little boy gonna get what's coming." That's right, kids: The threat is real. [MY]
6. Powerkompany: "I'm Sorry About Last Christmas"
For so many of us, holiday time with family hardly lives up to the picture painted in the Christmas songs played ad nauseum on the radio each year. Here, Powerkompany offers a shot of realism in response. Dripping with strings, tolling bells and fa-la-las, the track is a satire of old tropes. "I'm sorry about last Christmas," singer Marie Davon coos from within partner Andrew Heaton's dense, spacious production. But, perhaps in a nod to seasonal cheer, she promises, "This year our bells will ring." [Rachel Bailey]
7. Coil: "Christmas is Now Drawing Near"
John Balance and Peter "Sleazy" Christopherson have always been purveyors of a certain English magick. While early Coil is beautifully ordered cacophony (Horse Rotorvator is one of the most terrifying records I've ever heard), late Coil is more gracefully somnolent and meditative. This particular track is found on the Winter Solstice EP, the fourth and final in a series of releases corresponding to the seasons. The song is an excellent example of Coil combining disparate traditions—from William Blake to Aleister Crowley and Lamonte Young—to enact a singular otherness. The whole EP is perfect for sitting by the fire with your holiday drink of choice. [Alec Livaditis]
8. Cyndi Lauper: "Rockin' Around the Christmas Tree"
From her 1998 album, Merry Christmas… Have a Nice Life, which sold approximately 21,974,000 fewer copies than her 1983 classic, She's So Unusual. In a similarly stark departure from precedent, Lauper's cover contains none of the swung beats, corn-fed saxophone leads or twangy guitar hallmarks of the original '50s tune, instead infusing the song with a Caribbean-style polka vibe featuring melodica, an irresistible drum machine sample and an eerie, off-kilter organ part that you might find at a Sunday service under the big top. If I had to guess what Santa does in the off-season, I'd say he's probably chillin' on the beach in Bermuda listening to this song on repeat. [T.S. Woodward]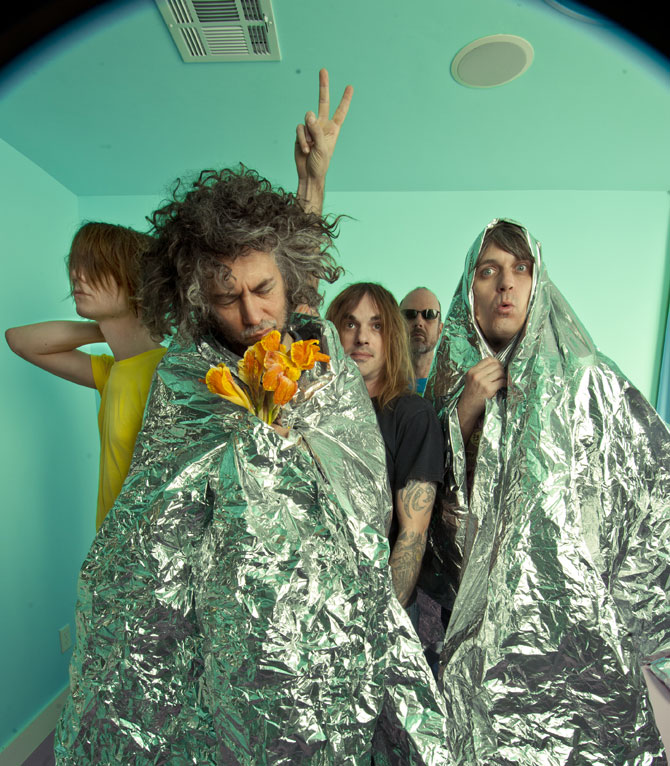 9. The Flaming Lips: "A Change at Christmas (Say It Isn't So)"
This bizarre astro-schmaltz hymn came out in 2003, when I was in 10th grade and the Lips' website was the hottest URL around. I'd get home from school and hit the family PC to Windows-shop for Yoshimi extras and read about Christmas on Mars. Now that I'm grown, I can turn my nose up at Wayne Coyne's James Murphy-meets-American Recordings-era-Johnny Cash delivery. I can laugh at the production, which manages to out-cheese even Paul "Arpeggiator" McCartney's "Wonderful Christmastime" (see below). But when Coyne sings about his hope for a future in which the world "embraces peace and love and mercy instead of power and fear"—well, I can't sneer at that. [MY]
10. Paul McCartney: "Wonderful Christmas Time"
I'm pleased to be on the fringes of a generation that still has an appreciation for The Beatles' pop sensibility and an understanding of their influence on rock music. A few years my junior is the crowd who doesn't know who this McCartney dude even is. That being said, the Sir's "Wonderful Christmas Time" resonated with me during childhood as much for its standout synths and jingle as for simply being the sort of holiday tune that encourages good spirits. [Andy Barton]
11. Bruce Cockburn: "Mary Had a Baby"
Bruce Cockburn (pronounced "co-burn," like he's fooling anybody) is a prolific adult contemporary singer-songwriter with a career spanning back to the early '70s. His music was a staple in the household rotation when I was growing up, but I remember him best for his kick-ass 1993 Christmas album, creatively titled Christmas. It's tough to choose a favorite track from that record, which is packed with tasteful acoustic renditions of everything from staples like "Silent Night" to wild cards like "Jesus Ahatonnia," a Huron carol. This year, my pick is ol' Bruce's iteration of this African-American spiritual. [RB]
12. Tom Waits: "New Year's Eve"
Every holiday from my childhood sounded like a Tom Waits song, and not just because Nighthawks at the Diner was in constant rotation. New Year's has always been a more realistic holiday for adults to celebrate, anyway, and "New Year's Eve" encapsulates a certain drunken stumble, that moment when you realize you've taken one too many to enjoy the holiday. Waits drunkenly rambles over a myriad of sloppily picked guitars before finally coughing out "Auld Lang Syne," as a series of trumpets toot in. [Thomas Bauer]
Like what you just read? Support Flagpole by making a donation today. Every dollar you give helps fund our ongoing mission to provide Athens with quality, independent journalism.