As online crowdfunding has grown ubiquitous, it has led to increased ambivalence towards the concept. But it is still a popular tool for musicians, many of whom lack the increasingly elusive support of a traditional label. And in a service-industry town like Athens, where it is unquestionably difficult to make a living through art alone, it is an increasingly utilized approach.
According to Bloomberg, Kickstarter, Indiegogo and their ilk generated over $5 billion in donations in 2013. While those sites began as a way for independent creators to fund small-scale projects, they have since been co-opted by A-list musicians and actors seeking financing for pet projects, leading to a backlash against what a 2011 Gawker article termed "online panhandling."
But some up-and-coming local musicians say crowdfunding can give them the boost they need to begin their career.
"It makes it possible for an independent artist to make a type of album that normally wouldn't be possible, which for me has been priceless," says singer-songwriter Emily Hearn, who launched a Kickstarter this spring to fund the recording and release of a new album. (Hearn, who has built a modest national following, exceeded her $30,000 goal by $3,000.)
In case you're unfamiliar with the typical crowdfunding model, wherein a band (or an artist, or an inventor, or anyone) solicits donations in hopes of financing a project—in a band's case, usually the recording and/or dissemination of its music: Each project comes with a set of "rewards" or "perks" promised to those who donate at various levels. A copy of the album, once it's finished, for example, or a special thank-you in the liner notes.
Just as these rewards vary, the host sites range in how the money is disbursed, what percentage of the money goes to the site itself and the degree to which the campaign's owner is accountable to her donors. Kickstarter's is an "all-or-nothing" approach, meaning if you don't meet your stated goal by the deadline, you receive zero dollars. The site takes a flat 5 percent fee from all fully funded projects.
Indiegogo's "flexible funding" option, on the other hand, allows users to receive whatever funds they raise, regardless of the campaign's outcome. If the goal is met, the site takes 4 percent; if not, that number goes up to 9 percent.
PledgeMusic, a popular tool for well-known indie and mainstream acts alike—Weezer is the latest in-demand act to take advantage of the site's direct-to-fan approach—takes a more restrictive approach, monitoring a band's promised rewards and refunding fans if specific pledges aren't fulfilled. (It also encourages users to donate a portion of their proceeds to charity.) It takes a higher cut than the other sites mentioned, at 15 percent, though unlike those sites, that includes processing fees.
Each option comes with its own limitations, says songwriter and Drive-By Truckers member Jay Gonzalez, who recently completed a successful Kickstarter campaign to press an upcoming solo LP, The Bitter Suite.
"I opted for the Kickstarter model, because with Kickstarter, if you don't reach your goal, you don't get any of the money," he says. "If I used Indiegogo and only made half of the goal amount, I would've had to come up with the rest of the money somehow to get backers the album or rewards they [were] owed."
In response to the pejorative "panhandling," most artists say crowdfunding is not so simple as an outright plea for money. Local jazz composer and drummer Louis Romanos, who recently completed a successful Indiegogo campaign to hire a publicist to work his latest album, says the process is akin to operating a glorified online store. "My campaign is not asking for donations," he says. "We are selling band products and music for a single goal."
Those products included a copy of the Louis Romanos Quartet's Take Me There on CD, available for $25. (A signed copy went for $35.) Romanos also advertised a "personal composition" for $7,000, though no buyer took him up on the offer.
Others aim to create a more intimate experience from the top down. Hearn says she worked hard to create a list of unique perks for potential donors.
"I personally designed some T-shirts, an art print, a mug and some other items that will never be for sale in my online store," she says. "The exclusivity makes the reward worth more to [fans], in a sense. I also wanted to be able to meet a lot of my donors, so I created rewards where I could write songs with a fan for a day, take them out to dinner or other ways of spending time together so I could personally thank them."
In a response common among musicians interviewed for this story, Gonzalez says he thought of his Kickstarter drive as a pre-order campaign, something record labels do frequently for anticipated releases.
"I think the key is not charging a ridiculous amount for the base level," he says. "I had the option of a $10 digital download, which is about what you'd pay on iTunes. Then I charged $20 for a copy of the record, including shipping. The way I see it is that if you were to buy the record in a store or online, it would be anywhere from $15–17, plus tax and shipping. I added three unreleased recordings as part of of that level, as well—again, trying to make sure it was worth the 20 bucks."
Of course, a label pre-order is backed by each company's history and reputation, not to mention its clearcut obligation to follow through with the transaction (or return the buyer's money if it can't). In contrast, crowdfunding, which exists in a still-emerging legal grey area, depends largely on personal responsibility, a bond of trust between artist and fan.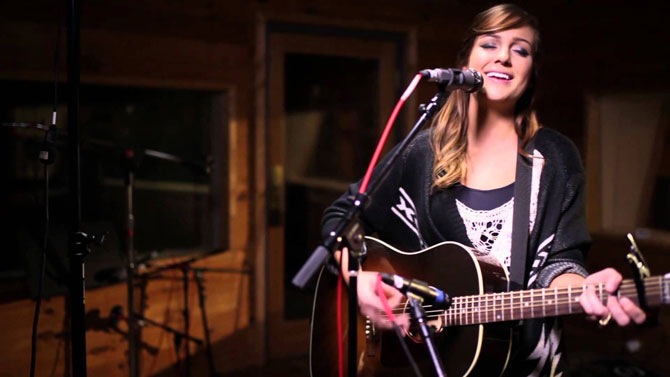 "I think that any good thing can be abused, and I'm sure there are people out there abusing crowdfunding," says Hearn. "But from my experience, it has given me the keys to have an amazing connection and experience with my fans and a career in music without a record label, and that's life-changing for me."
Upstart pop singer-songwriter Erin Notarthomas, who recently raised $5,000 via Kickstarter to release her debut EP as Wrenn, agrees.
"If I am ever in a crunch for a couple bucks to go buy a cheeseburger, I am most certainly not going to start a Kickstarter," she says. "Kickstarter isn't gonna put food in my belly, or a get me a new TV, or anything like that. It's going towards recording an album, and that's it."
Regardless of its potential for abuse, and whether or not it has jumped the shark—the recent Potato Salad Kickstarter, where an Ohio man raised over $50,000 in his quest to make the perfect iteration of the popular side dish, would seem to answer that question in the affirmative—it's clear that crowdfunding remains a valuable, viable option for many independent local musicians.
But the model is not without its detractors. Some artists prefer to rely on old-fashioned elbow grease and ingenuity. Although his band benefited from a third-party Indiegogo campaign after much of the group's equipment was stolen on a recent tour, Gene Woolfolk, who plays guitar and sings in The Powder Room and runs sound at the Caledonia Lounge, says asking fans for money to make a record is "just not for me. I value hard work."
In addition, others stress, crowdfunding's not the golden ticket it's sometimes depicted as: Unless you already have a sizable built-in audience eager to support your music at every turn, it's hard to get anywhere via Kickstarter alone.
"Unless you have a supportive network in place, these sites do not generate traffic," says Romanos, who adds that he may not return to the model in the future. "[Their] success depends less on whether you have a following or not than if you have supportive friends and family that can give and get you the support you need."
Others, aware of the skepticism that sometimes greets fundraising projects, bring a meta-awareness to their efforts, replacing piteous earnestness with self-effacing irony. Athens-based indie rock band Sad Dads recently launched the cheeky "Save Our Dads" campaign to raise funds to record and release a proper debut CD.
Aiming for an unshowy $500 and pledging to call it quits if that goal isn't met, the band offers a host of bizarre rewards to those who donate. Among the perks: forcing the band's bassist to eat a whole raw onion, the ability to cancel a Sad Dads show at the last minute, the chance to kidnap the group's guitarist and leave him at any location for 24 hours and "power of attorney" over the band, which for $300 gives you the ability to add or remove members at will—even to force them to break up, after all.
Sad Dads frontman Thomas Bauer insists that, though the campaign carries a jokey vibe, the Kickstarter option remains critical in a creatively overpopulated city like Athens.
"It is almost impossible to make a substantial amount playing shows, and many musicians don't have the luxury of making enough from their day job to pay rent, student loans and record and release an album," says Bauer, who responds to the question of whether crowdfunding is "cyber-begging" with candor.
"To be honest, it is similar to panhandling, but with [the] assurance that we won't turn around and spend that money on booze… but will instead use it to make music. Think of it as a low-interest loan where you get repaid in art. It's embarrassing to be the guy walking around with the bucket at a show asking for donations, but someone has to do it."
Still, at the end of the day, crowdfunding is just the tip of the iceberg when it comes to making a name for yourself, says the 22-year-old Notarthomas.
"You can't just… hope that people bump into it and pledge to your project. You have to make a presence on social media, send out personal messages and letters, announce it at gigs, make some killer advertisements and offer people something in return for supporting you."
Sad Dads' campaign offers a host of returns, but the $433 raised as of press time means that, assuming it intends to honor its campaign's nuclear-option promise, the band's fate is still up in the air. Still, Bauer says, he is willing to take that chance.
"If we didn't do it this way, it might never get done," he says. "And who wants to live in a world without a Sad Dads album?"
Like what you just read? Support Flagpole by making a donation today. Every dollar you give helps fund our ongoing mission to provide Athens with quality, independent journalism.