This is the second installment in Flagpole's series of year-end music coverage (we will conclude in the Jan. 8 issue with our Top 10 albums list). For this feature, we asked a selection of local musicians and scene supporters to recount their favorite moments in Athens music this year. Some responses have been edited.
See also: Defining Athens Music in 2013
Mercer [West] booked an Athens-invades-Atlanta show at Star Bar in February with seven Athens bands. It really was an Athens party all night long… in Atlanta! [It was] memorable for us, because they stuck The Rodney Kings/Sad Dads downstairs while everybody else played on the stage upstairs. We felt like we finally made it in the big city in that little basement. —Max Wang (The Rodney Kings)
Great music docs at Ciné: Searching for Sugar Man, Muscle Shoals and James Booker [Bayou Maharajah]. —Jim Willingham (Old Smokey)
Three shows in the span of three weeks: Neutral Milk Hotel, Television, Peter Buck. This being my first full year as a parent, I'd really lost touch with many friends. Happily, I saw just about every one of them at (at least) one of those magical shows. —Bill Benson (Team Clermont)
Dancing to The Smiths with DJ Andy Rourke at Athens Intensified. —Dan Geller (Twin Powers)
The Our New Silence performance at the world-class Hugh Hodgson Hall in March brought together musicians of all types, from classical to indie rock. We all had the opportunity to compose original pieces using Kai Reidl's and Suny Lyons' Javasounds as inspiration, both musically and spiritually. —Powerkompany
Even tectonic plates need a nudge now and then, and this year I felt a shift at the Go Bar, hearing Grant Evans conjure 20 minutes of pure sound-avalanche, narrative without glossia, a murmur, a shudder, a ghost. —Don Chambers
Shit! Where is my phone?
Must video awesome band
Wait, where did they go? —Lefty Hathaway
The second annual ClowninGanG cookout and afterparty. It was and still will be something to look forward to each and every summer. Free food, free drinks and music from local artists and some big names. —Travis "Dictator" West
When Burns Like Fire played the rooftop of the Georgia Theatre with Less Than Jake and Anti-Flag; the three-day festival at Max featuring all of Jay Rodgers' bands for his birthday; this year's Athens Intensified, featuring the bassist from The Smiths; Monsoon; Television; and Jimmy Eat World. —Josh Smith (Burns Like Fire)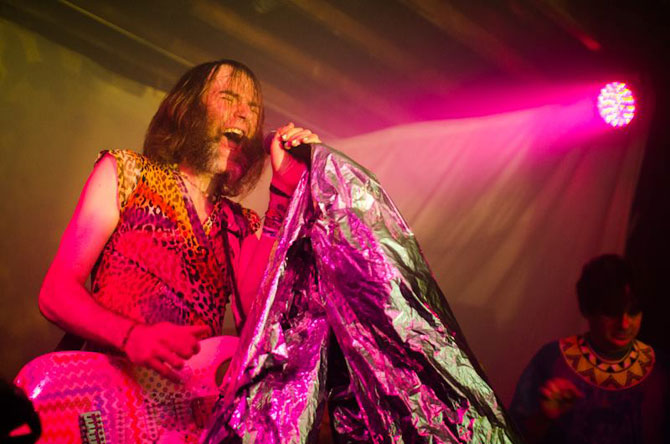 Photo Credit: Mike White
I missed a lot of events, living far beyond the city limits, but did manage to attend the Cloud Recordings Festival. Big Bad John Fernandes lovingly stitched together the local acts in a tapestry that was fun for all and all for fun. Here's to hoping next year is extra cloudy. —Zeke Sayer (The HUMMS)
murk daddy flex opening up for DJ Shadow at the Georgia Theatre. 2013 was a breakout year for mdf, and it was awesome seeing one of WUOG's own get an opportunity like that, backed by some solid MCs in Athens newcomer JuBee and HHHS's resident MC, Mic-Audio, and members of the WU on the front line supporting him. Definitely a family affair. —Akeeme Martin (WUOG)
Tagging along with T. Hardy Morris, Jason Thrasher and company to film a session at Howard Finster's Paradise Gardens for the Places in Peril series, one of the coolest video projects I can remember. They ended up shooting "The Needle," a fantastic song from Audition Tapes, the best album to come out of Athens in 2013. —Jay Steele (Athens Provisions)
I was on-duty at Wuxtry Records in late spring when this unkempt gangly dude thrust a CD-R into my hands but then immediately split, leaving me pondering his offering. After popping the disc in the store player, I was blown away by five balls-out, primitive garage-punk tunes. I noticed a phone number (not a website address or Bandcamp or Soundcloud, but a phone number) on the disc and decided to call it. The voice on the other end was Scott, who had dropped off the demo. Shortly thereafter I met the other Free Associates, Tim and Larry. I had several years' worth of demo songs I'd recorded, so Scott, Tim and Larry quickly became my backing band, and we started playing out as Nate and the Nightmares. The same group of guys also played '50s and '60s cover songs under the name Swag Dick Cats. I started learning those songs as well, and the next thing I knew we incorporated Jeff Walls into the mix. Life just keeps getting peachier. It's strange how one simple act can start a snowball of events rolling, and for that aspect of the Athens music scene I am most grateful. —Nate Mitchell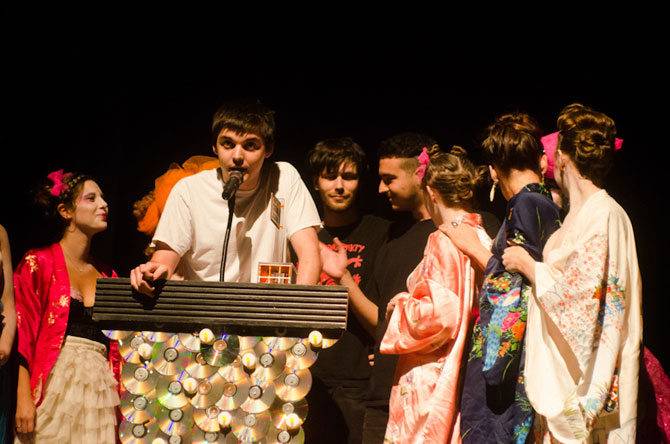 Photo Credit: Mike White
Muuy Biien's Josh Evans' multiple disruptions at the Flagpole Athens Music Awards.—Mike Turner (HHBTM)
Sad Dads at AthFest was honestly one of the funnest, liveliest shows I've ever been to. Was it the sweat fumes radiating off of Athens' better half that made me feel like I was experiencing something personal between dad and audience? Possibly. Or maybe the fact everyone (band, beer, buds) were all in unison singing the band's happy anthem, "SAD DADS!" —Sienna Chandler (Monsoon)
The emergence of Monsoon. They have more fun and enthusiasm about being in a band than I have had in a long, long time, and it made me want to have it again. —Joel Hatstat
It's not a moment, but a movement, changing the face of the music community. Like always, there were many great moments in the Athens music community, but none were closer to my heart than hip hop gaining momentum and getting more (although still not enough) respect. For the first time in many years, hip hop in Athens is booming. From the pop mainstream to original sounds coming from the underground, I enjoyed more hip hop shows this year than I have in a very long time. Thank you, Classic City, and stay tuned—we haven't really even gotten started yet. —Montu Miller
Like what you just read? Support Flagpole by making a donation today. Every dollar you give helps fund our ongoing mission to provide Athens with quality, independent journalism.