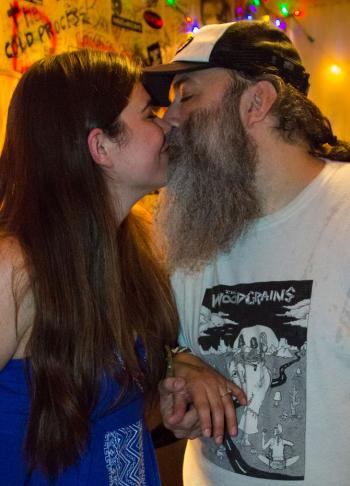 There are all kinds of ways to get married. For local musicians Ty Manning and Kelly Hoyle Fuller, nothing would do except full-on Athens style: a live show with tons of people playing. When the pair tie the knot at the Georgia Theatre this Thursday, they will feature no less than a dozen solo performers, including themselves, and three full bands. As the saying (sorta) goes: What Ty has brought together, let no man put asunder.
"We met two years ago," says Manning. "Kelly sings in [local band] Norma Rae, and I don't know, maybe I'm just a dumb male, because apparently she'd liked me for a while and I just didn't catch the hint." It didn't take long, though, before they were singing together. "I went to see Norma Rae one night. Kelly knew I could sing and had heard me sing John Prine's 'In Spite Of Ourselves,' and she brought me up onstage to sing it with her," he recalls.
Fuller recalls, "In December 2011, I was playing the 'Strung Out Like the Lights' show at the Office Lounge, and he came wandering up in his overalls from the parking lot. I had heard of him before, but had never met him."
After talking for a bit via Facebook, the pair found themselves separately at a Melting Point show in July 2012, where Fuller walked over to Manning's table and sat down. They chatted the night away and made plans to meet up the next day. The couple spent the next six months playing guitar together and hanging out regularly, before finally revealing their love for one another in December 2012 after a day spent waiting for the world to end (remember 12/12/12?).
Flash forward to July 2013. It was Fuller's birthday week, and she and Manning had just gotten a house together. Manning took Fuller up onstage at the 40 Watt Club, where he had arranged for one of her favorite bands, The Woodgrains, to cover "Our House" by Crosby, Stills, Nash and Young as he popped the question. Fuller says, "It was well played. Very well played."
The pair will marry this week at another local venue, the Georgia Theatre; the entire event is packed with music and open to the public. Adam Payne (of Dangfly!) and Josh Perkins will play a collaborative acoustic set as people file in and get to their seats, and Nick Walker will sing during the actual ceremony. Manning says the pair will then head to the Georgia Theatre rooftop to release some doves.
After that, it really gets happening back downstairs. For the toasts portion of the evening, there will be a song-swap segment featuring Uncle Dave Griffin, Betsy Franck, Fester Hagood, Chris Moore, Scott Low and Todd & Jessica White.
"We are basically having one awesome party with a ridiculously talented lineup—[and] a wedding before it all," says Fuller.
Indeed, the above-mentioned stuff is only the beginning. Later in the night, Manning & Fuller will perform together as Beauty & The Beard, after which there will be a mini-reunion of Manning's band The Bearfoot Hookers and proper sets from Dangfly! and The Woodgrains. "We are grateful that we have so many friends that have been able to help us out with a lot of this and allow us to have an awesome wedding without much worry," says Fuller.
The wedding will be great, but what of the couple themselves? Bride-to-be Fuller is gushingly sweet when she speaks of Manning. "Ty is one of the most genuinely loving, caring, and giving people I know… All I can think about is how it is going to get nothing but better with time. His face makes me smile. Plain and simple."
For his part, Manning speaks so quickly and eagerly about the wedding on the phone that it's difficult to scribble down everything he says. But his voice is imbued with an enthusiastic love and affection, and one thing comes across loud and clear.
"We're rock and roll romantics!" he exclaims. After hearing their story, anyone would be hard-pressed not to agree.
EDIT: An earlier version of this article incorrectly identified the location of the wedding proposal as the Georgia Theatre. It has been corrected to reflect that it occurred at the 40 Watt Club.
WHO: Ty & Kelly's Wedding Blowout
WHERE: Georgia Theatre
WHEN: Thursday, Dec. 19, 7 p.m.
HOW MUCH: FREE!
Like what you just read? Support Flagpole by making a donation today. Every dollar you give helps fund our ongoing mission to provide Athens with quality, independent journalism.