As Valentine's Day nears, lovers scramble to express the adoration they feel for their mates in original ways. Chocolate was once considered "food of the gods" by Aztec and Mayan elites, and was reserved solely for royalty and church officials when introduced in Spain, who kept the delicious snack to themselves for years. Nowadays, chocolate is Cupid's secret weapon, chosen for its earthy, sensual qualities to spark romance on this holiday of lust and passion.
Chocolate also stands in as a substitute for those observing the holiday without a mate, since the confection is known to prompt endorphin rushes that simulate romantic sensations. Jilted lovers often turn to chocolate when coping with the pain of separation. In other words, no matter your relationship status, you'll want to observe the holiday with generous doses of dark chocolate.
Condor Chocolates is a "bean-to-bar" producer founded by brothers Nick and Peter Dale. The Athens natives spent many summers with their mother's family in Ecuador, where chocolate was first discovered. Years later, when Nick saw his brother's success as chef and co-owner of The National, he found himself getting the entrepreneurial itch as well. In 2013, while still at his corporate job at Cargill, Nick bought a couple of pounds of Ecuadorian cacao beans and experimented with the complex, multi-step process of coaxing luscious, creamy chocolate from the innocuous beans lurking inside ungainly-looking cacao pods.
Peter and Nick shared some with their friends and were encouraged by the rave reviews. The brothers also tested their chocolate against the offerings from peers such as Mast Brothers, the Brooklyn-based bean-to-bar chocolate producer, and found that their product's quality held its own. After continuing to experiment, refining their processes, working up a business plan and developing relationships with Ecuadorian suppliers, the brothers opened a store at 1658 S. Lumpkin St.
At first, the chocolate was produced at the same location. Roasting the fermented beans is the first exacting step that determines much of the end product's flavor profile, coaxing out various nutty, floral and fruit notes. Then, the beans are sorted for quality and ground in a machine called a "melanger" with sugar—just enough to retain the deep, dark flavor profile favored by connoisseurs—filling the air with the unmistakable, tantalizing aroma of cocoa. Some of the chocolate is further flavored with sea salt and cayenne pepper, then formed into bars.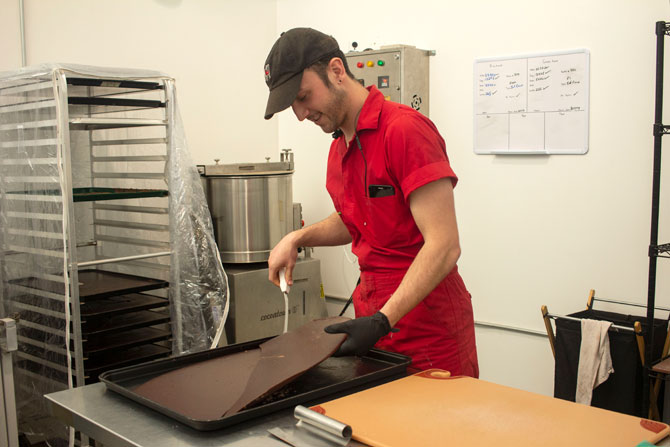 Photo Credit: Savannah Cole
As the café became popular, the initial chocolate-making process was moved off-site to a facility at the Chase Park warehouses, where two Oompa Loompas (sorry, Brandon and Jamee) do the roasting, sorting, winnowing, melanging and forming into bars.
Some of the chocolate is sent to the Condor café in large chunks, where it is then blended by chocolatiers into even more refined confections. Using cream and subtle flavors like bourbon, grapefruit, caramel and coffee, they transform chocolate into jewel-like truffles. Some chocolate is served hot like espresso, in demitasses, so thick and creamy that it almost solidifies as it cools, with the last drops coaxed out of the cup with a little spoon. Nick Dale says Condor confections include locally sourced cream and other ingredients.
How well has Athens taken to $9 chocolate bars, $5 brownies and $2.50 truffles the size of thimbles? Dale says business is good, and revenues are up consistently year over year as the company expands through the Southeast and up the Eastern Seaboard. He adds that once customers taste Condor's confections, they understand why they are served in far smaller portions than supermarket chocolate bars. "Good things come in small packages," says Dale.
Lately, the chocolatiers have been busy preparing two special Valentine's Day treats. One is a silky truffle made of creamy chocolate ganache lightly scented with honey and grapefruit and enrobed in dark chocolate, creating a complex, seductive flavor. The other is a chocolate-covered cherry, made with costly Italian Luxardo fruit. Look for Condor's special Valentine's Day two-part offering of flower and chocolates wrapped in the company's signature red boxes on Feb. 13 and 14. Just don't come late. Dale says procrastinating gift buyers—mostly men, he admits—will line up to make last-minute purchases for their lovers.
Like what you just read? Support Flagpole by making a donation today. Every dollar you give helps fund our ongoing mission to provide Athens with quality, independent journalism.