SUNNY SUNDAYS: It's always nice to see an independent business succeed, including in Oconee County, where downtown Watkinsville has done a decent job of fostering such. Suncatcher Cafe (42 Greensboro Hwy., 706-424-8281) opened in 2017 next door to a Citgo convenience store. Previously devoted purely to breakfast—both biscuits to go and things like pancakes and grits to eat in the dining room—it added Sunday lunch a little while back, running from 11 a.m.–2 p.m. You can still get your food packed in a Styrofoam clamshell, but more people pack into the eating area, sitting close by one another in a family environment.
The same steam table at work in the morning hours does the job for the afternoon, meaning your meat-and-two, meat-and-three, veggie plate or kids meal (one meat, one side, one bread) is ready in a hurry. You can expect to find things like fried chicken (with a nice, thick, cornmeal-inflected crust), fried pork chops (better with gravy), salisbury steak (pretty tasty), mashed potatoes with gravy, a broccoli casserole that tastes mostly like breadcrumbs, good white creamed corn, simply prepared baby lima beans and green beans, a reasonably cheesy baked macaroni and cheese, deviled eggs (two to an order), coleslaw and thin slices of fatback.
Don't sleep on the strawberry cake, sliced and plastic-wrapped on plates. I might be a snob about making this Southern standard that usually tastes strongly of Jell-O, but I sure am not when it comes to eating it. Suncatcher's is a classic—moist, light, intensely flavored. There is also banana pudding, should you prefer that for something sweet.
The menu varies weekly, depending on what the owners want to make, and you might find lasagna, stewed apples, salmon, fried okra, fried fish, sirloin tips, pecan pie and the like on a given weekend. You can check the menu on Facebook a day or two ahead of time, and the kids meal is just $3.99.
TO GO: Also in Watkinsville but over on the other side of 441 is The Picnic Basket Meal Market (1973 Hog Mountain Road, 706-705-1292, picnicbasketmealmarket.com), a grab-and-go/take-and-bake/heat-and-eat kind of place. There are a couple of armchairs, but it's not a place to stay and eat. Most of the offerings are in a series of tall refrigerated cases with sliding doors, either in oven-and-microwave-safe plastic clamshells or pint and quart containers, neatly labeled with ingredients and heating instructions.
The heat-and-eat stuff comes refrigerated rather than frozen, which means you don't have to plan ahead as much for an hour in the oven. Instead, you can count on 20 or 30 minutes to end up with a hot meal that someone else assembled, which can make a big difference if you're starving. The all-day beef roast is probably the best of the bunch, adequately gravied and fork tender, from what seems like a decent cut of meat. It's a bit spartan in its accoutrements, but it works well. The Smoky Mountain Chicken—chicken breasts topped with ham, cheddar and barbecue sauce—isn't quite as successful, and the pasta bake needs a bit more seasoning, but feels like it's made with fresh ingredients.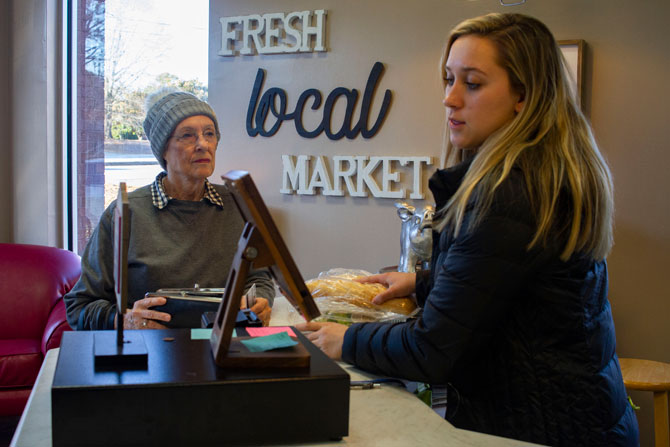 Photo Credit: Savannah Cole
The broccoli casserole is bechamel-based and probably needs more cheese, but the central vegetable hasn't been boiled into submission, which is a point in its favor. It's recognizable as something fresh and green. Roasted squash is just that, and a big winter salad with cranberries, feta, pecans and a white balsamic dressing is a good accompaniment to anything and substantial enough to stand on its own. The Caesar pasta salad with spinach is too heavy-handed with its dressing, and a combo of kale, quinoa and other superfoods is the opposite.
Let it be said that there are many, many other choices: lasagna, strawberry salad, glazed carrots, creamed potatoes, poppyseed chicken, zucchini boats and so on. The owners plan to add box lunches in the near future, and are more than happy to assemble a picnic basket or a party platter for you, especially with advance notice. Meals serve two to four, depending on their size and your appetite. The store is open from 11 a.m.–7 p.m. Monday through Friday.
POPPIN': I'm not a big fan of pop-ups in general, but I'd recommend you keep your eyes out for the next appearance of The Plate Sale, which you can find on Instagram @theplatesale. Mike and Shyretha Sheats are busy trying to raise funds to restore a historic farm in Carlton, and although they're in Atlanta half the time, you can occasionally find them here.
A recent pop-up at Lotta Mae's, on Barber Street, included smoked, braised beef cheeks with Carolina Gold rice and an onion and romanesco casserole, all of which was a sort of fireworks of umami in the mouth. The yeast roll was completely skippable, but not the magical creation described only as "ginger drink," a complex, botanical housemade soda with notes of some mysterious citrus (yuzu?) that I have no doubt will be one of the best things I taste this year.
Like what you just read? Support Flagpole by making a donation today. Every dollar you give helps fund our ongoing mission to provide Athens with quality, independent journalism.