BRIE MINE: It is really hard to write about a cheese shop without resorting to Monty Python jokes, but the suspicion that most people won't get them and the fact that, unlike the shop in the sketch, Half-Shepherd Market and Cheese Shop (1238 Prince Ave., 706-850-2955) is copiously stocked combine to warn me off from that tactic. Normaltown gets bougier with every new business that opens, but damn it, this one is adorable. Whether it is a necessity or a luxury depends on your feelings about cheese.
The space, formerly Lindsey's Culinary Market—which moved downtown to Thomas Street—is sweet and open, with a nice view onto the traffic that continually rolls down Prince. If you're getting lunch, you can sit in the window and enjoy the sun, plus the occasional wail of an ambulance. The cheese counter, which also has things like ravioli and some charcuterie, is in the back of the space, up a small step. You can also find fancy tinned seafood (sardines, octopus), shmancy crackers, baguettes from Independent Baking Co., pickles (including my favorite, cornichons), drinking vinegars and so on and so forth.
The lower space has the counter where you can order off the menu and settle up, a cold case of Cokes, another with other beverages—including beer and wine; there's more of the latter unchilled on another shelf, for carry-out—a section for tea and coffee, a basket of impulse-buy small wedges of cheese, some wondrous caramels and fancy smoked salts. It is, in other words, surpassingly easy to spend an obscene amount of money in a very short period of time.
On the other hand, the stuff is good—really good. You may blanch at cheese that costs $34.99 a pound (or more), but you don't need a pound of it, either. A little bit goes a long way, with flavors that encourage slow eating as they develop in your mouth: raw milk, goat's milk, cow's milk, sheep's milk, water buffalo's milk, bloomy rind, hard rind, soft, pungent, delicate, astringent, flowery, grassy, weird and more familiar are all somewhere in the case, and the folks behind it are happy to help you find something that will delight and/or challenge you.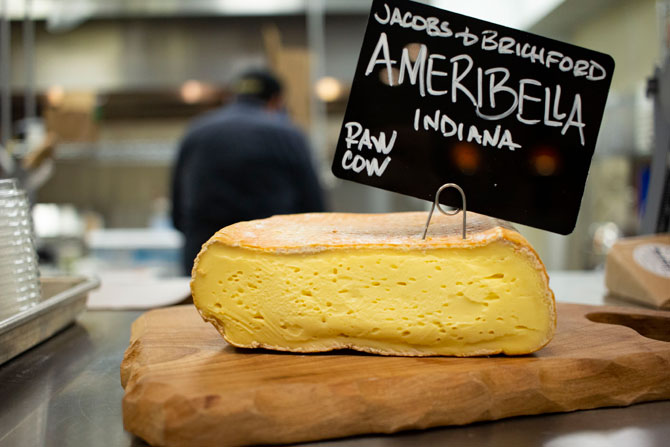 Photo Credit: Savannah Cole
But enough about the snacks. What about the sandwiches? Available from 11 a.m.–2 p.m. Monday through Saturday at the moment, they cover good territory, and not all rely on cheese. Several can be made either vegetarian or vegan. I tend to be a little reflexively disapproving of the buns and rolls that H&F Bakery in Atlanta supplies for this purpose, finding them generally too soft, but they work well enough here.
Your best bet is to opt for (surprise) a grilled cheese, available in "old school" (cheddar, colby, fromage blanc) or "old world" (comte, gouda, brie) and with a wide variety of add-ons: sauces like zhoug and romesco, jam, other cheeses and some meats (including jamon serrano, 'nduja, speck, porchetta and more). Add a $2 4-ounce howdy of a clean, smooth tomato-sherry soup, and you will feel comforted. The egg salad is not as good as the one Heirloom used to make—no one's is—but it's still worth your time. The meatier sandwiches aren't quite as neatly composed, and the ingredients tend to fight with one another, as in the Philly/Catalonia, which has wilted broccoli rabe, sliced roast pork, provolone and romesco, but lacks acid.
Sides include a really good red-cabbage slaw (zingy, not too sweet), a tasty pasta salad (rare words to put together), a cold green-bean salad with dill, potato salad and grain salad. At $6–$10, including a small side or chips, they're a decent value, too, although not enormous. Specials change out often, including different soups, bread pudding and whatever else the owners feel like making.
The store itself is open from 11 a.m.–8 p.m. Monday through Saturday and just started offering two more sandwiches at its neighbor, The Old Pal, on Mondays, starting at 4 p.m. until the supply runs out.
TRANSPLANT: If you're in Atlanta and you're dying for Independent Baking's wares, you can stop by Ponce City Market and head to the second floor to Root Baking Co., where you'll find Chris Wilkins—who was at Independent before baking at Hugh Acheson's late The Florence, in Savannah, then moving to Charleston—and his wife, Nicole.
Everything is a dollar or two more than it would be here (standard for PCM), but you can watch the flour being milled through a window, and there are breakfast sandwiches made on croissants with things like eggs, comte and sorghum-glazed ham. I disapprove of a croissant as any kind of sandwich vehicle, but I was won over.
There are also cookies that aren't too sweet, fancy toasts (e.g., quince butter, toasted pecans, preserved lemon and Lil' Moo cheese), salads, soups, some entrees for dinner and, of course, loads of bread and viennoiserie. Atlanta should count itself lucky.
Like what you just read? Support Flagpole by making a donation today. Every dollar you give helps fund our ongoing mission to provide Athens with quality, independent journalism.