BBQ BEAT: When someone tells you to make the trip out to Crawford for a barbecue restaurant, you expect bib overalls and sawdust on the floor, but that's not at all what G Brand BBQ (1140 Athens Road, 706-743-7000) offers. It's not cluttered and quaint—either genuinely, from years of being in business, or artificially, with fake old signs from Hobby Lobby—but neither is it hip and modern. There's no beer here, in other words, either craft or regular. What G Brand is is straightforward, clean, simple and serious about its meats. That makes sense when you learn that G stands for Gretsch, as in Gretsch Brothers Angus, a cattle-farming operation in Lexington that supplies the beef for the restaurant's brisket.
Located in a former auto dealership in downtown Crawford, just by the water tower painted with a Revolutionary War soldier, the restaurant has a room for take-out—walk up to the counter and order—and a much bigger room for dine-in, in the kind of space that reminds one of Creature Comforts. There's not a ton in the way of decor, but red and black themes are prominent. Park on the side or in the back, and you'll see big piles of wood—usually a good sign. The smoke you smell strongly outside, which is like catnip to a barbecue person, doesn't quite permeate the meat, but the restaurant is probably still worth a trip.
It has a small menu, with few detours from the classics: pork, brisket, chicken and two kinds of ribs: larger St. Louis and smaller baby back, but with no perceptible difference in the rub. Ranked, the brisket is tops, as you'd expect, although a tiny bit more fat content would be good, and it's not quite as good as the version served at Pulaski Heights BBQ. The ribs are next best, with good texture—some chew but meat pulling pretty cleanly away from the bone—and then the chicken and the pork, both of which are still tasty but do need sauce. There are as many sauce choices as there are meats, available on the tables in color-coded bottles: two sweeter Georgia-style ones (one spicy, one not), a vinegar (gloriously simple and bold), a good Carolina mustard and an excellent Alabama-style white that is perfect for the chicken.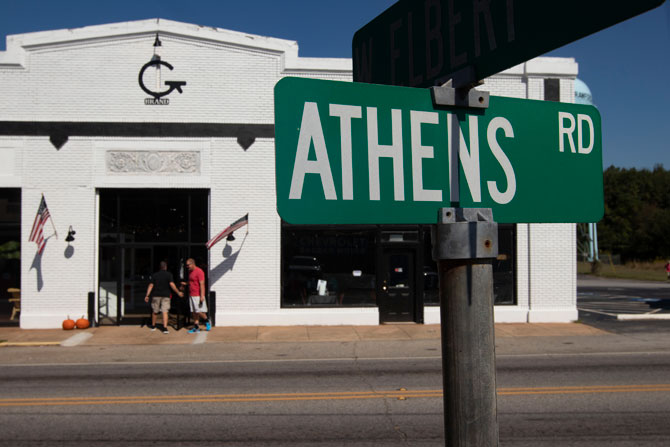 Photo Credit: Savannah Cole
The sides are, comparably, appropriately limited: the holy trinity of slaw, baked beans and Brunswick stew, of course, but also applesauce and, stickered onto the menu, green beans. Do not let tradition steer you away from those green beans, which are intensely porky and salty without turning into complete mush. They are perfect. Really, you should drive to Crawford just for those green beans, unless you are a vegetarian, in which case you shouldn't be in a barbecue restaurant anyway. The slaw is almost as good and equally committed to simplicity, with not too much mayo, no sugar at all and a clear love of the pure, vegetal sweetness of cabbage. The stew is not mucked up with a bunch of extraneous vegetables, but it needs more acid. The beans are sweet but not too much so.
Everything comes out fast, and when you order tea, you get a whole pitcher for your table—the better to refill your own drink as you need to. G Brand also has banana pudding, cobbler, cakes and ice cream. It's open Thursday through Sunday from 10 a.m.–9 p.m. and also does catering that includes tailgating packages.
SUGAR SUGAR: Let it be said that I am a terrible snob about both language and baked goods, so Nothing Bundt Cakes (1021 Dowdy Road, 706-400-6950), a franchise out of Nevada, is at a disadvantage. Rather than serving no bundt cakes, it in fact serves nothing but bundt cakes, topped with various plastic doodads and bunches of ribbons geared to a wide array of occasions (gender reveal party, engagement, Halloween, Easter and so on).
You can get full-size cakes or mini ones, available singly or by the dozen, in 10 different flavors, nine of which are always on the menu and one of which changes with the season (it's pumpkin spice right now). All of them feature cream cheese icing, applied in a distinctive starburst. But hey, the cake's not bad. It tastes like butter. And maybe you don't feel like stressing out about properly greasing your own bundt pan so your carefully mixed cake pops out without leaving chunks behind.
Some flavors are better than others, and they tend to be the more traditional ones, like lemon, marble and vanilla. Those that are naturally denser (carrot, pecan praline) don't work as well; ditto for ones with stuff scattered throughout the batter, like chocolate chips. You can order online ahead of time and add extra frosting for a small upcharge, but there are also cakes in the refrigerated case ready to go. The store is hidden behind Texas Roadhouse, off Epps Bridge Parkway, and is open 9 a.m.–6 p.m. Monday through Thursday and 9 a.m.–7 p.m. Friday and Saturday (closed Sunday).
Like what you just read? Support Flagpole by making a donation today. Every dollar you give helps fund our ongoing mission to provide Athens with quality, independent journalism.