NEW KID: It is hard for any restaurant to come in and take over the space of another place that was much beloved. Some people are going to hate it and be angry at it regardless of what it does, even without experiencing its offerings. Such is the case for The Expat (1680 S. Lumpkin St., 706-521-5041, theexpatathens.com), which moved into and renovated the big old house previously occupied by Two Story Coffee. It was a sign, much like the closing of the Waffle House nearby, that already-elevated property values in Five Points were continuing to inflate, and that's not an unfair way to view the whole situation.
At the same time, the restaurant, owned and operated by Jerry and Krista Slater (who owned H. Harper Station in Atlanta), brings something good and serious to the area. It's not flashy, but it's not stuffy, either. The prices aren't inexpensive, and the portions aren't large. You will have to open up your wallet, and food prices in Athens on the whole remain pretty low, making it hard to do that. That said, there are absolutely reasons to spend the money on chef Savannah Sasser's menu.
The charcuterie/fromage board is one of the best—if not the best—in town, and you might as well go for the whole thing, which contains a bit of each of the six options in that area of the menu. The idea of pairing smoked trout with crème fraîche, a bit of caviar and potato chips is a sharp one. The chicken liver pâté is grassy and mineral at the same time, the kind of thing you want to keep in your mouth for a while to keep tasting its twists and turns.
There's a lovely Sweet Grass Dairy Green Hill cheese that comes with nice pickles, and a blue from Sequatchie, TN that doesn't overpower your nose but feels earthy and complex. If I had to pick a winner, it's the Hobo Banjo, a soft cow's milk cheese that plays around with bitterness, paired with honeycomb and some housemade fennel buttermilk crackers.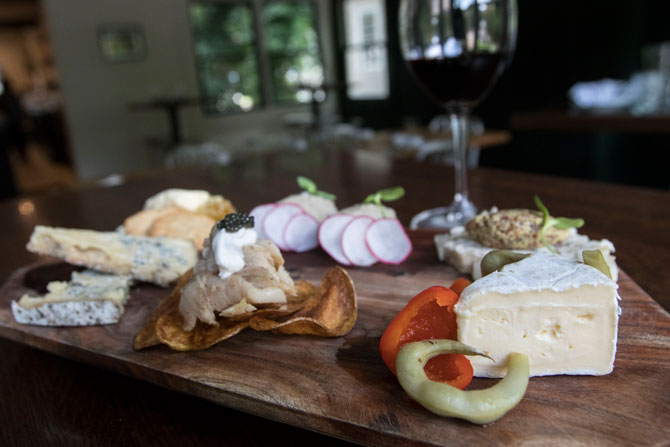 Photo Credit: Savannah Cole
Similar crackers come with the pickled shrimp but are thicker and less successful there, and although the dish is good, it's less transformative of its ingredients. Better among the small plates is the mushroom toast, served on fat hunks of dark bread with a soft cheese and plenty of tarragon. It's belly-warming stuff.
Entrees are harder to get just right, always, and if you see the vegetarian option listed as "cauliflower risotto, marinated carrot salad, sunflower seeds, pea shoots, tomato pearls," you may imagine a plate of different little piles. Instead, it's a single dish with all of those ingredients mixed together, and although it is quite fresh, light and well done, the flavor gets a little monotonous by the time you're done eating. The duck breast, with charred eggplant, peaches and puffed farro, is more varied, with the central protein unctuous and bacon-y, but not greasy, and the crunchy farro and smoky eggplant lightening it up a bit.
The cocktails, a major point of emphasis, have an approach that's similar to the chewable parts of the menu: confidently understated, well-schooled in history, opinionated but not mansplain-y. The bartender's choice is the house old-fashioned, made with Old Forester bourbon, Angostura bitters, a sugar cube, a bit of lemon peel and beautiful ice. It doesn't make you walk through fire or prove that you can handle a level of bitterness humanity evolved to reject. What it does do is carefully consider the water of melting ice as an important ingredient in a drink.
The Holy Mistake (High Wire botanical gin, Gran Classico bitter, Clement Creole Shrubb, sparkling wine, grapefruit twist) does the same, evolving as the ice melts a bit, and so does the house Bloody Mary. The Burn the Witch (Casamigos reposado tequila, Bozal Ensamble mezcal, Strega, lemon, orgeat) is a different animal (no ice), but it's one worth investigating.
The format of brunch involves a sort of prix-fixe option that is only available if everyone at your table gets it, with a shared first course that includes lovely gougères (cheese puffs) that disappear much too fast, Comerian pastries and something else (a savory bread pudding, a soufflé). The baked eggs are tiny but stellar, with plenty of cream, and the savory crêpe emphasizes nice cheese.
Dessert is a bit of a relative weak point. It's fine, but we want better than fine. The cake of layered crêpes is on the bland side, and the chocolate bouchon with whipped cream and toffee crumble just isn't very exciting. The buttermilk panna cotta is better, with a cool, clean flavor and a well-executed texture.
The full cocktail menu is available at 12:30 p.m. on Sunday, even though the brunch menu only highlights a few options, and the restaurant has started doing a lunch for home football games. There's a bar upstairs (with snacks) and a bar downstairs, and there are nonalcoholic and light-alcohol cocktails, as well as fully boozy stuff. The Expat is open for dinner every night and Sunday brunch. It takes reservations through its website.
Like what you just read? Support Flagpole by making a donation today. Every dollar you give helps fund our ongoing mission to provide Athens with quality, independent journalism.