GROCERY NO. 1: The same people who are totally happy ordering a Publix sub often get weird about about restaurants that operate out of smaller grocery stores, but what, in the end, is the difference? It's a smart use of space and resources to serve two audiences at once, and people can browse while they wait for their meal. Off the Vine Produce (302 Athens Road, in Winterville, 706-899-0400) is doing exactly that.
The small space sits at the five-point intersection where Athens Road, Moores Grove Road, Main Street and Cherokee Road meet, meaning there's a decent amount of traffic that goes by. The interior is somewhat similar to Opa Robby's in Athens (in front of Target), having a kind of farm-store vibe, with loose produce for sale out of wooden bins, good butter, a few refrigerated cases (with produce, dairy and to-go foods), pickles, jams, staples (tinned salmon fillets, bulk grains and beans, chips, etc.), sweets (cookies, brownies, peanut-butter fudge), stuffed toys, big Ziploc bags of housemade duros and more available for sale. It also does biscuits and coffee in the morning, as you'd expect.
Come afternoon, the small kitchen in the back gets going seriously, with sandwiches, soups, Southern sides and a couple of different hot options made to order six days a week. The specials are listed on a sign that sits near the road outside, rendered in big, eye-catching movable letters. Off the Vine makes a tasty collard-greens soup, with silky greens, plenty of onions and coins of sausage. Pair it with a loaded baked potato topped with cheese, sour cream and broccoli, and you will be satiated and then some. Most things come with a side of chips, but you can upgrade to add potato salad, baked macaroni and cheese or something else.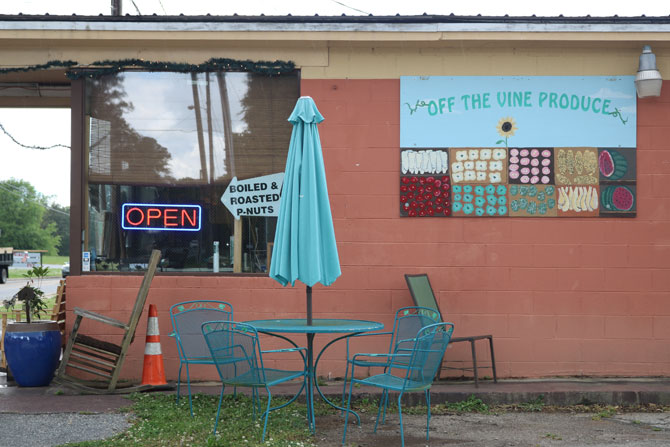 Photo Credit: Jessica Silverman
The bacon cheeseburger, served on white toast, is definitely sort of a mess—bring your wet-naps—but has a sweet simplicity that calls to mind Phillips Grocery in Holly Springs, MS. The Hillbilly Sub—essentially a meatball sub with caramelized onions, white cheddar and barbecue sauce—is a similarly straightforward but satisfying creation. If you're lucky, you can snag the adult-sized table by the window; there are a couple more available, but even for a short person they can feel like you're sitting at a doll's tea party.
Breakfast and dinner casseroles, more sides (BLT pasta salad, cowboy caviar, chicken salad, etc.) and protein packs (nuts, cheese, etc.) are all available in an open refrigerated case for grab-and-go. The folks in charge also churn their own ice cream on weekends, in flavors like lemon custard, strawberry and cherry. You can order a scoop at the counter any time, and occasionally they have enough left over to pack pints to-go. Off the Vine is open 6 a.m.–6 p.m. Monday through Friday and 8 a.m.–4 p.m. on Saturdays.
GROCERY NO. 2: It's been nearly 10 years since I wrote about Tienda Los Amigos (109 Rowe Road, between Chase and Barber), a bustling Mexican grocery store with a taco counter that has expanded its menu. It's in the enviable position of having a meat counter an arm's length away, which means it offers a wider range of fillings than the standards. Yes, you can still get (delicious) al pastor, lengua and carnitas, as well as beef and chicken, but you can also get tripa, buche, cuero and cabeza.
Tacos run either $1.50 or $2 each and can be filled and dosed to your specs at the nearby bar of fixings: salsa (at least four options, all of which are pretty hot), chopped onions, whole grilled onions, cilantro, lime, radish, pickled jalapeños and carrots, a rainbow of peppers. Tortillas are made fresh on-site, and there is a tremendous perceptible difference in their flavor: mild and sweet, without the faint bitterness one usually finds in corn tortillas.
Gone is the old sign with push-in letters that spelled out your options. Instead, a fancy new sign with pictures of everything serves as the menu. You can get an "American taco" with tomatoes, cheese and lettuce that is actually wonderful, and burritos, tortas, quesadillas and plates have been added as options. Firmly stuffed and briefly grilled, the burritos are simple and perfect: just rice, beans and meat, with no extras needed. The ingredients fuse into a sort of perfect nutritional loaf.
Refrescos, including horchata, tamarindo, piña, guyaba and more, can quench your thirst. Poke around while you wait, and you can buy big logs of masa, tasty pastries, a bunch of tiny bananas, endless tamarind-flavored sweets, pre-cut cups of melon (with a bottle of chamoy nearby for flavoring), straw hats, piñatas, candles, sodas, dishwashing detergent, dried chiles and much, much more. The store is open from 9 a.m.–9 p.m. Monday through Saturday and 9 a.m.–7 p.m. Sunday, with the counter operating at slightly reduced hours from those. You can also now pay with a credit or debit card, another upgrade.
Like what you just read? Support Flagpole by making a donation today. Every dollar you give helps fund our ongoing mission to provide Athens with quality, independent journalism.