STANDARDIZED: Clarke's Standard (225 N Lumpkin St., 706-850-5152) is not an easy restaurant to write about. Were you to visit Athens as a stranger, without history weighing on your impressions, you might be pleasantly surprised by its simple interior and nicely written menu, which focuses on bar food like burgers and onion rings but does some good things with them. If, on the other hand, you've been here for a few years and you loved the restaurant's predecessor in the space, The Branded Butcher, you may have more complicated feelings.
The previous restaurant was known for innovative preparations, including a commitment to charcuterie, that were matched by few other places in town. The bar program was sophisticated and smart, with a focus on classic cocktails and a great selection of ryes. Instead of figuring out what people wanted and giving it to them, it figured they might take a chance on something new. That was a refreshing attitude. If you're entirely responsive to your market, you end up with something more like Komar and Melamid's "People's Choice" art project or, to be blunter, any franchised eatery.
Also, since the Butcher opened, the imaginary line that used to run along Lumpkin Street through downtown, keeping Greeks and younger college students on the east and hipsters on the west, has either shifted or become more porous. Not everyone is happy about this development, which reflects changing demographics as wealthy college kids from the north Atlanta suburbs have moved into fancy new apartments downtown.
Is it fair to walk into Clarke's Standard with all of that knowledge sitting on your shoulders? Maybe not. Are you likely to be annoyed by (fairly classy) Bulldog-themed art and the hashtag #getclarked? It's possible! I have certainly heard complaints from folks who have had uneven experiences, and the menu continues to change (the $10 hot dogs have, unsurprisingly, been eliminated), but I had three pretty good experiences that establish the restaurant as not a gourmet groundbreaker but something more akin to Trappeze: a place to get some well-done standards with fresh, contemporary touches that make them more fun than they absolutely have to be.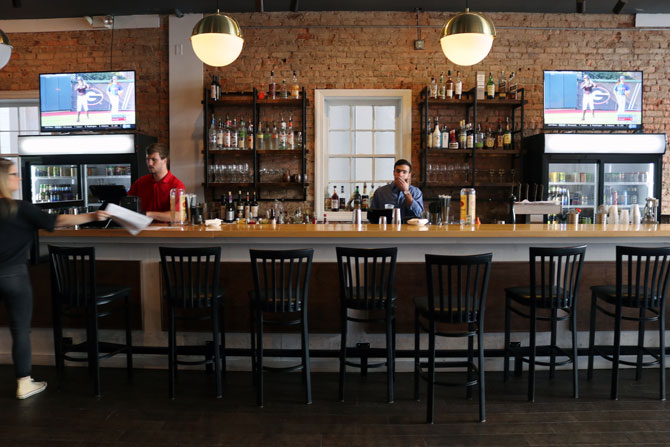 Photo Credit: Caroline Elliott
The onion rings, for example, are damn near perfect: big, light, served at a temperature that does not take the skin off your mouth, and paired with a lime aioli that slightly resembles cake frosting but still manages to be good. The avocado toast is nicely done, too, on whole-grain Holeman & Finch bread (which still isn't as good as that from Independent Baking Co.), with fat slices of avocado, a thin round of pickled radish, plenty of salt and a pinch of black sesame seeds that add texture.
The quinoa salad (who'da thunk it from a somewhat fratty bar?) uses the same sesame seeds throughout, burying big, well-cooked florets of cauliflower in the protein-heavy grain along with bits of pickled carrot and onion. It's a sort of treasure hunt, although the romaine lettuce at the bottom is skippable. The burgers tend to fall apart, and they're slightly overcooked at medium-well, although you can ask for them rarer should you desire. The housemade bratwurst with purple cabbage kraut and beer mustard is too big for its bun but can be tackled with a knife and fork.
The Scotch egg, a Butcher standard that places a hard-boiled egg wrapped in sausage and deep fried atop a pretty nest of celery root, is still on the menu, but it's a bit sloppier than it once was. The macaroni and cheese is made with shells that are too large and too thick, meaning it all but glues your mouth shut. Dessert consists of a bunch of different kinds of waffles (chocolate, bananas Foster, vanilla with blueberries, pecan), which are rather too mushy. They're aiming for fancier than they're able to achieve, like many of the choices at Clarke's sister restaurant, Pauley's.
Sitting in the window is nice if you are dining solo, but you may escape the staff's notice. The restaurant/bar is open 11 a.m.–2 a.m. Monday through Saturday and 11 a.m.–midnight Sunday.
WHAT UP?: The Fish Shack is open on Broad, near Hancock (in the former Preserve space), doing fried fish lunch and dinner Thursday through Saturday. There's a second Kona Ice truck in the Athens area and regions north. Hugh Acheson is opening First & Third Hot Dog and Sausage Shack in The Battery, a "lifestyle destination" (i.e., shopping center) adjacent to the Braves' new SunTrust Park, in Cobb County.
Like what you just read? Support Flagpole by making a donation today. Every dollar you give helps fund our ongoing mission to provide Athens with quality, independent journalism.