HAND-OFF, PART 1: Hugh Acheson's flagship restaurant, Five & Ten (1073 S. Milledge Ave., 706-546-7300), has been through a number of chefs de cuisine over the years of its existence. They seem to be turning over a little more rapidly of late, but that's probably more due to the increased tendency of a younger generation of chefs to bounce around than to anything behind the scenes. Richard Neal, who had been working as a traveling chef with Acheson, is the latest to take the reins.
Five & Ten's offerings have become considerably more adventurous, something discernible even from the restaurant's Instagram account, where popcorn, powdered coppa and knotweed are among the ingredients highlighted. It's a turn away from previous head chef Michael Farr's people-pleasing restraint, and while I don't mean to ding Farr, who put out some beautiful plates, Neal operates more like a triple jump athlete than an 800-meter runner.
In other words, his flavor combinations can seem bizarre and unpretty, even likely to land on their metaphorical posterior, but he manages to plant his first foot strongly enough to propel them forward into a kind of transcendent experience. Take, for example, a steak bavette, paired with quite a lot of thin lemon slices, broccoli (and its stems, pureed) and some smoky, spicy seasoned pine nuts. The description seems like too much, a way to overwhelm the meat, but it all works. The acid and the spice sear your palate just enough without ruining it.
A salad of baby chard and pickled Vidalia onions features salty bursts of trout roe, flowers of heirloom popcorn and a dressing that incorporates milk infused with more popcorn. It's both bold and subtle, a sharp, green culinary evocation of early spring that doesn't rely on clichés. A cornmeal porridge with collards, kale, chard, pickled mushrooms and beets could easily be a plate of bland mush. Instead, it gives porridge a good name. One understands why Goldilocks would venture into a strange house for a taste.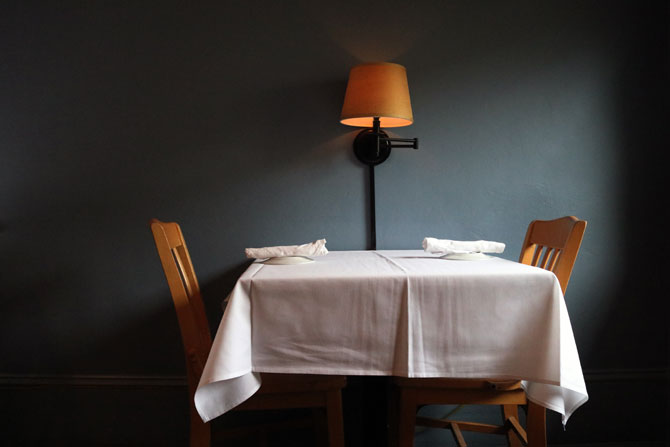 Photo Credit: Caroline Elliott
Menu items are changing out rapidly as Neal plays around with what's in season. Cocktails are lovely, if not quite as brave as the ones Donna Chang's offers down the street. The wine list is as excellent as ever. It is easy to take the restaurant for granted because it's been here for so long, but I'd advise you not to.
HAND-OFF, PART 2: Meanwhile, at Craft Public House (1040 Gaines School Road, 706-850-4363), on the Eastside, Brandon Kelly has made way in the kitchen for Mitchell Cintron, formerly of Speakeasy, in that restaurant's last and best incarnation. There are new things on the menu, and although nothing is quite up to the very high standards of Cintron's previous gig, the restaurant is improving. The combinations of ingredients are more interesting, and there are some lovely things to eat.
Pork belly is often prepared badly (overcooked, undercooked, left to stand on its own, recklessly substituted for bacon, etc.), but the sandwich at Craft that pairs it with a kale kimchi is a perfect balancing act. It doesn't fall apart, it doesn't make you tear at its protein like an animal, and it doesn't result in a sad and bland experience. The lamb meatballs, which you can find among the small plates and in a sandwich, are neatly coated with breadcrumbs and lightly fried, producing a gently crisp exterior with a soft but not mushy interior.
The gnocchi with carrot purée and roasted vegetables has peaks (beautiful roasted baby carrots, well-crisped pan-fried exterior on the gnocchi) and valleys (the purée itself, while theoretically curry-spiced, doesn't have enough flavor). Under-seasoning is a problem several places, especially with vegetables like squash and zucchini that have a high H2O content and need salt to be more than little bags of water.
Sometimes Cintron gets it right, as with the veggie Calabacitas tacos, which use queso fresco to season each bite, and the chicken mole tacos that are tender and use raw veggies for some brightness. The chard under a nice fried chicken dish is right on, but the mole sauce it comes with needs more depth of flavor. Sometimes he doesn't, as with the curry broth that surrounds clams that need to be cleaned better, which smells great and tastes like not a whole lot.
Presentations and plating are more polished, and there are some fancy-looking housemade ice creams on the dessert menu (amber honey, Earl Grey and chocolate espresso). The kids menu, thankfully, remains.
Like what you just read? Support Flagpole by making a donation today. Every dollar you give helps fund our ongoing mission to provide Athens with quality, independent journalism.