STILL FAMOUS AFTER ALL THESE YEARS: The World Famous (351 N. Hull St., 706-543-4002) will be five years old this October, and five years is an eternity in the life of a bar/restaurant. The cheerful space decorated with custom woodwork, folk art and a beautifully executed chalkboard with the menu and drinks specials has seen an entire set of college kids come and go in the time it's been open. When chef Jarad Blanton, who crafted the first menu, left, the restaurant stayed the same for a while, offering pretty much the same food, made the same way. Over the past year, it took a little dip in quality, with sandwich specials that weren't as exciting as they sounded.
I'm happy to report that with Lenny Miller (ex-Preserve) now running the kitchen, there are new things on the menu that are both interesting and good. Miller's cooking abilities bear no responsibility for why his previous restaurant went under. He has talent, and it resembles Blanton's in many ways. Instead of the kind of fussy, precise, showy cuisine Thomas Keller has made famous, they're both more akin to someone like Momofuku's David Chang: enamored of the kind of flavor-bomb mess that works like a carnival ride in your mouth and leaves you breathless and warm. That holds true whether dishes are vegetarian or include animal protein. Miller doesn't discriminate: He lends his love to both veggies and meats.
The Donair Box, a new addition to the menu, is a standout. Donair is a sort of Canadian-Greek gyro, usually made with sliced rotisserie meat wrapped in a pita with a distinctive sauce that incorporates sweetened condensed milk, vinegar and garlic powder. Miller's version comes in a cup, with chicken or tofu instead of red meat, fries, a big handful of alfalfa sprouts, slaw and pickles. Don't even bother with the chicken. There's no way it's better than the tofu, which is cubed and cooked just right. The whole shebang then gets tossed in the sauce, which is, frankly, magical.
If you want meat with your fries, the spare-rib poutine is almost as good (although not quite), a silky blob of umami accented with neatly sliced scallions that cut through the meat and cheese and starch. It's perfect bar food. The Danzig egg, black as sin and pickled in a spiced balsamic sauce, is almost too intense, but a beer might help with that.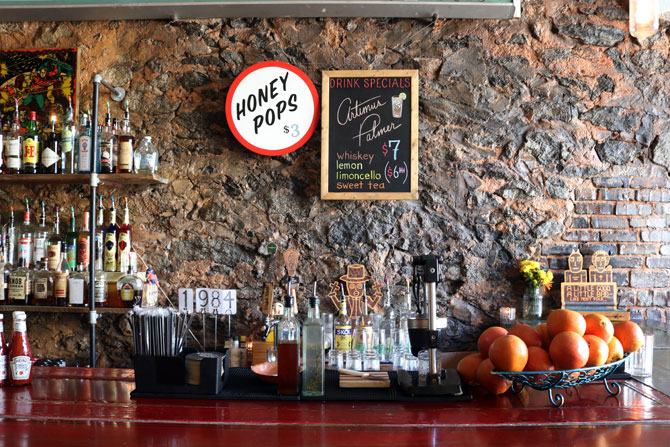 Photo Credit: Caroline Elliott
Tuesdays are for tacos, served three to an order at $1 each. The tiny corn tortillas that are supposed to wrap them tend to disintegrate in no time, causing you to have to resort to a fork, but that's because the fillings are juicy and stout. Miller's always had a way with pickles and related things, and the vinegary slaw that went along with some chicken tacos—originally intended to be fish, but the kitchen ran out quickly—was a forceful, smart addition.
The chicken and waffle club, one of the earliest menu items, is still available at brunch and still good, although not quite as perfectly executed as it used to be; the waffles tend to fall apart, and the chicken is really the star. Egg tacos with green chiles, also a brunch item, aren't quite as notable as the Tuesday specials. If you miss the stuffed French toast from Preserve, you can find it here.
Hours seem to be a bit in flux. Although the Facebook page and the sign on the door say lunch starts at 11 a.m., it may start at noon or later, but the staff says it may revert to 11 soon. Brunch runs from 10 a.m. (I think) to 3 p.m., with the lunch menu not available until 3. If you're nervous about the schedule or an early eater, call first. It's worth the effort.
REVISED: Thai Spoon (149 N. Lumpkin St., 706-548-9222) recently spent some time adding a sushi bar, and although I tend to be suspicious of sushi in Thai restaurants, the results are not bad at all. It's not as though Athens is a town for great sushi. You can find the usual array of rolls filled with cream cheese and fried basics, but there are better things, too.
The vegetarian Simplicity Roll (sweet tofu, asparagus, squash) is clean and simple. The nigiri is at least 50-50 (good hamachi and mackerel; too-tough hokkigai). Most pieces could be wrapped a little tighter and more precisely, but the rice is pretty good, and there's a light hand with things like wasabi. Order at your table, or sit at the bar and take a closer look at what seems especially pretty.
Like what you just read? Support Flagpole by making a donation today. Every dollar you give helps fund our ongoing mission to provide Athens with quality, independent journalism.