Focused concepts, rather than restaurants that took the Cheesecake Factory approach of trying to be everything to everyone, seemed to be on the rise in 2014. Athens continued to show up on a lot of lists, including culinary rankings, and some of that was even justified. Here, then, is a summation of what happened over the course of the last year, starting with the highlights.
See also: Flagpole's Grub Notes blog
The saddest thing about 2014 was that the best restaurant to open, Cinco y Diez, also closed. Still, there was progress made, even if Athens wasn't quite ready for refined, high-end Mexican cuisine. At the end of 2013, I had wished for both Korean and for something to fill the space that had been first Farm 255, then Echo. One restaurant, Iron Factory, met both needs.
Seabear Oyster Bar, in the Bottleworks, is really something special for a land-locked town: a hip but not off-putting venue for sharp cocktails, a daily-changing array of lovely oysters and a small but well-executed menu of classics. Preserve, in the tiny Arctic Girl building at the intersection of Broad and Hancock, makes great use of its itty-bitty space, putting together wonderful desserts and cooking with style and heart.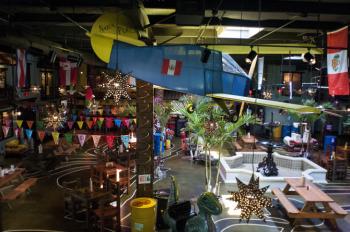 Photo Credit: Randy Schafer
La Puerta del Sol, Bruno Rubio's magnum opus, finally finally finally opened and is as much of a joy as one would have hoped. A playground for children and adults, it gives Rubio's ambitions plenty of room. The folks from Trappeze took over the space in the Georgian that hasn't succeeded in years and opened South Kitchen + Bar, a Southern-accented but non-cheesy restaurant with plenty of muscle in its flavors.
Easily overlooked due to its non-central location but building a steady following, Big Family Cafe opened in Homewood Hills, serving a large menu of breakfast and lunch standards that are never less than tasty and made from scratch. Mannaweenta doesn't have an official restaurant yet, but its weekly offerings of Ethiopian delights at the West Broad Farmers Market are absolutely worth a special trip. And, in the drinks department, Creature Comforts aced everything it tried, including a sublime (and, sadly, limited-edition) cucumber-lime gose.
Franchises continued to open up left and right, especially on the Eastside—which got a Waffle House and a Bojangles and will soon have a Denny's next to the Walmart—and out in the new Epps Bridge Parkway/Oconee Connector development, which opened a Gigi's Cupcakes, a di'Lishi Frozen Yogurt Bar, a Taqueria Tsunami and a Freddy's Frozen Custard and Steakburgers and will open a Cheddar's Casual Cafe in the near future. The Bottleworks on Prince Avenue contributed to that trend with its location of Taziki's Mediterranean Cafe but also added Olive Basket, a specialty store retailing fine olive oils and vinegars.
The former Mexicali Grille on Broad became an American Deli; Five Points' Hubee D's closed only to be replaced by another small Charleston-based chain, YoBo Cantina Fresca, and Brixx moved in to the West Washington Street parking deck/mixed-use building downtown. Subway moved a few blocks east of where it had been downtown, into what had been Yoguri, with the sub-street-level space below due to become an Arden's Garden soon. Around the corner, Little Bull closed to make way for an Einstein Bros. Bagels in the new year, and J. Christopher's began serving breakfast and lunch under blue awnings in Five Points.
Right next door, the Dale brothers' Condor Chocolates started retailing truffles, though not yet bars, as well as drinking chocolate and coffee a few days before Christmas. The Cinco space was taken by LRG Provisions, a pop-up and catering operation for Last Resort Grill. Mama's Boy opened its second eatery, Goodie Two Shoes, in the 909 Broad Building, also giving Mama's Boy more room for its thriving catering business.
Aromas closed in Five Points, but the same team opened The Pine in the same space, creating wood-oven-fired dishes aplenty. The Granary and The Big Easy Cafe, next door to one another on Greensboro Highway in Watkinsville, both closed and were replaced by Kirsten Bradford's Kiki's Bakeshop and The Local Table, serving folks from early a.m. to dinner.
El Paisano on North Avenue, always a solid source of tasty and authentic Mexican, turned into Real Paraiso and didn't change much, apart from its name. The Oglethorpe Avenue location of Transmetropolitan closed, was sold and then reopened as itself. Just down the road, Rashe Malcolm started serving Jamaican grub as Rashe's Cuisine out of what was once upon a time Cali N Tito's.
The Foundry Park Inn was bought by a company that turned it into Graduate Athens and opened Iron Works Coffee in its lobby, as well as implementing a new menu and lunch hours at the former Melting Point. Artist Grant Henry transformed the space next to Agora into an Athens branch of his Sister Louisa's bar, Pouch Savory World of Pies is now selling its savory pocket foods out of the former Picante's, next to Bel-Jean, and Athens Wok moved in next door to Cozy Yum Yum on the other end of downtown, doing quick and well-priced Thai and Chinese food.
Reggie DiSante opened Charlie Noble's in the Ansonborough development on the Eastside, and Achim Reus opened and then closed Freshtopia nearby, within a couple of weeks. Opa Robby's Market, which sells wonderful and affordable produce and prepared foods in front of Target, succeeded enough to add a second location, in A Weekend A'fair on the Eastside, and Phickles Pickles opened a company store on Baxter, just across from Always Baked's brick-and-mortar location.
We said goodbye to Dirty Birds, The Volstead, Journey Juice (downtown location only), OK Cafe (but not A-OK Cafe) and Sweet Peppers Deli downtown; both locations of Yoforia; Skogies and Mirko Pasta on Baxter and Mirko in Ansonborough; The Coffee Shop of Athens; Harry's BBQ (which remained for catering but closed as a restaurant); Junkyard Dawgs; Taj Mahal; Stuffed Burger; Shane's Rib Shack on Milledge; Four Brothers (replaced by Kumquat Mae, which moved from Watkinsville); and Troubadour Pub & Grill. Little Italy discontinued its $5 lunch special, to much sadness, and Herschel's Famous 34 Pub & Grill retooled as Herschel's 34 Chicken & Ribs Kitchen.
Set to open in 2015 are The Place (nouveau Southern, in the old Five Star Day space downtown), another Zaxby's (downtown, in the former George Dean's), Champy's Famous Fried Chicken (a franchise, on Baxter), Arden's Garden in the former Planet Smoothie downtown, Saucehouse (on Broad, with a big building going up across from Treehouse), Automatic Pizza (Bain Mattox's project in the Normaltown ex-Pizza Hut), an Eastside Larry's Giant Subs in the Green Acres Shopping Center and regular locations for The Comerian bakery (in Comer) and the Holy Crepe truck.
Like what you just read? Support Flagpole by making a donation today. Every dollar you give helps fund our ongoing mission to provide Athens with quality, independent journalism.