Practice What You Preach: There are only so many times you can hear the words "all-natural†and "from scratch†from a franchise establishment before you want to bonk your head into a wall. The fact is, most places that tout the freshness of their ingredients get them out of vacuum-sealed bags. I can't actually tell you whether Hubee D's (1591 S. Lumpkin St.), the chicken franchise out of Charleston that's just set up in the former Marble Slab, does what they say they do, as far as not freezing their chicken or stirring together real ingredients recognizable as food in the Michael Pollan sense. What I can tell you is that the results, whether engineered in a lab or cooked up in a family kitchen, are pretty darn good and will give any chicken place in town a run for its money.
The menu isn't big, but it rarely is at a chicken-focused establishment. Tenders, nuggets, sandwiches, wraps, wings (regular and boneless), salads and a couple of simple desserts are about it, and most offerings come with fries, coleslaw, cornbread and a variation on Thousand Island dressing dubbed Hubee Sauce. Do not take your vegetarian buddies unless they want to say "hold the chicken†on their salads. I'm not really sure what it is about the chicken that impresses me favorably. Maybe it's the fact that it tastes like something other than batter and salt. The shapes aren't uniform, and there is a genuine tang of buttermilk in its flavoring. The wings are some of the best in town. They're not enormous, but they're prepared in a dry-rub style, which means you can taste every nuance of the central protein rather than only the glop it's been tossed with, and they can easily be eaten with nothing added. You can get them with sauce already added or you can visit the sauce bar (a small shelf on the wall that's easy to miss) to fill up little cups of equally tasty stuff in Low Country Buffalo, Black Tie Bourbon, Wadmalaw Island Jerk, honey mustard and Old Edisto Honey Barbecue. These, too, resemble actual food. Even the fries and the coleslaw appear to have received some thought, and although the cornbread is on the sweet side (sigh), it, too, could probably pass for homemade.
The quarters for eating in are tight. You may literally rub elbows with your neighbors. The staff is efficient and eager to please. The soda fountain has Cheerwine on tap, and a small freezer by the door is full of Blue Bunny ice cream sandwiches and frozen banana pudding pops, a specialty of the restaurant. I hate to admit South Carolina does anything better than Georgia, but they're up a point in this arena. Hubee D's is open for lunch and dinner every day. It doesn't serve alcohol but does take credit cards.
Island Oasis: When you're out on Epps Bridge Parkway, adrift in a sea of national franchises and giant parking lots, it's easy to miss Bee's Knees Bakery and Gifts (1880 Epps Bridge Pkwy.), which is tucked away to the left of Trader Joe's, near Barberitos. The nice thing about the bakery, which does plenty of sugary stuff, is that it also offers cute box lunches (a misnomer, as they actually come in a paper bag). For $7.99, you get a sandwich (good chicken salad, decent egg salad, deli meat, PB&J and sometimes, if you're lucky, meatloaf), chips, a canned soda or a bottled water, pickles and a cupcake (chocolate, vanilla or strawberry). Wrapped in waxed paper and no frills, the sandwiches are nonetheless kind of comforting in their simplicity. The cupcakes fall about in the middle of the range in Athens, neither transcending their medium nor grossing one out with giant piles of oily frosting and chemical additives. The strawberry is hot pink and the caramel could use a darker, richer, more browned flavor, but they are appropriately sized and as straightforward as the rest of the offerings.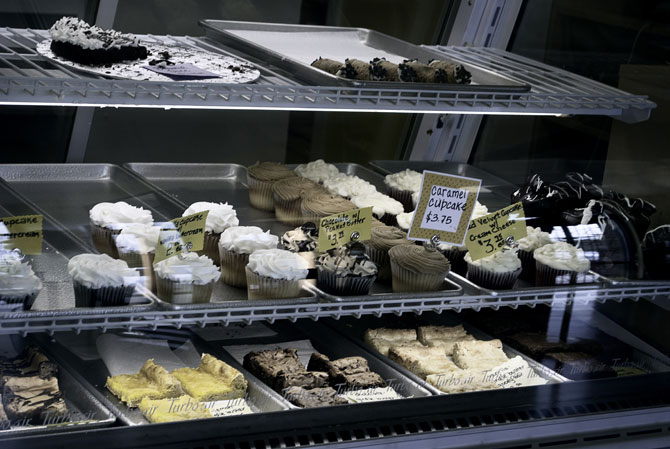 The real find at Bee's Knees is the bakery's signature "girdle-buster gooey bars,†flat bar cookies that come in an array of flavors and manage to be both light and surprisingly dense. They will not pull your teeth out, but they will attract attention if you bring them to a party. Bee's Knees also does all kinds of custom cakes, from basic to elaborate, and is set up to host children's birthday parties, with cake decorating, an attendant, T-shirts, games and more. They'll even mail the invitations for you. Should you be looking for gifts for your preppy friends, the extra room the business owns is crammed full of jewelry, puff-paint-decorated glassware, Georgia-themed hairbows and the like. The bakery is open Monday through Saturday from 10 a.m. to 8 p.m. and Sunday from noon to 6 p.m. It takes credit cards and promises that it will also do delivery.
What Up?: Gnat's Landing on Baxter Street has closed. The new project from Hilltop Grille, an oyster bar at the Five Points intersection in a former house, is moving forward. Read more at www.flagpole.com…
Like what you just read? Support Flagpole by making a donation today. Every dollar you give helps fund our ongoing mission to provide Athens with quality, independent journalism.