Housed in a dome-like edifice that resembles half a giant tin can, the Jittery Joe's Roasting Co. building on Barber Street welcomes the Athens community through a giant garage door that usually remains open. A whirligig sculpture by its entrance blinks orange, red and yellow in the sunlight and advises, "THE BIKE IS THE ANSWER." A handcrafted wooden bench outside reads "COFFEE." A white piece of printer paper on the front door entreats customers to "ENTER!!"
Inside the strangely shaped structure is an expansive space, burlap bags of fresh green coffee beans, a giant navy blue roasting machine and eccentric bric-a-brac—a preserved puffer fish, colored window panes and a tie-dye canvas. Various bikes peek out from the room's edges. Most of these belong to employees, since Jittery Joe's is a huge proponent of biking or walking to save both money and the environment.
People come here to share their stories and secrets, to drink the freshest coffee in town and, above all, to feel like they're a part of something. Like a 16th Century trading post, some locals come not only for the news of the day but also to make exchanges. Coffee for fresh chicken eggs. Coffee for a haircut. Coffee for grapefruits and oranges picked fresh from Florida trees. Coffee for church pews from a long-gone movie set. Coffee for a Broadway song performance. Coffee for coffee.
At the heart of this magical conglomerate of people and purposes is Charlie Mustard, a man so carefree and at peace with his life that it takes him a few calculations to remember his age (46). After trading a career in science for one in coffee, he's been working at Jittery Joe's for 21 years.
A Teacher at Heart
Mustard is tan and fit with an open face, and if he's not earnestly listening to a community member's news, he's conducting scientific experiments—coffee instead of chemicals, the roaster in place of a laboratory and a hypothesis about taste instead of reactivity. He's attracted to roasting because he treats it as a hands-on, detail-oriented craft with a scientific underpinning, adding and removing different variables to achieve a unique chemical blend.
Almost every day at the roaster, someone approaches Mustard in awe of what he's doing because they've never been exposed to the process before. He's always eager to show them how it's done. "It's like teaching a kid to ride a bike, every day," he says.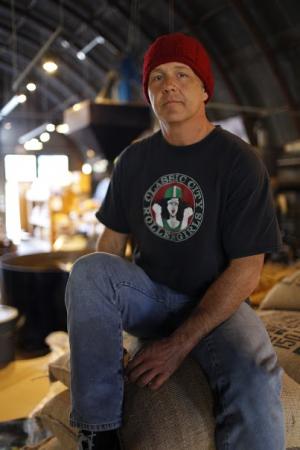 Photo Credit: Joshua L. Jones
Most people aren't aware that coffee beans are actually the pits inside a coffee berry grown on a tree. During the wet process of extraction, the beans are soaked in a vat with microbes and lie out in the sun, where they are raked for days in order to eradicate the moisture. Roasting consists of drying the bean at varying rates and allowing it to produce sugars, proteins and lipids at different points during the roast. The speed and temperature of the process are the biggest variables in determining how the coffee will taste. After explaining all of that, Mustard talks about conduction, convection and airflow—control factors that affect the end result.
Bob Googe, CEO of Jittery Joe's, says Mustard may be the best roaster he's ever met. "Let's face it—it smells great down here," he says. "When Charlie's roasting, nothing beats it."
Googe met Mustard at a Barrow Elementary School fundraiser. Both were selling Jittery Joe's coffee for the cause. Googe was then a full-time Presbyterian campus minister and the founder of a consulting practice that had gone out of business after Sept. 11. He always wrote his sermons at the Five Points Jittery Joe's. Mustard suggested Googe get into the business, and now Googe owns five locations as well as being the chief executive officer. "Charlie is kind of the personality of Jittery Joe's, which is awesome," he says. "It definitely helps not to have a curmudgeon standing at the roaster."
Mustard has influenced a variety of people. Jerry Jones struggled with drugs and alcohol for 38 or 39 years but has been sober for six or seven months, partly thanks to Mustard. Jones, 51, says that Mustard shows unfaltering love to people who are having a hard time. "He gives from his heart," Jones says. "Whatever he does, he does from his heart."
Career Change
In the late 1990s, Mustard bought his first delivery bicycle from Sunshine Cycles, where he met his now good friend Al Jeffers. Jeffers, who inspired the popular "Al's Blend" made for the bicycle shop, comes into the roaster one afternoon to chat with Mustard. "This guy started it all," Jeffers says. "If he tells you something different, don't believe him."
In 1994, Mustard overheard the two brothers who founded Jittery Joe's talking about the necessity to save money by buying a roasting machine for green coffee instead of continuing to order from San Francisco Coffee Roasting Company in Atlanta.
Mustard wondered what that could entail. So on his trip that night to the UGA Science Library, he looked up coffee roasting. Mustard's biological sciences degree from Clemson left him with an extensive background in chemistry, and he came back to his thesis-writing spot at the coffee shop the next evening with an offer for Keith and Karl Kortmeier: He'd roast their coffee in exchange for all the free coffee he could drink while he wrote his thesis. They had a deal.
Mustard started roasting for what was then the first and only Jittery Joe's location for about two hours each week. Once he finished his thesis, he took on full-time roasting as his next endeavor. He loved the aspect of creating something, like a science-based craft. He loved experimenting by adding and taking away different variables, and he loved the hands-on process of moving the beans around.
As Mustard mastered roasting, the Kortmeiers were working on opening another Jittery Joe's in Five Points. Mustard was still finishing his master's degree in nutrition and in limbo about his next step—he loved roasting, but should he start looking for a "real job"? Once the Five Points shop opened, Mustard started working there from opening until noon and selling, roasting and delivering coffee after he got off work.
Mustard's wife often drove by the Five Points shop to see him sitting on a wooden bench outside talking to locals. She'd wave, honk and point at him, saying, "You don't work!" thinking she'd caught him again, but Mustard says that's exactly how he sold everyone coffee. After speaking with them, he'd sometimes take them to the downtown shop to demonstrate the roasting process. "Maybe this coffee thing's gonna work out," he thought.
By 1996, Starbucks was rapidly spreading throughout the country, and Mustard bought Jittery Joe's Coffee Roasting Co. from the brothers. Soon after Mustard began roasting full time, the machine's smoke output started bothering nearby businesses on Washington Street. The designated roasting hours, 5 p.m.–7 a.m., were inconvenient. This spurred Mustard's quest for the perfect home for coffee production.
The next step for Mustard and his used black roasting machine was moving into a building on Broad Street, but unfortunately for the two of them, Judge James Barrow and his wife Phyllis lived nearby on Dearing Street. She complained about the smoke blowing up the hill, and after about six months, Mustard opened the door to see a marshal with a piece of paper and a gun in his holster. Mustard and the roaster changed venues and ended up on Wynburn Avenue for about a year and a half.
He loved the Wynburn Avenue location because of the nearby train tracks and his next-door neighbors: five different bands that took turns sharing a practice space. Mustard chose the evening to do his roasting so he could listen to the bands play—unless he didn't care for a band's genre, in which case he roasted early or skipped that day. It was while he was roasting on Wynburn Avenue that Mustard bought the Eastside Jittery Joe's location that Keith had recently opened and wanted to sell.
When Keith bought a building on Prince Avenue that had gone from a Unitarian church to a medical storage space to an in-progress coffee shop, Mustard moved the trusty black roaster to that location. Both men believe the building was haunted because each time Mustard tried to roast late at night, lights would turn on, doors would open and spots would turn cold, along with an ominous feeling he couldn't quite place. Keith eventually sold the location, now the Athens Healing Arts Centre, and the roaster's headquarters moved to a spot on East Broad Street where it stayed for 15 years.
Before he knew it, Mustard had maybe 80 people working under him, an overwhelming to-do list and a lot of stress on his plate, as he was simultaneously starting the Jittery Joe's franchise at the Miller Learning Center on the UGA campus. Mustard soon realized that his happiness meant stripping away everything but the coffee itself. He decided to sell the parts of the company he owned, like a franchise and part of the Jittery Joe's professional cycling team, in order to focus on roasting.
"I said, 'If we're pulling it all together and everyone's gonna have a piece, I want my piece to just be coffee and quality and roasting,'" Mustard says. "I'd say I have the best job." He sold the Eastside shop to Googe. "I told him it was basically like running a lemonade stand," Mustard says. "He always brings that up."
The roaster on East Broad Street was a popular local hangout, made of beautiful wood, with a loyal customer base and featuring a lot of bicycles for sale. They'd hang them on the walls with local advertisements next to them without taking any percentage of the sale—the people of Jittery Joe's just wanted Athenians to ride bikes. But once 12 or 13 years had gone by, they were notified that the rental property would be sold to a developer.
As the development kept being put off, Mustard and the Jittery Joe's team had time to search for the perfect long-term roaster location. When they were finally shown their current Barber Street location, Mustard knew it was perfect. Residential neighbors love the roaster's smoke, because it covers up the smells from the chicken plant down the street. One day, a man came into the roaster and asked Mustard if he could roast at an earlier time because he had to work from home that day and didn't want to smell the chickens.
Since the roaster isn't heated or cooled, Mustard is able to enjoy every day and every kind of weather. People often ask how he stands the summer and winter, but he says it's easy to get used to.
An Athens Staple
Jittery Joe's has blossomed from an idea in the minds of two brothers into a community staple. Despite its notable expansion, the coffee commodity has stayed true to its roots. A fair number of roasters employ computer programs to automatically run roasting profiles, but Mustard and his production manager Christian Hampton personally test every batch. Ethiopian coffee from last year could be different than this year, depending on lots of variables. "Someone is always standing over that machine listening, smelling and watching," says Patrick Conley, the manager of the Five Points location. "It really is a craft."
Jittery Joe's has been absolutely neck-deep in the Athens community since it began, according to Googe. For years, the coffee shop donated all the money it would have spent on advertising to community projects. Now, 90 percent of the public relations budget goes towards aiding the community, like donating coffee to a Habitat for Humanity build for three days or providing coffee for a Girl Scouts of America table. Jittery Joe's coffee hasn't changed, but the business is a little more sophisticated.
Conley also manages the Jittery Joe's web store, which has subscription options and ships all over the world, including to soldiers in Afghanistan and Iraq. He always makes sure to stick a Flagpole in with the coffee to catch the far-flung Athenians up on local happenings. Jittery Joe's employees are "people that love to connect with other people, and coffee is how we do it," he says.
One afternoon, John Greer, a woodworker who often constructs unique shelves for showcasing Jittery Joe's coffee cans in stores, comes into the roaster to jokingly scold Mustard about a prank he pulled on Greer involving a little gray figurine and his mailbox. After the two old friends finish snickering, Greer pulls out his latest creation for Mustard. It's a satisfyingly square wooden box engraved in Greer's handwriting: "Big and Uncle Shaudy." On another side: "Pocket tomatoes, $1.00." Yet another: "Retractable Cat Claws, 2 for $1.00." It's for Mustard and his niece to go shell-hunting on the beach in two weeks—pocket tomatoes and retractable cat claws are what they call different pieces of busted conch shells. The box is a surprise from Greer, who knows all about their tradition.
Conley believes in the strength of the Jittery Joe's roaster community and knows the stories of it and Mustard simply can't be separated. "I mean, look at this place—it's like your crazy uncle's messy living room," he says. "Not like your uptight grandma's with the white carpet. Like crazy Uncle Charlie's place."
Like what you just read? Support Flagpole by making a donation today. Every dollar you give helps fund our ongoing mission to provide Athens with quality, independent journalism.