The 50-30 win over LSU in the SEC Championship Game may be one of my favorite Georgia games of all time. Aside from the fact that the Dawgs won an SEC title and locked down the No. 1 spot in the College Football Playoff is a big reason, the game was chock full of wonderful, weird moments.
Christopher Smith's cheeky 96-yard scoop-and-score of a blocked field goal bamboozled the entire LSU team and half his own. Smael Mondon snagged an interception that ricochetted off a prone Tiger's helmet. Jalen Carter sacked LSU QB Jayden Daniels by literally lifting him with one hand and holding him in place until the ref blew the whistle. A.D. Mitchell returned to action by passing for a two-point conversion on a trick play to go up 27 in the fourth quarter.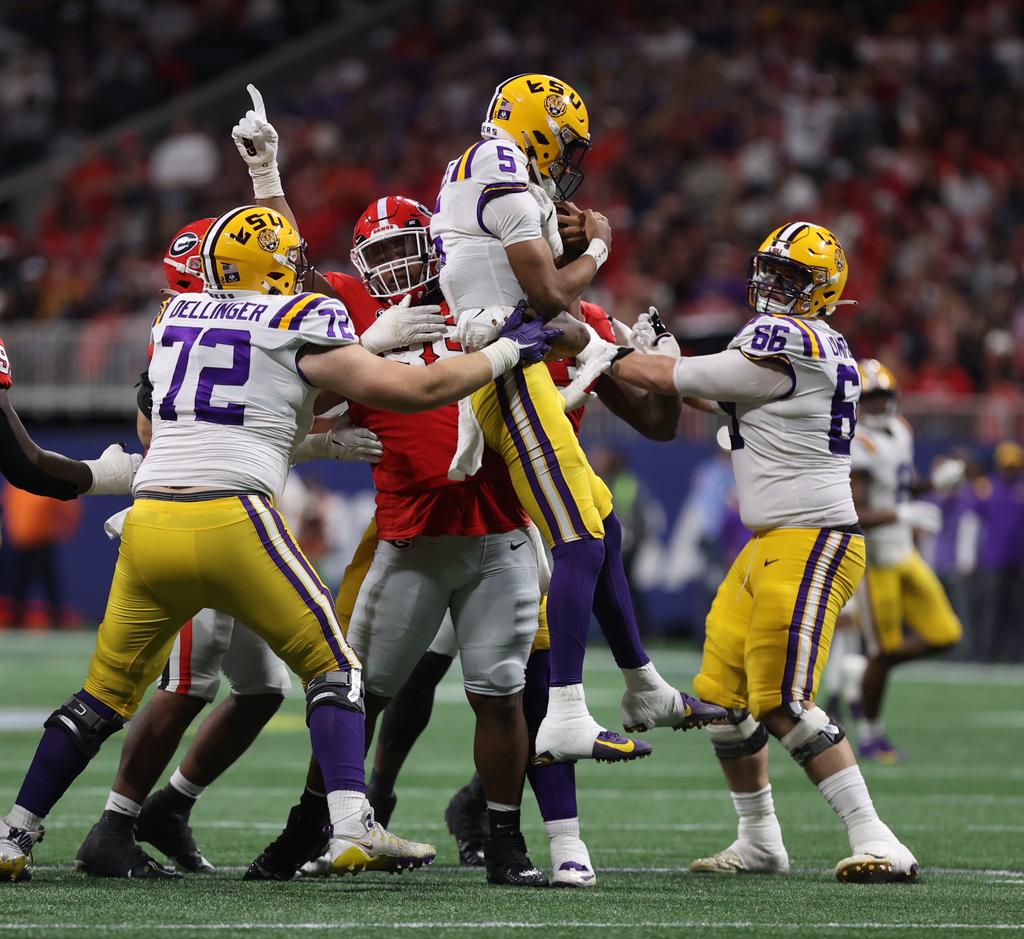 It was a thrilling cap to a perfect 13-0 regular season from Kirby Smart and the Bulldogs. And while the national media wrote it off as an unimportant game for Georgia, which was a lock to make the playoff regardless of the outcome, we know how much an SEC title means to the fans and the players. It's only the fourth time Georgia has won the SEC Championship Game and the second time for Smart. Until Saturday, he had as many national titles as SEC titles, a feat I hope he can match after another successful playoff run.
Standing between the Dawgs and another title is Ohio State. Despite getting their asses handed to them by Michigan—at home—the Buckeyes backdoored their way into the playoff following a chaotic championship weekend. Don't be fooled. Ohio State is one of the few teams that can match us in talent.
The main threat from the Buckeyes is their passing game. C.J. Stroud is a future first-round quarterback. Marvin Harrison Jr. is the best receiver in the country, a mantle he took from teammate Jackson Smith-Njigba, who may return from injury just in time for the Peach Bowl. Meanwhile, we just gave up 502 passing yards to LSU.
"Our team kind of played this game like they played the whole season: unbelievably well in spurts and unbelievably poor in spurts, and answered the bell when they had to," Smart said after the SEC title game.
Last year, Georgia had one of the most talented, experienced defenses in college football history mushing their opponents into oblivion. With a bit less talent and a lot less experience on that side of the ball, there's been expected regression. Despite that, they're still 13-0 and favorites to win the title again.
This isn't the 2021 team, certainly not the 2021 defense, but that doesn't mean I don't favor our chances. For one thing, they hold an acheivement those '21 Dawg legends don't: the SEC title. And through 13 games, they've forged their own identity.
The identity of the '22 Dawgs is that they have no identity. This team finds a way to adapt to each and every situation. Whether it's by not throwing a pass in the second half on a cold night against Kentucky, or airing it out and letting Stetson Bennett throw four first-half touchdowns against LSU, these Dawgs find a way to win.
That's not to say they don't do weird stuff sometimes or make boneheaded mistakes. But they do work their asses off. And when you combine their talent, physicality, and work ethic, there isn't a game they can't figure out a way to win, or a team they can't figure out a way to beat.
"This has been a different group," Smart said. "You guys have tried to label them, tried to figure 'em out, tried to analyze 'em. They're not comprehendible. They do what they have to do, and they do it well."
Like what you just read? Support Flagpole by making a donation today. Every dollar you give helps fund our ongoing mission to provide Athens with quality, independent journalism.