The word for this season is "optimism." Kirby Smart is the new top dog in Athens after Mark Richt was (politely) run out of town for his failure to win an SEC championship in 10 years. And with Smart's arrival comes hope he can replicate at least some of the magic created at Alabama by his former boss, Nick Saban.
The optimism surrounding the program right now is more future than present-oriented. Most fans understand it will take some time to get the program where we want it. New coaches have to get in a groove and figure out exactly how they're gonna operate. Sometimes that leads to poor inaugural seasons—look no further than Saban finishing 7-6 in his first year at Bama. So we shouldn't get our expectations too high.
At the same time, with the talent on this roster, we shouldn't let them dip too low either. After all, the 2016 UGA football team has a couple of units that can make a case for best in the nation. But the rest of the roster is full of unproven talent.
The first unit we can rely on is the running backs. Nick Chubb and Sony Michel are the most formidable tailback duo in the nation. It's a classic thunder and lightning combo. Chubb provides the power, and Michel provides the speed. Chubb should be ready for action after suffering a knee injury last year, while Michel, who broke his arm riding an ATV in July, is still in doubt. If these two can stay healthy—a big if—there is hardly a defense in America that can stop our run game.
The other strength is the secondary. Quincy Mauger and Dominick Sanders are perhaps the best safety duo in the country. Sanders, in particular, was fantastic last season, collecting six interceptions. The cornerbacks, Aaron Davis and Malkom Parrish, are no slouches either, though they aren't as dynamic as the safety pair. Add in Alabama graduate transfer Maurice Smith, who is eligible to play immediately, and, brother, you've got a tops-in-the-SEC secondary stew goin'.
Those are the units we know we can count on. The rest are questionable. The receivers are experienced but still largely unproven. The offensive line is thin, and a few injuries there could derail the season. The defensive line is both thin and largely unproven. And the linebackers are replacing three of the top four tacklers from last season, and still lack a competent pass rush.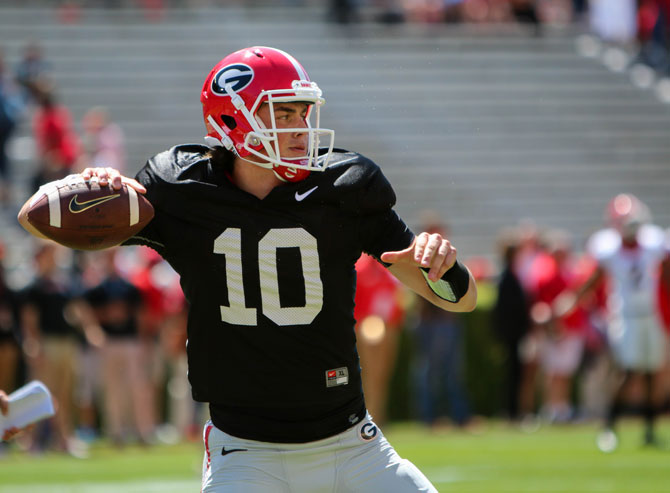 Which brings us to the quarterbacks. So far, Smart has been quiet about who will start the season opener against North Carolina out of the trio of Greyson Lambert, Jacob Eason and Bryce Ramsey, although he has indicated he'll have two QBs ready to play. The general consensus among fans is to start the highly-touted freshman Eason from day one. Doing so would endear Smart to a lot of fans, as Richt was known for picking seniority over talent frequently, often to the detriment of the team. Eason could be rocky this season as he adjusts to college football, but he is no doubt the most talented QB on the roster. If we're trying to keep one foot rooted in the present and the other stepping toward the future, we should let Eason start, work out the kinks this year then, hopefully, be ready for two or three seasons as one of the top QBs in college football.
[Editor's note: After this story was published, news broke that Lambert would start against North Carolina.]
Despite all the reasons to be optimistic about the program right now, my modus operandi is to expect disappointment. If growing up as a sports fan in Georgia taught me anything, it's that I don't deserve nice things and will never have them. That's why I've also included a small guide covering what you should do if the Dawgs lose any given game this season. Hopefully you won't need any of them, and Smart's alarm clock to wake the sleeping giant that is UGA football goes off a bit sooner than expected.
WHO: North Carolina
WHEN: Sept. 3, 5:30 p.m., ESPN
WHERE: Georgia Dome, Atlanta
UNC is the reigning ACC Coastal Division champ, which is a bit like being the rosiest-smelling skunk in the woods. You still stink, just not as much as the jabronis around you. Every ACC team dreams of beating someone in the SEC, so we should expect the Heels to come out guns blazing. One thing is for sure: The result of this game will set the tone for the rest of the year.
What to do if we lose: Gird yourself for the #FireKirby takes. They're gonna come in hot.
WHO: Nicholls State
WHEN: Sept. 10, noon, SEC Network
WHERE: Athens
Nicholls State is called the Colonels. It's in Louisiana, I think. It plays in Division I-AA/the FCS. Um, what else? Yep, I think that's all you need to know for this game.
What to do if we lose: LOL, we're not gonna lose this one. (If I jinxed this, I'm so, so sorry.)
WHO: Missouri
WHEN: Sept. 17, 7:30 p.m., SEC Network
WHERE: Columbia, MO
The Tigers have a new coach and return a rock-solid defense, a year after a season which will best be known for the players boycotting until university president Tim Wolfe resigned because of racism on campus. But Mizzou will have to figure out how to put points on the board to both have a successful season and beat the Dawgs.
What to do if we lose: Pretend you never had high expectations for this season to begin with.
WHO: Ole Miss
WHEN: Sept. 24, TBA
WHERE: Oxford, MS
Folks have been excited about this game for a while, if only because it presents a rare opportunity for UGA fans to travel to Oxford and do some tailgating in the mythic Grove. The Rebels are one of the most stacked teams in the SEC, but they also have probably the most difficult schedule. With matchups against FSU and Alabama before we roll into town, maybe Ole Miss will be too beaten down to put up a good fight.
What to do if we lose: Take solace in the fact that, as crappy as the state of Georgia can be at times, we ain't Mississippi.
WHO: Tennessee
WHEN: Oct. 1, TBA
WHERE: Athens
Tennessee is one of the most hyped teams in the country and the favorite to win the East. However, Tennessee hasn't lived up to the hype any time it's been poured on the Vols in the last few decades. A game away from the notorious knee-mangling turf at Neyland Stadium gives me belief that we can come away from this game injury-free with a win in hand.
What to do if we lose: Bar yourself indoors and put your headphones on. Vols fans will take over downtown and sing "Rocky Top" all night.
WHO: South Carolina
WHEN: Oct. 8, TBA
WHERE: Columbia, SC
Remember when we made Spurrier's ass quit last year? That was one of the few good things to come out of last season. Now Will Muschamp leads the Gamecocks and… I'm sorry, I tried not to laugh. South Carolina has one of the least talented rosters in the SEC and a doofus for a head coach. Please, God, don't let us lose this one.
What to do if we lose: Stay off the internet, because some numbskull is gonna claim we should've hired Muschamp instead of Smart.
WHO: Vanderbilt
WHEN: Oct. 15, TBA
WHERE: Athens
The only thing a Vanderbilt game is good for is a trip to Nashville. Otherwise, I wish we'd never play them. A win is likely, but a loss—like we had against the Commodores in 2013—would be devastating for our chances in the East.
What to do if we lose: Hide, because the pretentious Nashville bros will emerge from the woodwork.
WHO: Florida
WHEN: Oct. 29, 3:30 p.m., CBS
WHERE: Jacksonville, FL
Delivering a beatdown to the Gators like the one they gave us last year would soothe my soul. Sneaking out a win and not letting them run for a gazillion yards on us will suffice, though. We should be amped for this one. Smart knows as well as anyone how important the WLOCP is to players and the fanbase.
What to do if we lose: Drink. Drink some more. Keep drinking. Honestly, you probably just shouldn't stop drinking until Monday.
WHO: Kentucky
WHEN: Nov. 5, TBA
WHERE: Lexington, KY
Is this a basketball game? No? OK, then I like our chances.
What to do if we lose: "Maybe we'll get a payback upset in basketball!" (We won't.)
WHO: Auburn
WHEN: Nov. 12, TBA
WHERE: Athens
It makes me laugh that Auburn almost won a national championship just a few years ago. Now the Tigers generally seem terrible, and Gus Malzahn has his ass planted on the hot seat. It's entirely possible that for the second time in four years, Auburn will fire a coach who led the Tigers to a BCS title game. If we can be the team to put the nail in the coffin, fill a syringe with that schadenfreude and inject it directly into my veins.
What to do if we lose: Remember what I said about drinking until Monday?
WHO: Louisiana-Lafayette
WHEN: Nov. 19, TBA
WHERE: Athens
The Ragin' Cajuns are this year's sacrificial lamb the week before Georgia Tech.
What to do if we lose: Stick your head in a boiling vat of gumbo.
WHO: Georgia Tech (NEEEEERRRDS!!!)
WHEN: Nov. 26, TBA
WHERE: Athens
Georgia Tech really turned to garbage in a hurry. A 3-9 record from last season is proof that America has pretty much figured out Paul Johnson's triple-option attack. I can think of no better way to end the regular season than the sight of Tech's rushers going for two yards per carry against us before Johnson is canned.
What to do if we lose: Although I don't condone bullying, I'll turn a blind eye if you shove a nerd into a locker just this once.
Like what you just read? Support Flagpole by making a donation today. Every dollar you give helps fund our ongoing mission to provide Athens with quality, independent journalism.