The most magical time of the year is finally upon us! Below, find our top picks of Halloween events to supplement the Wild Rumpus parade. And of course, check Flagpole's Calendar for all the details you need on trick or treating locations, spooky story times, haunted houses, harvest festivals and other holiday activities.
THIS IS HALLOWEEN: The Flicker Film Society's monthlong horror movie marathon at Flicker Theatre & Bar closes out this week with free screenings of Hausu (House) on Wednesday, Sexual Parasite on Thursday, Dark Night of the Scarecrow on Friday, The Haunting on Saturday, The Curse of Frankenstein on Monday and Halloween III: Season of the Witch on Tuesday. Films start projecting at 7 p.m., and as always, the bar will have plenty of popcorn ready.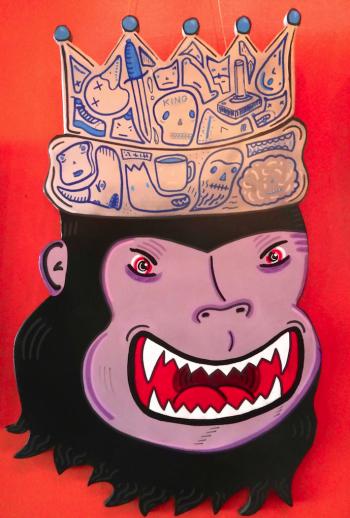 Flicker's orange walls have become the perfect backdrop for its annual horror art show, this year featuring freaky creations by nearly 30 artists. Organized by Dan Smith, aka See Dan Paint, whose portrait of King Kong graces Flagpole's cover this week, "This Is Halloween" offers visual tricks and treats by Kenneth Aguar, Patrick Dean, Will Eskridge, Peter Loose, Maggie Seee, Chris Taylor and Anthony Wislar. Excitingly, a handful of tattoo artists participated as well, including Matty Goldstein, Mike Groves, Christopher Parry and Jeremiah Purinton of Paint & Wonder, plus Charley Ferlito and Brian Kindamo of American Classic. A closing reception with the artists will be held on Friday, Oct. 27 from 4–7 p.m., and the exhibition will remain on view through Halloween.
SCHLOCKTOBERFEST: Ciné's annual horror film series presents George A. Romero's influential zombie flick Night of the Living Dead Oct. 26–28. Moviegoers are also invited to celebrate 40 years of doing the Time Warp with screenings of The Rocky Horror Picture Show Oct. 27–28 and Oct. 31. Costumes are encouraged, and props will be provided for an interactive viewing experience of this cult classic.
While visiting the cinema, be sure to spend time with the "Schlocktoberfest Art Show," an exhibition of horror film-inspired pieces including paintings, illustrations, collages, photographs, graphic art and embroidered works. The spooky homage includes works by Ashley Anderson, Grant Beecher, Jared Brown, Alexei Gural, Mina Orion-Atlas Kim, Missy Kulik, Dan Litzinger, Alex Murawski, Stephanie Rivers, Terry Rowlett, Graham Shirley, Jessica Smith, Lindsay Troutman, Tatiana Veneruso, Klon Waldrip and Christy Wooke. Artwork will be available to purchase through October, with a portion of sales benefiting Ciné's capital campaign to purchase its historic building.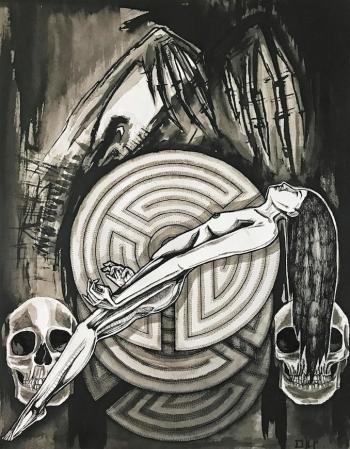 HISTORY & HAUNTINGS: Anyone curious about local specters and oddities should take advantage of the Athens History & Hauntings Tour offered by Classic City Tours on Thursday, Oct. 26 at 5:30 p.m. The 90-minute stroll splits its time between UGA's North Campus and the downtown area, covering popular myths and lesser-known legends along the way. Though designed to be entertaining, the stories have been corroborated with historical documentation and interviews when possible. The tour departs from the Athens Welcome Center and ends in front of Creature Comforts Brewery, where attendees are encouraged to stick around and discuss the tour's tales or their own chilling experiences.
GHOSTS OF ATHENS: Author and longtime resident Tracy Adkins chronicles known encounters with the supernatural through her book Ghosts of Athens: History and Haunting of Athens, Georgia. Each chapter is dedicated to a different destination, delving into its documented history then divulging the hair-raising details of creepy occurrences. The book includes an alarming number of haunted places: over 30 familiar spots, including the Alpha Gamma Delta "wedding cake house," Demosthenian Hall, the "stairway to nowhere" in Joseph E. Brown Hall, the Morton Theatre, T.R.R. Cobb House, Ware-Lyndon House, Taylor-Grady House, Memorial Park, Eagle Tavern, Athens-Ben Epps Airport and The Foundry. Adkins will make several appearances at various locations this week to share her favorite terrifying tales. Find details at facebook.com/ghostsofathens.
ALTER EGO MASQUERADE: Test-drive your costume during a masquerade ball while partying for a good cause at Live Wire on Friday, Oct. 27 at 7 p.m. Local actress Lisa Mende will emcee as contestants present their alternate personalities and perform, and attendees are encouraged to cast votes for their favorites in the form of donations. The evening also features performances by The Modern Pin-Ups, hors d'oeuvres and chances to win raffle baskets full of gift certificates and merchandise from local businesses. Admission includes two tickets that can be used towards drinks or the raffle. Proceeds benefit the Samaritan Center for Counseling & Wellness, an organization that offers a variety of holistic mental health services to low-income clients, including psychotherapy, education, trauma processing using EMDR and counseling for grief, addiction, depression and anxiety.
SPOOPY STORIES: Queen of costumery Ming Vase-Dynasty will host the Spoopy Stories Hextravaganza at Hi-Lo Lounge on Monday, Oct. 30 at 9 p.m., offering a low-key evening of recovery in between the Wild Rumpus and Halloween night. Grab a brew, curl up in a booth and let your imagination take over as writers and guest readers narrate the winning submissions of Flagpole's annual scary story contest.
Like what you just read? Support Flagpole by making a donation today. Every dollar you give helps fund our ongoing mission to provide Athens with quality, independent journalism.