Soccer is the most popular sport in the world, played by 250 million people in 200 countries and watched by billions more. In the U.S., it's just starting to catch on. But given its growing popularity, an Athens community that's heavy on both native fans and expats from soccer-loving countries and the fact that the World Cup is, for once, in something resembling our time zone, we at Flagpole proudly present our 2014 World Cup preview.
What is The World Cup?
Seriously? The World Cup is planet Earth's largest sports event, edging out the Olympics and even National Signing Day. Thirty-two teams take part in a month-long tournament every four years to determine which country is the best at kicking a ball around a field. And by the way, we call it soccer here (and in Canada, Australia, New Zealand and much of South Africa), but most of the world calls it football or a variation of it. Athens is indeed a college football city, but shouldn't we really call that clobberball, instead, in this country? America, get with it.
Where is this year's World Cup?
The host country for this year's World Cup is Brazil, land of samba, giant Jesus statues and weird dance-fighting. Brazil, unsurprisingly, has always been a powerhouse team and has won five World Cups, more than any other national team. But how do they look this year? Brazil is always formidable and dangerous. Never count them out. However, despite their longstanding reputation for playing soccer Joga bonito-style, the Brazilians of late rarely dazzle as much as their public relations division. They're great, but they grind games out as much as the English or Italians do. They may indeed win the whole thing, but don't count on it always being beautiful.
When can I watch this World Cup?
The World Cup starts on Thursday, June 12. The opening game is between Brazil and Croatia. The game starts at 4 p.m. on ESPN. Leave work early or call in sick and start drinking—this game will be a great opener. Brazil feels entitled and Croatia is always hungry to do damage. It could be a blowout by Brazil, but it could also be a hair-pulling, teeth-gnashing fight, as Croatia is no upstart. Since placing in the World Cup in 1998, Croatia made it to the final four teams that same year, and then never made it out of the group stage in both 2002 and 2006. They failed to qualify in the last World Cup in 2010.
That doesn't mean they won't surprise everyone this year, however. They have the young, crafty midfielder Luka Modric (who plays for Real Madrid) on their team, and he's hungry to make his country proud. He's definitely a player to watch.
As for Brazil, the over-hyped wunderkind Neymar (he plays for Barcelona) is the player to watch. Neymar had a mediocre season with his club team, but he may bloom when hitting the world stage. Or he may fade out, which many a great player has done when playing at this level. Regardless, it's going to be fascinating to watch.
How is the tournament set up?
The tournament lasts a month. A whole month of wonderful sporting madness, early drinking and plenty of screaming at the television with friends and strangers. Each qualifying country is assigned to one of eight groups—this is the Group Stage. Each team plays the three other teams in its group, with a victory being worth three points, a tie worth one point and a loss worth nothing. At the end of the group stage, the top two point winners of each group advance to the second stage of the World Cup, which then becomes a standard, single-elimination tournament.
Did the U.S. qualify for the World Cup?
They did indeed, imaginary question-asker. They did indeed. They qualified straight into the Group of Death.
Group of Death?
Yep. The group that has the stiffest level of talent and competition is colloquially known as the Group of Death. For the 2014 World Cup, the Group of Death is Group G, with the U.S., Portugal, Germany and Ghana. Four enter the fray and only two kick their way out.
That doesn't sound too bad, right? Tough news: It is bad. It's terrible that the U.S. has to face perennial juggernaut Germany so soon, but Ghana is even more problematic.
Ghana has knocked the U.S. out of the last two World Cups, thanks to their superb strength and speed. The U.S. simply couldn't match up either time. Ghana was clearly the best African team to perform in 2010, and they almost made it to the semifinals, losing to Uruguay in a penalty shootout.
The U.S. begins the tournament facing Ghana, and Uncle Sam's team has to win, plain and simple. There's no easing into this baby, since we confront Portugal and Germany afterward, two teams that always do well at the World Cup and are favorites to get out of the group. Oh, yeah, this is going to be brutal from the beginning. Ghana has our number.
Why so pessimistic? Does the U.S. national team have any chance?
Yes, they do. Sort of. Probably not.
The U.S. has to win all of their group games if they want to reach the knockout stage, considering the other teams involved. In a normal group situation, a team can factor in a loss or a draw and still crawl out. But not for the U.S. in this situation. It's do-or-die, man, because… it's the Group of Death.
Germany are the clear favorites to top the group, and Portugal are second, although Portugal may face big problems considering that their star player, Cristiano Ronaldo, is nursing a knee injury and may miss some of those early, crucial matches. And because the World Cup has a heavy dose of crazy, a Ghanaian witch doctor has claimed responsibility for causing Cristiano's affliction.
The U.S. national team manager, Jurgen Klinsmann (a man with plenty of World Cup experience as a player for Germany) isn't making anything easier by inexplicably booting star Landon Donovan from the squad, even though Donovan had performed well during the team's 13-day training. Donovan, one of the most experienced World Cup players and a true leader in those crucial matches, could technically still play if a player gets injured before the first game, since he's an alternate. But he won't be on the plane to Brazil or in the locker room. Bad move, Jurgen, bad move.
So what is Klinsmann thinking? Who the hell knows? The ins and outs of a soccer manager's brain are mysterious and bizarre, like a Florida fan's. While the U.S. team still has players—Clint Dempsey, Jozy Altidore, Michael Bradley, et al—with international tournament experience, Klinsmann has packed the roster with young talent with very little big game experience, such as forward Aron Johannsson and defenders DeAndre Yedlin and John Brooks. Klinsmann is gambling that youthful energy combined with seasoned talent will spark the team to victory. So you're out, old man Donovan. Soccer is a young man's game.
Who should I support once the U.S. is kicked to the pitch?
Let's face it, the U.S. probably won't make it. One day, hopefully, they'll get to the final, but their time isn't now. So who should get your cheers after Uncle Sam gets the boot?
Well, there's always our neighbor to the south, Mexico. Honestly, they don't really have a chance. They're in Group A, which includes Brazil, Cameroon and Croatia. Mexico is too young, inexperienced and temperamental, even though the squad consists of excellent players like Gio dos Santos and Javier "Chicharito" Hernández. They're going the way of the U.S.
There's always every World Cup newbie's go-to team, Brazil.
Self-loathing Morrissey types may want to support England—they're as doomed as the U.S.
Defensive-minded fans who don't mind watching teams grind a game out should check out Italy. (Heck, they made an art out of it, calling it catenaccio, meaning "door bolt.")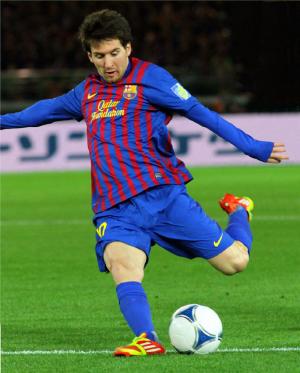 Photo Credit: Christopher Johnson / Flickr
For fans of absurdist humor, one could always watch Argentina self-destruct, as they generally do. Argentina, a huge rival of Brazil's, has a great history (they've won two World Cups), and they arguably have the current greatest player in the world (Lionel "Leo" Messi, whose club team is Barcelona) on their roster. Problem is, while Messi dazzles every week playing for Barça, he frequently disappears for his home country. For the love of the beautiful game, we hope Messi makes this World Cup something to remember for great reasons. But the team will probably blow it.
Soccer romantics can always watch the reigning World Cup and Euro Cup champions, Spain, try to make history by winning it all again. Although the roster this time around is a little different—some players have retired—the midfield core of Iniesta and Xavi is still there. If you love passing and possession soccer, behold the brilliance of Spain. They are the maestros of the beautiful game.
If none of those teams are of any interest, you could always go with one of the teams from Africa. There's always one that shines in the tournament. Keep your peepers on Ghana and Cameroon. Cote d'Ivoire, a team that always promises big things, rarely delivers. Our money is on Ghana.
Uruguay, the team that includes ear biter/racist Luis Suarez (club team Liverpool) and Diego Forlan (who now plays for a team in Japan that you never heard of), are tough and came in fourth in 2010 and made it to the semifinals in 2006. This could be the year for Suarez, who is a dangerously brilliant striker (in more ways than one) and just came off a record season with Liverpool.
The World Cup always has one or two underdog teams that surprise everyone. They may not play pretty soccer, but they can astonish the masses nevertheless. Watch out for Croatia or Bosnia and Herzegovina. Either of those teams may work some magic.
If you like odd names and delicious beer, consider underdog Belgium. While the Belgians have traditionally fielded a defensive team, the rise of attacking Belgians has bolstered their offensive capabilities. With delightfully named players like Vincent Kompany, Romelu Lukaku, Eden Hazard and Axel Witsel, the Belgians should give you some interesting games to watch.
Where can I watch the World Cup in Athens?
You could hunker down at home and watch the games on television. But why be a soccer hermit when you can go out, drink beers in the middle of the day and share laughs, cheers and pain with other foot-minded fans? Watching a World Cup match with others is always preferable to staying at home, drinking alone and shouting at the television like a lunatic. Or breaking down sobbing with your vuvuzela clutched in your fist, freaking out your loved ones and friends.
There are plenty of places in town that will be showing all the games. British-style pubs The Globe and Royal Peasant reliably show matches all year round, and all of the World Cup games will be screened there. Many other bars that don't normally show soccer games will show the World Cup, so you can ask your bartender to find the game for you if it isn't already on the big screen. Other places to check out include Transmetropolitan, the Hi-Lo Lounge and Normal Bar. Independent movie theater Ciné will also be showing matches on the big screen. The World Cup is the biggest sporting event of the summer, so your options for viewing should be plentiful.
Like what you just read? Support Flagpole by making a donation today. Every dollar you give helps fund our ongoing mission to provide Athens with quality, independent journalism.