Currently in its seventh year, Indie South Fair (formerly Athens Indie Craftstravaganzaa) is Athens' largest bi-annual handmade market and a true testament to the strength and pervasiveness of the modern craft movement as a growing economic and cultural force.
On Saturday, May 4, from 11 a.m.–7 p.m., nearly 100 local and regional vendors will set up booths to sell their handcrafted treasures at "A Lovely Spring Day." Among paintings, jewelry, homewares, bath and body products, clothing, ceramics, photography and more, the selection ranges from functional works like the bike panniers by Audra Rich of Tiny Tank Tech, to the mesmerizing bronze and natural stone jewelry of Laurel Hill.
In a post-industrial culture with an excess of cheaply mass-produced goods, consumers value the handmade, because it signifies a return to meaningful artisanship and quality over quantity.
"I think a big part of the growth is owed to the national DIY/handmade movement that's educating people, not just about the value of handcrafted pieces and a love for beauty and art, but about how local economies work, and how keeping your money in the community makes sense in every way," says Indie South Fair founder Serra Ferguson.
Like most fairs of its scale, the goal of "A Lovely Spring Day" is not necessarily to present rare items that you can't find anywhere else—although there will certainly be several—but to reveal the delicate craftsmanship behind each product, promote the ability and value of directly supporting artists, and create a networking opportunity for the local community.
Ferguson says that when she reviews vendor applications, "I look for originality, presentation, materials used and the theme of the work. I favor things that I find quirky [care for a crocheted cupcake by MochiBaby, anyone?] and that use environmentally sustainable materials and production methods. I like there to be a story behind why someone makes the things they do."
Several of this year's participants focus on sustainable practices or humanitarian principles to guide their operations. Ties That Matter, a fair trade and 501(c)(3) nonprofit, creates employment for low-income women living in Haiti by teaching them how to sew items out of recycled neckties and t-shirts. Through a literally green initiative, Beth Carter of Beca Designs claims to have diverted approximately 10,000 glass bottles from landfills over the past six years by recycling discards from local bars and restaurants into jewelry. Both projects exemplify a trend in which crafting and economics merge with activism to make a positive impact on the planet and create resourceful alternatives to unethical business practices.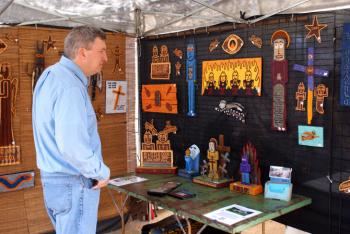 Photo Credit: Cindy Pendley
While the fair has formerly been hosted in a downtown parking lot and at Ben's Bikes, its new move to the giant Medical Center of Athens parking lot at 660 N. Chase St., in-between Prince Ave. and Boulevard, will likely be its most accessible spot yet. Its space is large enough finally to accommodate parking—an important aspect to consider when mobility issues could otherwise hinder an "art is for everyone" philosophy—and its proximity to nearby neighborhoods confirms the fair's goal to serve as a community-driven event.
"I hope we will be embraced by the surrounding Boulevard and Normaltown areas as their own neighborhood arts festival, both as attendees and participants. I love how newer places like Heirloom, White Tiger and the network of creative businesses at Chase Street Warehouses have been incorporated seamlessly into the fabric of the neighborhood, sort of a throwback to a time when people didn't have to drive everywhere to get what they needed," Ferguson says.
In Athens—a town that hosts few industries but does offer relatively low living expenses—crafting is a viable, fulfilling way to generate income during difficult economic times, often by taking advantage of popular websites like Etsy and Pinterest, blogs, boutiques and markets.
"Our city has a great base of support in our large creative community," Ferguson says, "that includes a demographic of young people who are open to emerging designers and new ideas, as well as an overall progressive mindset in more established adults who have families and choose to make it a permanent home."
Attendees are encouraged to view the fair as more than just a producer-to-consumer shopping stop, but as a full-fledged social experience that offers a chance to meet and learn from the artists. Leighlou's Frozen Yogurt, the Good Food Truck and Hip Pops will be on site to serve snacks, and a few collectors plan to share a vintage market together. DJ Mahogany will create the aural backdrop, and a designated kids' area, "Kindie South," will include a photo booth as well as stations to make crafts such as sun prints, crowns and Mother's Day cards.
Through Indie South Fair's large bi-annual fairs—and smaller markets that are planned to pop up periodically throughout the year—local artists have a chance to flourish.
"Personally, doing the craft show circuit was my first experience at 'fitting in.' Traveling the country and meeting people who were passionate about being creative and make a living with their hands gave me a feeling of belonging I did not get anywhere else, and I suspect many other artists feel the same way," says Ferguson.
Like what you just read? Support Flagpole by making a donation today. Every dollar you give helps fund our ongoing mission to provide Athens with quality, independent journalism.