WALK OF FAME: The Athens Cultural Affairs Commission has selected five new inductees for the Athens Music Walk of Fame: turn-of-the-century composer and vaudevillian Bob Cole; hip-hop duo Lo Down & Duddy; Nuçi's Space founder Linda Phillips; indie pop group of Montreal; and folk musician, visual artist, professor emeritus and documentarian Art Rosenbaum. Launched last September, the Walk of Fame is a series of sidewalk plaques installed within a two-square-block area—bound by Pulaski, East Washington, North Lumpkin and East Clayton Streets—that aims to honor musicians and educate visitors about the city's rich cultural heritage that dates back to the 19th Century.
Accompanied by a mobile app, the public art project debuted last September with plaques dedicated to The B-52s, Danger Mouse, Drive-By Truckers, The Elephant 6 Recording Company, Hall Johnson, Neal Pattman, Pylon, R.E.M., Vic Chesnutt and Widespread Panic. The new plaques will be installed in August, and five new inductees will be added to the Walk of Fame each year moving forward. Visit athensculturalaffairs.org.
HERO'S PATH: Also funded by the ACAC is a new sculpture by Louisiana-based artist Aaron Hussey entitled "Hero's Path," which was recently installed outside the new Firehall Station #2 on Cleveland Road. Designed as a tribute and memorial to first responders, "Hero's Path" consists of four towering stainless steel ladder forms leaning against each other and balancing a bright yellow cast aluminum fireman's coat and helmet. The sculpture's base includes an inscription of "The Firefighter's Prayer," a poem written by A.W. Smokey Linn. 
A ribbon-cutting dedication and memorial service for firefighters will be held July 23 at 10:30 a.m. Hero's Path is located within view of "Origins," a sculptural work by David Hale and Peter James McCarron that depicts a 20-foot tall hen perched on an egg. "Origins" is currently under wraps, but will be unveiled by the ACAC later this year.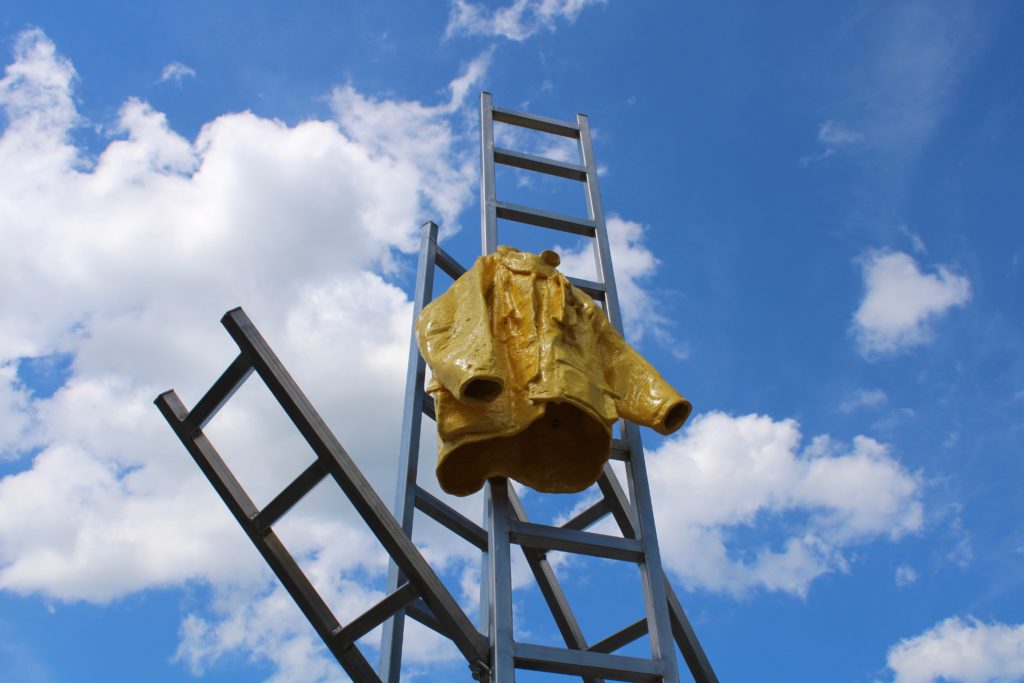 POP-UP PARK: A new initiative of the Athens-Clarke County Leisure Services Department, the Athens Pop-Up Park is a mobile recreation vehicle that will take fun on the road by transporting free activities to community events, festivals and school programs. Activities include arts and crafts, games, hula hoops and sports equipment. Colorfully wrapped in an illustration by Eli Saragoussi, the bus will be difficult to miss with its painting fish, tennis-playing tortoise, dancing frog, swinging snake and other anthropomorphic critters enjoying recreational activities.
Hot out of the gate, the Pop-Up Park has already made appearances at a Stonehenge block party, a Juneteenth celebration and a SORBA-Athens event at Walker Park. Public event organizers can submit request forms at accgov.com/popuppark.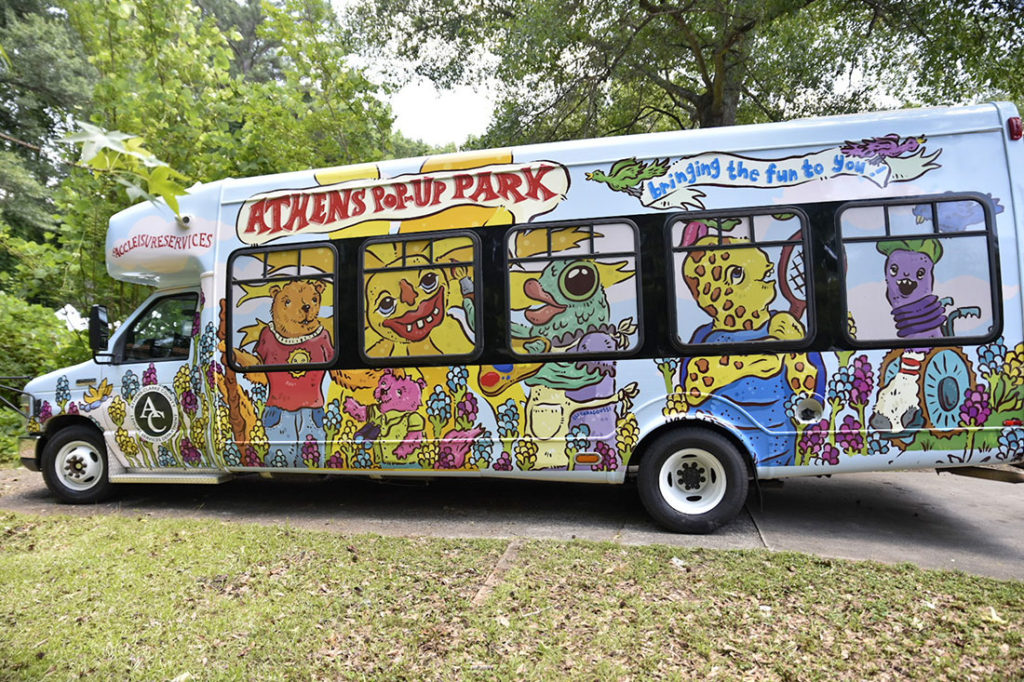 TREASURE MAPS: The Georgia Storytelling Roadshow is a series of pop-up events featuring vendors, activities, food trucks, live music and screenings of Treasure Maps, a collection of short films profiling 10 individuals with developmental disabilities as they navigate through life. Themes touch on friendship, entrepreneurship, alienation and acceptance, school, physical aspects of disability and the importance of inclusion. One of the featured storytellers is Adnan Curry, a local Elvis tribute artist who also makes pottery with Love.Craft Athens, a non-profit that empowers adults with developmental disabilities through the creation of art and music.
Touring to six different cities across the state, the free roadshow will stop at Terrapin Beer Co. on July 7 from 6–9 p.m., with film screenings occurring at the top of every hour. The event also includes a small art market as well as a performance by Love.Craft's house band at 7 p.m. Visit story-collection.gcdd.org/treasure-maps.
MOVIES MOVING IN: B&B Theatres has announced the acquisition of 1575 Lexington Rd., the 12-screen cinema previously occupied by AMC Dine-In, which closed permanently last September due to the pandemic. B&B plans to completely remodel the property prior to opening later this year.
Founded in 1924, the Missouri-based movie theater chain has been family-owned and operated by the Bills and Bagby families for four generations. Today, B&B is currently the sixth-largest theater chain in North America, operating a total of 484 screens at 54 locations spread across 12 states. Athens marks its first venture into Georgia. Visit bbtheatres.com for updates.
WILD RUMPUS: The Wild Rumpus Parade & Spectacle is currently seeking new volunteer members to serve on its board of directors. Individuals with mechanical, electrical, musical and clerical skills or backgrounds in graphic and web design are especially encouraged to join.
As one of the largest Halloween events in the Southeast, each Rumpus typically takes 6-8 months of planning and fundraising. Following last year's "pandemic edition" of decentralized and virtual festivities, the 13th annual Wild Rumpus will return to filling the downtown streets with chaos and creativity Oct. 29–30. To apply to the board, visit bit.ly/3vJn6O9.
ATOMIC TUNES: Written by Tim and Joanna Smolko, Atomic Tunes: The Cold War in American and British Popular Music is a deep dive into how songs released in the 1940s to early '90s both reflected and shaped the understanding of historical events and geopolitical tension. During a seven-year process, the Smolkos analyzed how songwriters of various genres created a visceral sense of what it was like to live through a complex time marked by the threat of nuclear war, space exploration and tension with communist countries.
Tim is a UGA librarian with a master's degree in musicology, while Joanna is a musicologist and adjunct professor in UGA's Hugh Hodgson School of Music. While this is their first publication co-authored together, Tim is the author of Jethro Tull's Thick as a Brick and A Passion Play: Inside Two Long Songs and Joanna is a contributing editor for the second edition of The Grove Dictionary of American Music. Hardback, paperback and e-book editions of Atomic Tunes are now available through Indiana University Press or Amazon, and an audiobook can be found on Audible.
Like what you just read? Support Flagpole by making a donation today. Every dollar you give helps fund our ongoing mission to provide Athens with quality, independent journalism.