Between the postponement of events, closures of cultural institutions and widespread financial insecurity, it's easy to imagine how challenging the past year has been for artists, musicians and other creatives who often rely on in-person experiences for visibility, sales and fundraising. In an effort to help the local arts community navigate through the pandemic, the Athens-Clarke County Mayor and Commission contributed $85,000 of the ACC Resiliency Package towards the Athens Cultural Affairs Commission's $15,000 budget. Fifty Arts in Community Resilience Awards of $2000 each were distributed to individuals and organizations to support creative projects that will be freely and publicly accessible.
In recent months, Flagpole has run cover stories on award recipients Christina Foard and her ongoing community art project "Imagination Squared," Historic Athens' Porch*Fest and its four-day virtual festival of 44 performances, and Lucy Calhoun's photography series "Touch in the Time of Covid." Altogether, the Arts in Community Resilience Awards will help support an astounding number of new murals, sculptures, mosaics, photographic series, musical projects, theater performances and more. 
Projects will continue rolling out through December, but for now, find five new projects below.
ATHENS HISTORY MATTERS: The Historic Athens Welcome Center has been steadily growing its virtual history project called "Athens History Matters" over the past year. Currently closed to the public due to the pandemic, the Welcome Center has continued fulfilling its mission through near-daily live-streamed and archived video tours that introduce a range of historic subjects not limited to historic neighborhoods, parks and gardens, cemeteries, spirits and oddities, architecture, sites listed on the National Register of Historic Places and a full series dedicated to Black History Month. For a thorough exploration of the local community, combine these videos with the Welcome Center's eight self-guided walking/driving tours—especially the Athens Music History Tour—that were made available as a pandemic activity at athenswelcomecenter.com/tours. So far, a total of 191 videos and 17 video playlists can be watched by visiting facebook.com/athenswelcomecenter.
WE ARE ALL GLADIATORS: Located at the main entrance of Clarke Central High School, "We Are All Gladiators" is the latest mural designed by local painter Will Eskridge. Centered around the school's mascot and using a color palette emphasizing red and yellow, the mural highlights elective courses and extra-curricular activities such as theater, visual art and band, plus clubs for Black culture, women in STEM and robotics. Typically producing portraits of animals, Eskridge's body of work empathizes with species who are misunderstood, feared or outcast. Through his mural, he reminds students to follow the beat of their own drum and pursue their true interests. A time-lapse video of the mural's creation, featuring a song the artist composed himself, can be viewed at willeskridge.com/we-are-all-gladiators.  
MESSAGE IN A BOTTLE: Orchestrated by Lisa Yaconelli, director of the Small Box Series and co-founder of Nimbl Athens, Message in a Bottle is a community writing project that invited participants to anonymously write a letter to anyone of their choosing and describe their experience during the pandemic. These messages were rolled up, placed inside bottles and dropped off at public bins decorated with foam waves (or submitted online) and then read by strangers in video recordings. A creative exercise in finding comforting connections despite social isolation, Message in a Bottle reaffirms that feelings of grief, frustration, loneliness and anxiety are all universal. Over 30 submissions will soon be cut, pasted and read anonymously to create an audio collage that will be used as a soundscape for a movement piece performed this spring through the Small Box Series, which features multidisciplinary performances on a 4-foot-by-4-foot box. Videos of readings are currently available on Instagram @messageinabottlewritingproject.
FOR ASHA, WITH HOPE: The sophomore album of songwriter LeeAnn Peppers, For Asha, With Hope, is a tender and somber manifestation that reflects on a decade-long grieving process endured after losing a friend to cancer. In the absence of performing live shows, Peppers shifted to a new format for sharing her music. Eight artists—Clay Brantley, Taylor Chicoine, Lauren Fancher, Liz Maney, Patrick Morales, Alisha Mullenax and Eli Saragoussi—were selected to interpret songs off the album through music videos. Shot with respect for social distancing guidelines, the videos collectively carry a level of loneliness and longing. The series culminated with a screening event at the Athens Institute for Contemporary Art earlier this month, and all videos are now available to watch at youtube.com/user/DrPeppers42.
DIORAMA: At the onset of the pandemic, the future of the GlassCube@Indigo was unclear. Though the art venue, a literal glass cube located outside Hotel Indigo, is perfect for socially distanced, 24-hour drive-by viewing, the hotel industry was hit considerably hard and left to make budget cuts to offset decreased travel. AIC Award recipient Jaime Bull, who works at the Lamar Dodd School of Art and Lyndon House Arts Center, thankfully has created a site-specific installation, "Diorama," that reinvigorates the glass cube. Reimagining the curiosity displays of natural history museums, "Diorama" preserves a large-scale assemblage of 1980s wicker furniture that has been built into a three-dimensional canvas for painting in loud colors. "Diorama" is currently on view, and a socially distanced closing event with Bull will be held as part of the citywide Third Thursday art night on Apr. 15 at 6 p.m.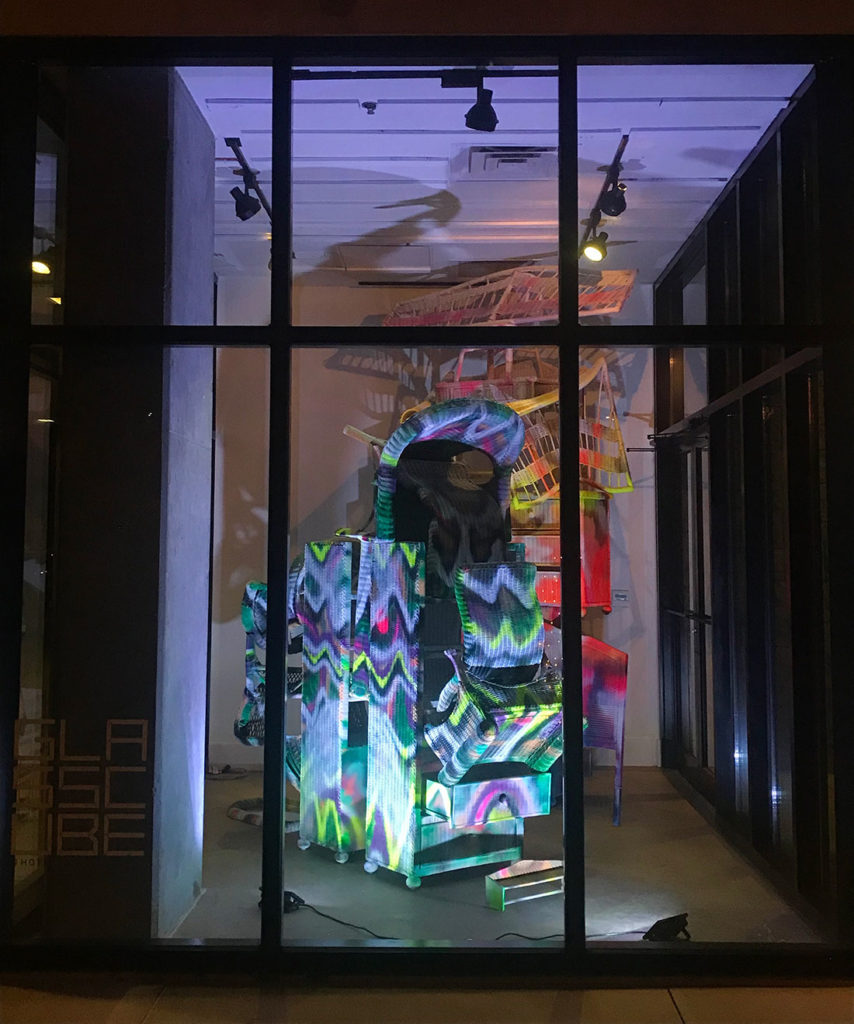 Like what you just read? Support Flagpole by making a donation today. Every dollar you give helps fund our ongoing mission to provide Athens with quality, independent journalism.