Held over a three-day stretch with timed tickets, the Lyndon House Arts Center's recent opening event felt just as successful, given the circumstances, as packed-out opening receptions of yore. That comes as a relief, as there are currently five new exhibitions ready for in-person viewing.
On the cover of Flagpole this week, "Imagination Squared: Pathways to Resiliency" consists of 1070 five-inch-square works of art that convey stories of recovery, adaptation and strength. The project was initially launched by organizing-artist Christina Foard in the spring of 2018 as a partnership with UGA's Odum School of Ecology to investigate resiliency within ecosystems, but over time it grew to include the reflections of students and community members of all ages. Free wooden squares were distributed to various locations for participants to decorate using any media; then they were returned for installation. The project additionally expanded to incorporate sonic responses to the theme and now includes 74 short recordings, many of them made by undergraduate students at the Hodgson School of Music. Though the project came to an abrupt halt in March due to the pandemic, the coping mechanisms, affirmations and lessons suggested on the surface of these small squares feel all the more timely. Viewers can read the stories behind each piece at imaginationsquared.org.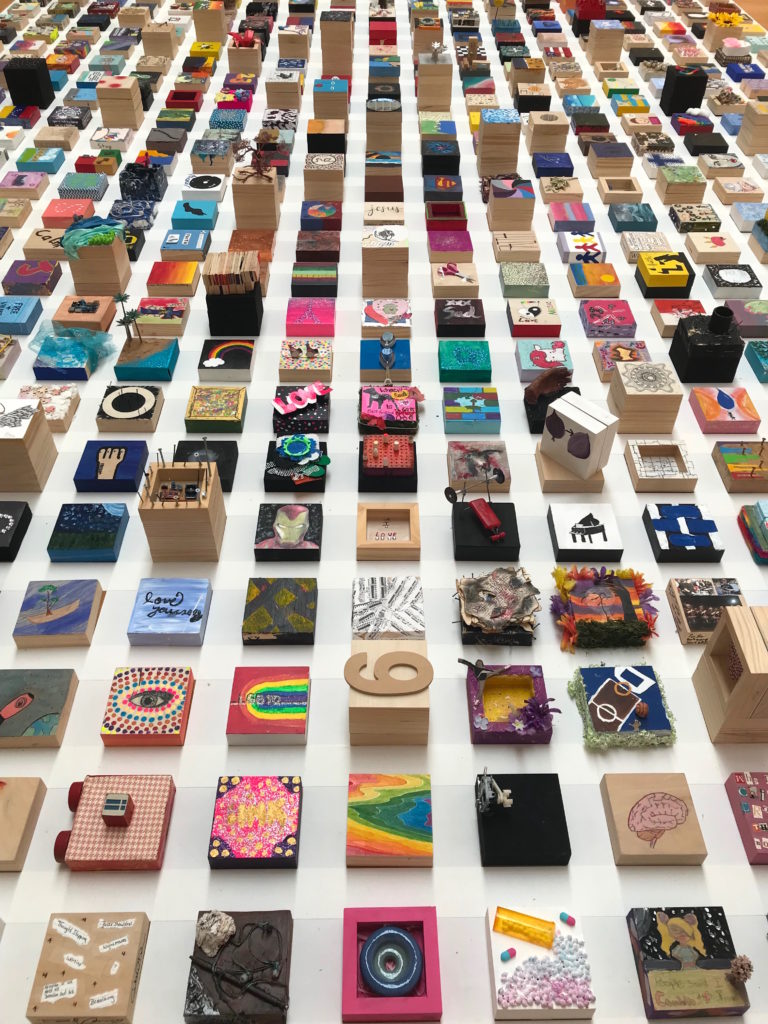 Active in the Factory scene of the early 1970s as one of Andy Warhol's Superstars under the pseudonym Silva Thin, Jeremy Ayers brought his magic back to Athens—fondly remembered through his enigmatic, ineffable band Limbo District—and spent his days dancing between photography, poetry, painting and activism. "The Art of Jeremy Ayers" celebrates this inspirational, nearly mythological character who died in 2016 after over four decades as a fixture of the local arts community. The exhibition focuses on large-scale photographs that demonstrate his keen ability to connect with strangers through portraiture, and they're sampled from two bodies of work: "Today in New York," a ritual in 2009-2010 through which he'd share three images after a daily practice of taking photos, and "OCCUPY!," which depicts New York City's Zuccotti Square during the first six weeks of Occupy Wall Street. Originally debuted at Moogfest in 2017, longtime friend Michael Stipe's tender video portrait "Jeremy Dance" rounds out the exhibition with a glimpse into Ayers' gentleness and sense of play. To make the video, Stipe filmed Ayers dancing to a stripped-down disco beat, then removed the track to compose music specifically in response to his movements.
The Lyndon House's largest exhibition, "Boundless," represents the reinterpretation of common materials through installation-based work by five local artists. Paula Reynaldi's standout piece, "Luz," appears as a giant suspended honeycomb that—despite the simplicity of its medium of choice, masking tape—quickly changes in color as you move through the space in relation to many colored spotlights. Nearby, "Your Power Is See Through," by Alex McClay, a message relayed through flags made from window screens, similarly relies on physical movement for full optical experience. Inspired by the redacted poetry of Dadaists, Don Chambers' series "Versus" whites out all but a few words on Bible pages to reveal messages such as, "Art fell on knees before life," and, "A whale dreams my life." A separate series by Chambers, "Lowerings," uses rust and chance as starting points, later adding paint and pencil through automatic writing. Derek Faust's assemblages "Where" utilize collected road debris—a license plate bezel, passenger door, shell, windshield sun shade, photograph—to build incomplete narratives surrounding the experience of transit and fantasy of destination. Katherine McCullough's abstract images bounce between different forms with a spontaneous quality.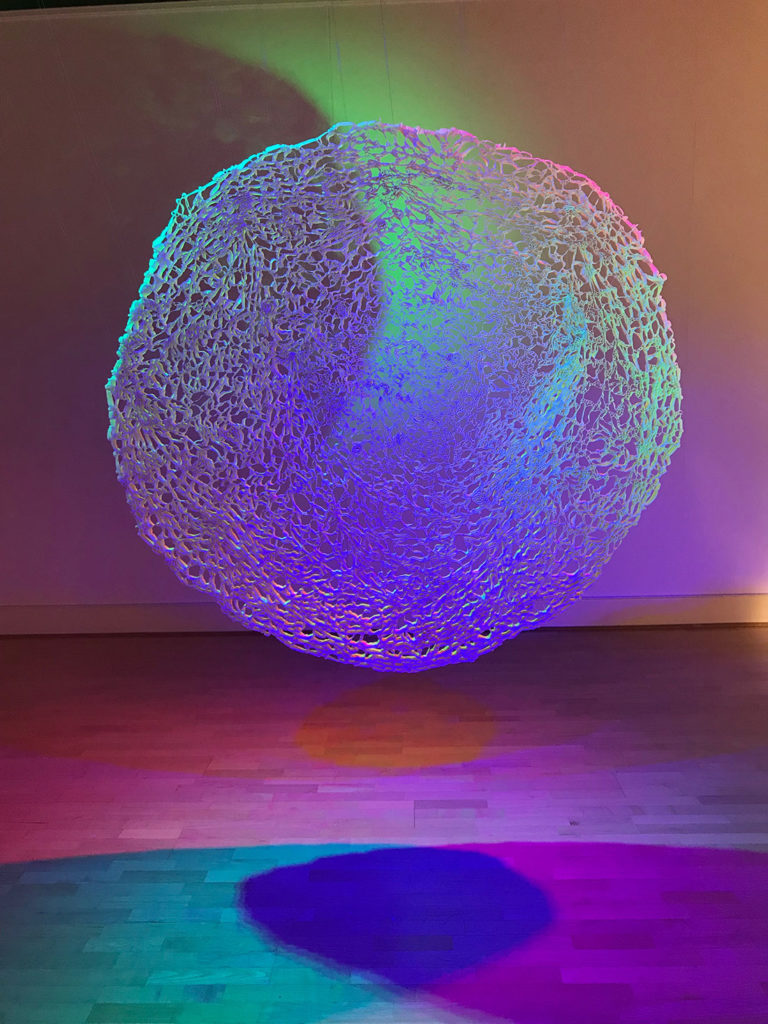 In his multi-media exhibition "Waterfall Plot," Andrew Zawacki pairs 20 black-and-white photographs with 20 short poems taken from his recent chapbook of the same name. The hybrid format takes inspiration from the "Wheel-Rim River" suite by eighth-century Chinese poet and painter Wang Wei, and the 4"x5" dimension of the photographs nods to the aspect ratio of Wei's poems: four verses containing five characters each. The poems are recited through an 11-minute video that shares enlarged projections of each accompanying photograph.
The fifth and final new exhibition presents a series of four paintings by Kendall Rogers, a recent BFA graduate who was offered the opportunity after winning the LHAC Choice Award during the "45th Juried Exhibition." On view in the Lounge Gallery, a space dedicated to highlighting emerging artists, Rogers' paintings reflect Generation Z's tendency to cope with the nonstop stimuli of media by creating memes that are often nihilist or absurdist in nature. Giant phrases combined with saturated subjects mimic the aesthetic of social media and advertising, and this particular selection—such as a woman eating lo mein in her underwear with words demanding "take me out"—carry particular relevancy during quarantine.
With the exception of imminent home football gamedays, the Lyndon House Arts Center is currently open Tuesdays–Saturdays, 10 a.m.–6 p.m., with the Ware Lyndon Historic House Museum open Thursdays–Saturdays. Face coverings are required indoors, and visitors are asked to maintain social distancing.
Like what you just read? Support Flagpole by making a donation today. Every dollar you give helps fund our ongoing mission to provide Athens with quality, independent journalism.