ECUMENOPOLIS: Influenced by science fiction, fantasy, comics and space exploration, Jacob Wenzka's "Ecumenopolis" is a new exhibition opening this week at tiny ATH gallery that depicts futuristic floating worlds offering a momentary escape from reality. Named after a term coined in 1967 by Greek city planner Constantinos Apostolou Doxiadis that literally translates to "world city," "Ecumenopolis" represents a point at which pockets of human development expand and fuse to cover an entire planet. Wenzka leaves the narratives behind these drawings and paintings up to the viewer to interpret. 
"Is this a positive, optimistic future where we are boldly exploring space, looking for new life, and seeking out new civilizations?" asks Wenzka. "Or is this a frightening post-apocalyptic vision where we have had to flee our planet due to climate change, war and disease, and these ecumenopoli represent the last bastion of humanity struggling to survive on limited resources and fuel?"
Events include an in-person opening reception on Sept. 11 from 6–9 p.m., an artist talk through Instagram Live on Sept. 15 at 7:30 p.m. and 3Thurs on Sept. 17 from 6–9 p.m. As with past exhibitions, the gallery's safety precautions include using masks and hand sanitizer, limiting the space to four people at one time and using one-way traffic through the building.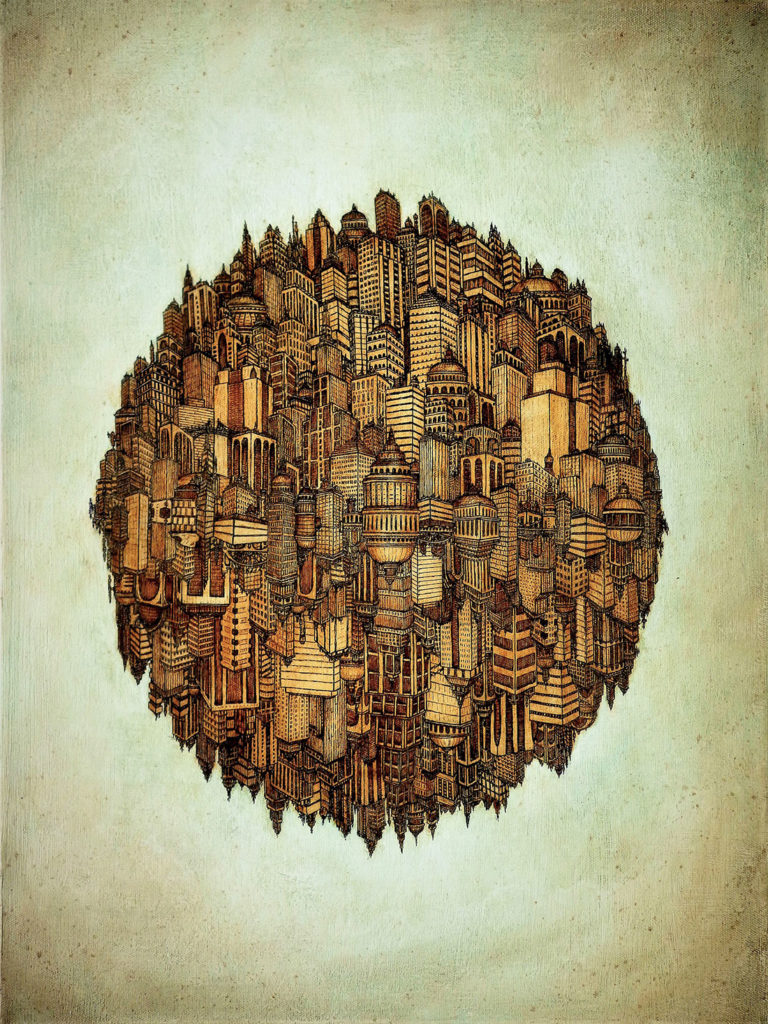 GET ARTISTIC: Understanding the connection between patronage and place attachment, Creature Comforts Brewing Co. aims to heighten the emotional bond between people and place. The brewery's Get Artistic initiative was established to support the local arts, and it does so through a variety of thought-provoking exhibitions, performances, grants, residencies and activities throughout the year. The program has just recently announced the lineup of this year's Get Artistic partners (i.e. grant recipients), providing a first glimpse at some of the interesting new developments currently underway in the community. 
Local artist and activist Broderick Flanigan will use a grant to support the creation of a new mural painted with the help of local youth, while ceramicist Esther Carillo will use funds to cover the cost of materials and studio rent incurred while developing her own practice. Musician Beto Mendoza plans to amplify the Latinx experience by recording original songs in collaboration with artists living in Athens and Mexico, while the Athens Area Arts Council will launch a new Emerging Black Artists Grant that provides a stipend and professional mentorship. ATHICA intends to convert its K-12 educational programming into digitally accessible materials, while Nuçi's Space will expand its support of visual artists by offering paid project opportunities.
All profits from the brewery's Get Artistic merchandise and beer—which has a vibrant new can label illustrated by Elinor Saragoussi—will be funneled back to these six partners in the form of grant disbursements during a "season of emphasis" that ends on Oct. 21. Creature Comforts also has new T-shirts designed by Saragoussi, Chris Zavier and Tex Crawford, as well as a restock of postcards by Taylor Shaw and the second edition of a coloring book coming soon. Visit getcurious.com/get-artistic for details. 
WILD RUMPUS: When the sheltering-in-place ordinance first took effect, Halloween felt like the carrot dangling in the distance; we urged each other to get it together lest our holiday festivities be canceled. Though there will not be an official downtown parade this year for obvious reasons, the 12th annual Wild Rumpus Halloween Celebration will still be held on Saturday, Oct. 31. Presented as a decentralized and socially distanced event, the Wild Rumpus encourages everyone to don a creative costume and parade alone or with pods in homes, yards or neighborhoods. In addition, the Rumpus will host a virtual art exhibition, an online fundraising auction and a Halloween TV special. This year's event will raise money for the Food Bank of Northeast Georgia's Food2Kids program. Visit wildrumpus.org for updates. 
MAGICAL: The aforementioned "Wild Rumpus Virtual Art Show" is currently seeking submissions of artworks in all media that interpret this year's theme, "Magical." These imaginary creatures, fantasy landscapes and otherworldly ideas will be compiled into an online exhibition Oct. 7–31 through tiny ATH gallery, which will also facilitate sales and contactless pickup arrangements. 
Artists of all ages may submit high-resolution photographs of up to five works for consideration ($10/submission), and can set their own prices. Artists will receive the majority of proceeds, with a percentage of sales benefiting Food2Kids and tiny ATH. The deadline to participate is Oct. 1, so visit tinyathgallery.com for the official submission form. 
Like what you just read? Support Flagpole by making a donation today. Every dollar you give helps fund our ongoing mission to provide Athens with quality, independent journalism.