The University of Georgia reported 1,417 positive COVID-19 tests for the five days from Aug. 31–Sept. 4, the third week of rising positives since UGA began testing, despite the shorter reporting period.
UGA reported 821 positive tests for the week of Aug. 24 and 188 for the week of Aug. 17, when classes began. There were 64 positives the week of Aug. 10, before testing fully ramped up. UGA President Jere Morehead called the trend "very disturbing."
Of the 1,417 positive tests last week, 125 came through surveillance testing of 1,407 asymptomatic students, 90 staff members and 60 faculty at Legion Field. All 125 were students. The positive rate among those surveillance tests has steadily increased from 0.4% to 2.4% to 5.3% to 8% last week.
Four hundred and five people with symptoms tested positive at the University Health Center. The rest came through self-reporting on the DawgCheck app or reports from Athens-area test providers. About half the tests were done outside of Athens, and UGA said it will start adding additional survey questions to determine where.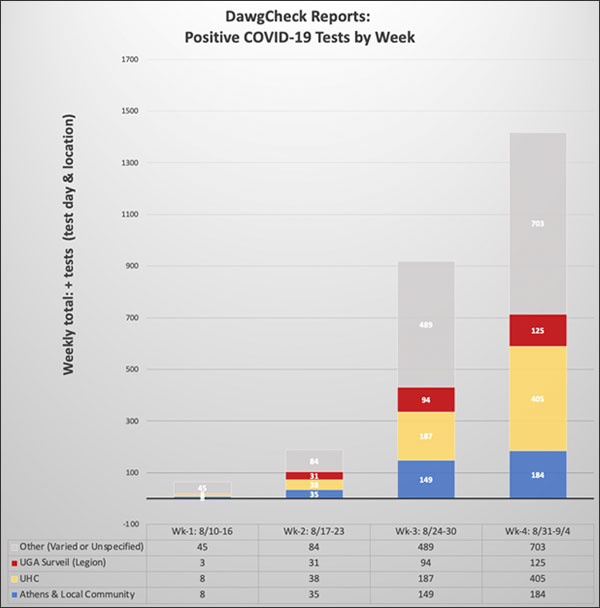 On Tuesday, UGA announced that it would start testing 450 asymptomatic individuals per day as part of its surveillance testing program, up from 360, and start inviting students from specific pools, such as those living in dorms, to be tested to randomize the results.
UGA emphasized that most of the infected individuals are students. Only 14 staff members and one faculty member tested positive.
"With only one faculty member testing positive during this period, we can surmise that the preventive measures the university has taken to control the classroom environment—such as installing HEPA filters, marking off social distancing, installing plexiglass shields and mandating masks—are working to make our classrooms safe places for students and faculty," Garth Russo, director of the UHC and chair of UGA's Medical Oversight Task Force, said in a news release.
Unlike some other universities with COVID-19 outbreaks, UGA has not announced that classes will go online-only or instituted lockdowns for students.
"The rising number of positive tests for students last week is very disturbing," Morehead said. "I would again remind students of their important responsibility to follow the rules intended to protect the health of our campus and our local community: wear your masks, maintain your distance from others, make wise decisions, and stay away from social venues where appropriate distancing is impossible to maintain. Each of us must make sound decisions in the coming days and weeks so that we can turn the trajectory, as we have seen at other institutions in the state."
The New York Times recently ranked Athens as the fifth-fastest-growing COVID-19 hotspot in the country. All of the cities listed are college towns or have a substantial university presence.
Like what you just read? Support Flagpole by making a donation today. Every dollar you give helps fund our ongoing mission to provide Athens with quality, independent journalism.